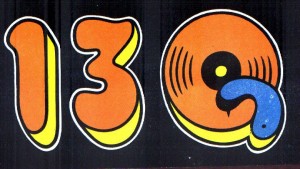 Forty years ago today, if you answered your phone, "I listen to the new sound of 13-Q!" and a DJ from said station was on the other end, you could have won a minimum of $13,000. It was the "Largest Cash Giveaway in Pittsburgh Radio History" at the time.
March 12, 1973 was the premiere date for the new format on WJAS 1320 AM/99.7 FM converting from all-talk to top-40. Effective on March 26, 1973, 1320 became WKPQ, but it wasn't long before the letters changed again to WKTQ. The FM counterpart at 99.7 became WSHH-FM, a set of calls which served 1570 AM in Latrobe for a time. Responsible for the changes was the new owner of the stations, Cecil Heftel. Although 99.7 and 1320 retained the simulcast they shared as WJAS-AM/FM at first, WSHH-FM later switched to "adult good music" as the Pittsburgh Press article from March 8, 1973 suggested. Heftel was also responsible for moving both stations' transmitters from a tower along Crane Avenue in Banksville. 1320's site was moved to Swissvale, just east of the Squirrel Hill Tunnels, where it stood until 2011. 99.7 was moved to the WIIC (now WPXI) tower in Fineview where it remains today.
The format change retained just one personality from the WJAS days. That was Merle Pollis who handled news and Sunday Public Affairs programming. Otherwise, according to Heftel, "he  will not do any personal editorializing nor express any personal opinions," as he had with the Merle Pollis Show on WJAS.
Heftel, owning and operating the stations from Honolulu, Hawaii, formed his airstaff of out-of towners because he claimed he couldn't find any in Pittsburgh. Sam Holman, a former KQV program director, returned to Pittsburgh from Chicago to handle morning drive (6:00 – 10:00 a.m.); Dennis Waters moved from Washington, D.C. for mid-days (10:00 a.m. – 2:00 p.m.); Mark Driscoll came from Los Angeles to do afternoons (2:00 – 6:00 p.m.); Jackson Armstrong shuffled in from Buffalo to do evenings (6:00 – 10:00 p.m.); Batt Johnson came from Phoenix as did Dave Brooks. They handled the 10:00 p.m. – 2:00 a.m. and 2:00 – 6:00 a.m. shifts respectively. This team was assembled by Buzz Bennett who was considered a revolutionary programmer. Although Bennett worked and lived elsewhere, he had family in the Pittsburgh market and therefore knew what he was working with. The dynamic team came to town about three weeks before 13Q went on the air to work on creating the format to go up against the competition. It was 13Q which beat out the city's long-standing top-40 station, KQV. The two battled it out for about 2 1/2 years until Taft Broadcasting decided to take KQV to its current all-news format.
Soon after, WKTQ and sister WSHH were moved from the Kossman Building in downtown Pittsburgh to Broadcast Plaza at 1459 Crane Avenue, ironically just a short distance from where the station's transmitter once stood. Chauncey Ross tells the story on Jeff Roteman's 13Q website that when the move was made in July, 1976. Ray Zoller was on the air at the time and he went to the new studios while the station played Elton John's "Funeral For a Friend". With a police escort in place, Zoller made it to Crane Avenue with four minutes to spare! 13Q's new studios were on the first floor of the building while WSHH set up its new digs on the building's second floor. It wasn't long after that that Heftel sold the stations to Nationwide Broadcasting, a subsidiary of the insurance company.
In 1979, WKTQ shed the "13Q" moniker and added jingles to take on a more adult contemporary sound as 1320 WKTQ. But the switch proved unsuccessful in the ratings. Nationwide sold WKTQ to Beni Broadcasting in 1981. Beni changed to the syndicated "Music of Your Life" format and returned to the WJAS calls which remain today.
WSHH and WJAS remained in the same building despite different ownerships once 1320 had been sold to Beni.     Renda Broadcasting, who owned WIXZ (1360 McKeesport), purchased WSHH in the early 1980s and eventually purchased WJAS.  The ownership continues today.
According to Jeff Roteman, the following 13Q jocks remain in some form of the business, or at least continue to dabble in it today: Ed Barrett, Don Bombard (AKA – Bob Shannon), Andrea Bray, Buzz Brindle, Eric Chase, Mark Driscoll, Don Geronimo, Bob Gray, Batt Johnson, Jojo Kincaid, Dave Mason, Bob McClain, Cary Pall, Jim Quinn, Mark Shands, Greg Stevens, Bill Tanner, and Dennis Waters.
Others have either left the business or have retired including: Gary Drake, Jack Forsythe, and Ray Zoller,
Unfortunately, a few are no longer with us: Jackson Armstrong (2008), Don Cox (2003), Dick Grimes (1998), Sam Holman (1986), and Dr. Michael Sarzynski (1988). One-time station owner Cecil Heftel passed away in 2010.
The WKTQ calls now sit on 1450 AM in South Paris, Maine, a station which simulcasts WTME-AM. WKPQ is an FM station at 105.3 in Hornell, New York.
Information Sources:
Billboard Magazine, August 8, 1981 (p.23)
Jeff Roteman's 13Q Tribute Site – In fact, most of our information came from Jeff's extensive site! If you haven't already, visit this site for airchecks, photos and much more!