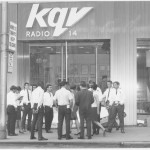 KQV-AM (1410) was once a music station… and a well-known and well-loved one at that! Whether you knew it as "14-K", "14-KQV", or "Groovy QV" it was one of the greatest Top-40 stations in the country. It was 40 years ago today that the music stopped in favor of an all-news format which began when people woke up on October 15, 1975.
George Hart and Billy Soule did their final music show together. Taft executives were monitoring from Cincinnati, and the decision was made to pull the plug on the show –post haste– at 10:30 p.m. Their final song was "Brother Love's Travelling Salvation Show" by Neil Diamond. Bob Harvey finished the night with "Those Were the Days My Friend" by Mary Hopkin.
The studios soon moved from the street level of the Chamber of Commerce Building to the 7th floor. Eventually they moved across the street to Centre City Tower where they remain today.
UPDATE: From Ed Scharnhorst… a KQVer from 1980-85… Nice write up on KQV in your Pbrtv colum. The Chief engineer actually pulled the plug to get a jump start of rerouting cables to the upstairs 7 th floor. The new studios were very nice and the audio quality far superior to the studioes downstairs. New cart machines, Mc Curdy Consoles. WDVE also located to the 7 th floor as well. The original 102.5 KQV FM was originally on the 7 th floor. The offices were always on the 7 th floor for both stations. Taft decided to sell KQV back in 1983. They told then General Manager Bob Dickey if he wanted the station he could have it . Bob Dickey got ahold of Richard Mellon Scaife to form a new company to buy KQV. Thus came Calvary Broadcasting. Once the sale was finalized walls went up sealing off our access to WDVE. KQV and WDVEs production studios were shared till the sale . I stayed with KQV as production engineer and I literally threw the Studio to Transmitter link off to transfer WDVE to Greentree.