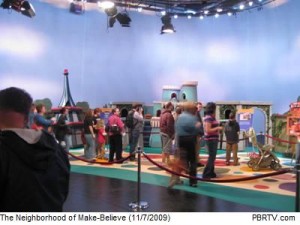 This past weekend was probably the final opportunity to take a walk through a famous neighborhood. WQED-TV (13) invited the public for one last tour through "The Neighborhood of Make-Believe". This tour came after a new statue of Fred Rogers was dedicated on Pittsburgh's North Shore late last week and the studio at WQED where "Mister Rogers' Neighborhood" was taped was renamed The Fred Rogers Studio.
The lines were long and many children and equally curious and excited adults waited patiently for the opportunity to get into the studio. David Newell, dressed in the guise of his alter-ego "Mr. McFeely", was on hand to sign autographs and greet the crowds. Many decided to forego the opportunity to meet the "Speedy Delivery" man because of the long wait.
Visitors would notice that one set piece had to be substituted with a replica because of its use elsewhere. Daniel Striped Tiger's home – the clock – has been moved to Latrobe for permanent display at the Fred Rogers Center for Early Learning and Children's Media at St. Vincent College. Meanwhile, WQED doesn't know if there will ever be another opportunity to set up the famous neighborhood again because of the demands on the digital facility.