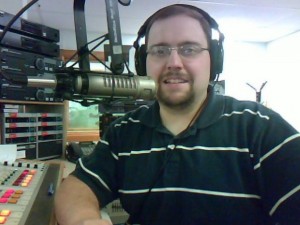 Eric O'Brien was brought up in a household filled with music. His parents being somewhat "older" than those of his peers, he found himself enjoying a steady diet of Classical, Big Bands, Broadway and Pop Standards.
The music choices were a perfect mix for a young kid to start listening to "beautiful music" and unlike most (okay… all) of his friends, Eric regularly tuned in to the Easy Listening format on WSHH (99.7) Pittsburgh. Soon he found himself with a tape recorder and a microphone underneath the family's piano trying to sound like Joe Fenn, Tom Malloy and other WSHH announcers of the day.
Just a few days before WSHH changed formats to an all vocal, soft AC format in 1989, Eric was interviewed by then-morning drive personality, Jack Bogut, who remains a friend and mentor. For a kid who had only experienced a microphone used with a tape recorder, during one or two public solos and a couple of school announcements, this was BIG! From there, all through is awkward teenage years (although most of the years prior and since have been awkward) Eric assured everyone that he was one day going to be on the air. Many have tried to talk him out of it, but the kid would not be swayed.
Once graduated from high school, Eric went on to the Art Institute of Pittsburgh during the height of which Congress passed the Telecommunications Act of 1996 and station ownership rules were relaxed dramatically. (It was a huge topic to the AIP broadcasting instructors!) While at AIP in mid-1997, Eric interned at Renda Broadcasting's WSHH and WJAS (1320) in both their old Crane Avenue studios and the current Parish Street studios.
After graduating from AIP, Eric moved on to work a brief, behind-the-scenes stint at WJJJ (104.7; now WPGB). Post WJJJ, he created PBRTV.com. He has also volunteered for WQED-FM (89.3) and WRCT (88.3). For the last several years he has worked part-time for Broadcast Communications, Inc. WKHB (620 Irwin), WKFB (770 Jeannette), WKVE (103.1 Mt. Pleasant), WEDO (810 McKeesport), WKHB-FM (103.9 Scottdale), and WQTW (1570 Latrobe). He had done some contractual work for WEDO under the previous owner as well. He also programs WKGO (88.1 Murrysville) which is owned by BCI's non-commercial entity. In 2016, he created and continues to host "Smooth, Relaxing and Easy" for the Mon Valley's Internet-only station wmck.fm. Perhaps the list would be shorter if he told you what stations he's NOT affiliated with?
Eric is married and does, indeed, have a life outside of radio. He also works as a parish communications director for his lifelong Episcopal parish.