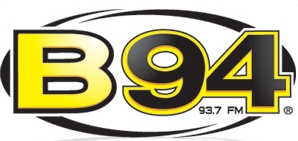 It's late in the day, but we wanted to acknowledge another top-40 anniversary. One of our regular informants reminds us that today, April 1 is the 32nd Anniversary of the announcement of the original B-94, WBZZ-FM (93.7). The staff of beautiful music WJOI thought management was pulling an April Fool's prank.* But from April 6 in 1981 through June 2004, B-94 was the top-40 station in town and there wasn't a kid in town who didn't listen! (Well there was ONE… but we won't go there…) After WKST-FM (96.1) signed on in the early 2000s, B-94 took a serious in the ratings and even altered its moniker twice, first as B-93.7; then as 93.7 BZZ.
Howard Stern, syndicated by Infinity (WBZZ's owner at this point), was carried locally by a Clear Channel station – WXDX-FM (105.9). CC decided in 2004 that it would no longer carry Stern which took him off the air in Pittsburgh and several other towns. Infinity determined it was time to make a switch and by the end of June 2004, B-94 became a rock station WRKZ sporting the "K-Rock" image. By the end of 2004, Stern had moved on to satellite radio, but K-Rock pressed on for another few years with David Lee Roth (who took over for Stern in the Eastern US) and later Opie and Anthony. By early 2007, WRKZ grew weak in the ratings and in April of that year, it flipped to become "The Man Station" – WTZN The Zone. The format lasted just 6 months. On October 1, 2007, 93.7 began stunting with Christmas music and by October 5 it was back as B-94. The call letters attained for the station were WBZW as the 'BZZ calls were in use in New York State. The revived format lasted 2 1/4 years, when much of the airstaff was shuffled across the hall to WZPT (100.7 New Kensington) and the current format, all-sports "The Fan" came on sporting the calls KDKA-FM. The WBZZ calls are currently attached to 100.7.
Ironically, today we also received what is the beginning of the "Ed Vance Collection". Ed sends a couple of pictures pertaining to "JOI-94" WJOI which was the beautiful music station B-94 replaced in 1981. 93.7 signed on in the 1950s as stand-alone FM WKJF and was joined for a time by Channel 53 as WKJF-TV. The TV station didn't last. Briefly between WKJF and WJOI, the station was WKOI.
*Courtesy Ed Vance