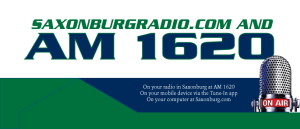 Butler County has signed on its first brand-new commercial radio station since the 1940's, its owner announced today.
Ken Hawk, most recently news anchor and field reporter for Butler-based WBUT, WISR, and WLER, is the president and general manager of the new station, which will be known by its web address: saxonburgradio.com. The station's audio will also be aired over a low-powered transmitter operating at the frequency of 1620 kHz, and at a maximum power of 100 milliwatts.
The station's audio will also be available via the TuneIn radio app for smartphones and other mobile devices.  "It's important that we stay at the forefront of today's technology, and that's where the phrase 'new-tech radio' comes in," said Hawk.  "You'll hear us often refer to that phrase on the air.  We know that the means of delivering a radio product are no longer limited to just an over-the-air signal, and now listeners have more choices than ever."
The station's format will be a three-fold program offering, with adult contemporary music during weekdays and early evenings, a smooth jazz/soft rock/R&B show late nights seven days a week, and classic hits on the weekends.
"It's a throwback to the way radio used to be done," Hawk said. "Strategically speaking, you can still offer something for almost everyone, as long as it's properly compartmentalized and not thrown together into a trainwreck mess that's not listenable or saleable."
Among those including Hawk that may resonate as familiar radio voices in the Butler County area include Bill Davis, J.C. Simon, Dave Kane, and Tracy Ambrose.  Simon, Davis and Ambrose will handle the afternoon, early evening and late night shows respectively, while Hawk will be the station's morning voice.  Kane will round out the weekends.
Hawk, an industry veteran of almost 30 years, says the station does accept paid commercial advertising.  Requests for public service announcements will also be accepted, and those will be aired free of charge to bona fide non-profit groups and organizations.
"Our rates are the most competitive the industry has to offer," Hawk said.  "Get heard around town and around the world."
The 24-hour station officially began broadcasting as of noon today.