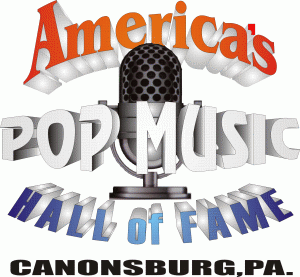 Elvis Presley, the Beatles, and Frank Sinatra are among the "Top 40" nominees for induction into America's Pop Music Hall of Fame. 20 inductees – the first class of inductions – into the new Hall of Fame will be announced in May, 2013. Formal induction ceremonies will be July 2, 2013. To be eligible for the Hall of Fame, an artist must have placed a song on the national charts between 1946 and 1975.
Canonsburg, Pennsylvania, just south of Pittsburgh in Washington County was chosen as the home of the new Hall of Fame. Canonsburg is the birthplace of Perry Como, Bobby Vinton and the Four Coins who together have placed more than 190 songs on the pop charts. The town is also home of several artists and groups who have enjoyed regional success. The hall has a temporary home in downtown Canonsburg while funds are being raised for a permanent location.
The nominees were named over the weekend and include the following artists: Paul Anka, the Beach Boys, the Beatles, the Bee Gees, Tony Bennett, Chuck Berry, Pat Boone, the Carpenters, Johnny Cash, Ray Charles, Chubby Checker, the Dave Clark Five, Nat King Cole, Perry Como, Bobby Darin, Neil Diamond, Bob Dylan, the Everly Brothers, the Four Seasons and Connie Francis.
Also Elton John, Dean Martin, Johnny Mathis, the Monkees, Ricky Nelson, Roy Orbison, Patti Page, Les Paul & Mary Ford, the Platters, Elvis Presley, Simon & Garfunkel, Frank Sinatra, Smokey Robinson & the Miracles, the Supremes, Three Dog Night, Bobby Vinton, Dionne Warwick, Andy Williams, Hank Williams and Stevie Wonder.
Members of the music industry and pop music fans will be able to vote for their favorites at americaspopmusichalloffame.org beginning Thursday, September 20.