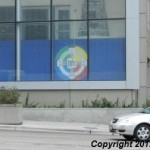 My wife and I took a two-day trip to Chicago at the end of June. We spent months planning this trip (or so it seems) and when asked what I would like to do, I immediately said that I wanted to visit the Museum of Broadcast Communications. The museum has been around since 1987 and just recently re-opened at its current location on State Street ("that great street") in mid-June. We squeezed the visit in between breakfast and a trip to Wrigley Field to watch the Cubs play. (Yes, I said the Cubs… and yes, they won.)
The museum's grand reopening on June 13 featured Betty White (The Golden Girls, Mary Tyler Moore, and others), John Mahoney (Frasier), and Hugh Downs (ABC's 20/20; NBC's Today Show). One of the employees told us that Jerry Springer was there, but not as an official member of the introductory team.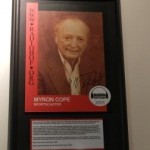 Upon our arrival on that Friday morning, we were greeted by a set of doors Oprah and her guests used to enter the set up until a set change in 2005. An artistic work known as the "Media Tower" was built and designed by Mark Patsfall featuring monitors, tubes, editing decks and many pieces of equipment used in the biz. The tower is visible from the street and is at the top of the entry stairwell which leads to the Radio Hall of Fame. The Hall of Fame pays tribute to the broadcast legends who have, in some way, made a name for themselves. "Murray the K", "Cousin Brucie" and Jim Bohannon to name a few, are all enshrined on the walls. Former President, Actor and Sportscaster, Ronald Reagan was inducted in 2011. Pittsburgh's beloved Myron Cope was inducted in 2005.
The third floor recalls television throughout the years. Perhaps giving more of a nod to local favorites in Chicago where it is obviously easy to find set pieces to display, this floor also features many videos from classic commercials (we saw so many commercials for Tasters' Choice, Coca-Cola, and Nestea that we had to go to the bathroom) to clips of old variety shows. Found an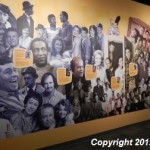 old AP teleprompter telling of President Kennedy's death right next to the studio set that WLS-TV sponsors for children and adults alike to try their skills at anchoring a newscast and weather forecast complete with chroma-key. The networks have their own contributions at the museum as well.
The museum is a great visit for anyone who has spent time in broadcasting or even the curious.
Open Tuesday through Saturday 10:00 a.m. – 5:00 p.m.
Admission: $12.00/adults; $10.00/seniors; $6.00/children 4-12.
Address: 360 North State Street; Chicago, IL 60654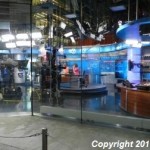 Following our visit to the museum, we walked south on State Street to the famous Chicago Theater sign. Across the street, we found the street-level studios for WLS-TV (7) and WMVP-AM (1000) the local ESPN affiliate. WLS-AM/FM (890/94.7) were located inside. For what it's worth, as we were watching them prepare for the newscast, a deluge hit downtown Chicago and we took temporary shelter inside the station's archway entrance.
All photos by Eric O'Brien. Copyright 2012