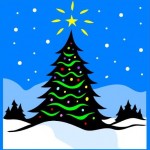 Pittsburgh's Light-up night means Christmas music on the radio! WSHH (99.7) and WWSW (94.5) have made their annual flip to the "format" which will last through the first day of Christmas, December 25. Oddly enough, the two competing stations bill themselves similarly as "Pittsburgh's Official Christmas (Music) Station."
Meanwhile, CBS Radio is the media sponsor for Light-up Night being billed as "Santa Spectacular". The event begins at 5:00 today and features a Santa sing-along, food trucks, ice sculptures, and live entertainment. There will also be a "warm-up tent" although today's unseasonably warm weather may eliminate the necessity!
CBS is also sponsoring the return of The Original Downtown Santa-Land Company which was a part of Kaufmann's Department Store since the 1930s. This year it will be located in the Heinz Hall Garden Plaza through December 24. CBS stations will broadcast from there at various times throughout the season where they will also fundraise for Children's Hospital.