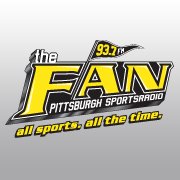 With the release of John Seible from KDKA-FM's (93.7) afternoon talk show, the program became "Starkey and Miller". But according to Bob Smizik's blog today, Chris Mueller will be joining the program next week (2/11). Mueller, along with Andrew Fillipponi and Colin Dunlap had been taking turns as guest co-hosts in the interim since Seible's departure.
Fillipponi will retain his 6:00 – 10:00 p.m. slot.
Meanwhile, Colin Dunlap, a frequent fill-in host, will gain a permanent spot as he takes over Mueller's spot of 10:00 p.m. – 2:00 a.m.
Smizik says most contracts were renewed earlier this year as the station marks 3 years on the air. Little else will change to the station's lineup.
UPDATE: The station confirmed the aforementioned changes with a press release shortly after this story was posted.
Station Program Director Ryan Maguire said, "In Chris [Mueller] we feel we have a dynamic personality who really had great chemistry with Joe Starkey and Josh Miller. That speaks volumes because we had some very talented candidates that we were looking at for this position. He earned this, and we're excited at what lies ahead."
Meanwhile, Colin Dunlap will not only have the new on-air slot mentioned above, but he will also serve as the featured sports columnist for 937thefan.com. Dunlap wrote sports columns for the Pittsburgh Post-Gazette until 2011.