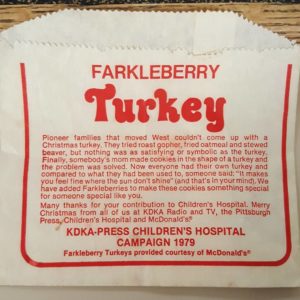 It was 1971 when then-KDKA morning man Jack Bogut received a Denver Post item from a listener talking about the Farkleberry Bush Festival in North Dakota. He took the novelty and ran with it, so much so that it eventually became synonymous with the Children's Hospital Free Care Fund Fundraiser that KDKA continues to this day – complete with Farkleberry something-or-others!
Bogut worked with Jim Delligatti (the Big Mac inventor) each year thereafter to create a new Farkleberry treat that would be made and distributed at the area McDonald's Delligatti owned. The "Farkleberry Turkey" sleeve is an artifact of one of those creations.
Jack's complete Farkleberry story can be found on his blog (posted December 4, 2016) at his website: storytellerjack.com.
(Sleeve contributed to PBRTV by Sam Zema.)