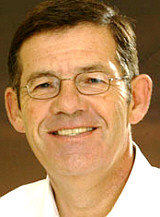 By Tom Leturgey
Former Pittsburgh Pirate broadcaster Lanny Frattare was added to the Keystone State Wrestling Alliance (KSWA) Hall of Fame on Saturday, March 26. The event was held at the Teamster Temple in Lawrenceville.
Frattare was one of four new members of the Pittsburgh Wrestling Hall of Fame. In addition to Frattare, local wrestling legend T-Rantula, Eugene Palermo and Studio Wrestling mainstay the late Baron Mikel Scicluna made up the Class of 2016.
Frattare was not informed of the honor before his induction. In addition to 33 years as the voice of the Pirates, Frattare has been a sports broadcaster for the MSA Sports Network for six years. For the past several years he has been a Guest Ring Announcer for the KSWA's annual FanFest in December. FanFest helps raise toys for needy children as part of Allegheny County's "Holiday Project."
Frattare joins a long list of baseball broadcasters who have also dabbled in professional wrestling. Milwaukee Brewers' announcer Bob Uecker is a WWE Hall of Famer for his appearance in Wrestlemania III. In addition, former Pirate and Hall of Famer Pie Traynor was a contributor to Studio Wrestling. Joe Garagiola, who played catcher for the Pirates from 1951-1953, was host of a televised wrestling show in St. Louis.
Frattare becomes only the second announcer to be inducted into the KSWA Hall of Fame. "Chilly" Bill Cardille was inducted in 2014.