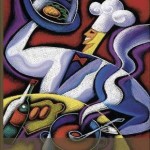 Twenty local celebrities will serve up their favorite foods and gather this Saturday night, February 28, for the annual Recipe for Hope event to benefit Hair Peace Charities. The event is held at the Mayernik Center along Camp Horne Road in the North Hills at 7:30 p.m. Tickets are $125.00 a piece and can be purchased by going to hairpeace.org.
Hair Peace Charities was founded by KDKA traffic reporter and cancer survivor Bonny Diver to help women and girls going through cancer treatments be able to buy wigs to replace the hair lost due to treatments. Wigs are not covered by insurance. Bonny explains on her website,
"It is important to try and look normal for working women, mothers and girls in school, but it can be a financial hardship with co-pays and loss of work while in treatment. That is one reason I started Hair Peace Charities – to pay for wigs.
A huge part of my battle has been planned by God. God is the 'Peace' in Hair Peace. That is another reason I started Hair Peace Charities – to support women in faith. It has been my way of fighting back."