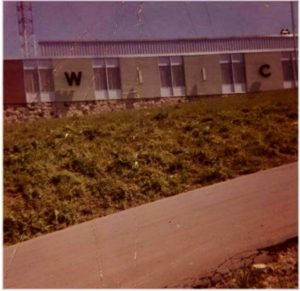 Speaking of things that you find when you didn't know you were looking for them, how about this picture of the Television Hill building from channel 11's WIIC days? It's hard to tell when this picture is from, although I would suspect that it was somewhere between the late-60s and mid-70s. Either way it predates the sizable newsroom addition that was built in the early 80s around the time that the station became WPXI.
WPXI moved from 11 Television Hill (AKA 341 Rising Main Ave.) in 2007 when Cox Media Group built a state-of-the-art facility at 4145 Evergreen Rd. in the city's Summer Hill neighborhood. A glance at the McKnight Road side of the current facility shows the letters W P X I on the side of the building much like W I I C displayed here.
After the station moved, the majority of the Television Hill building was torn down leaving an engineering building underneath the tower.