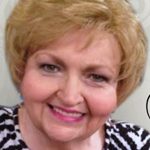 Arlene Williams, host of CTVN's "At Home" cooking show as well as a co-host on "Real Life" Signs and Wonders segment, passed away Wednesday at the age of 71. She was a native of Turtle Creek and lived in McKeesport.
Williams was a member of Greater Works Outreach in Monroeville where she worked with the GAP ministry and was considered a spiritual mother to many. She worked with Cornerstone Television for nearly 30 years.
CTVN is based at WPCB-TV (40) in Wall.
(CTVN)