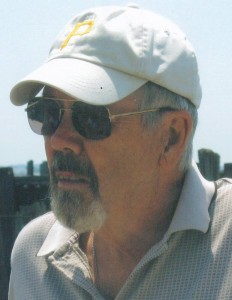 Lynn B. Hinds, former WTAE-TV (4) reporter and talk show host, died Saturday, April 5 at his home in Fredericksburg, Virginia. He was 79. He was born in Akron, Ohio in 1934 and was a 1953 graduate of Springfield High School. Hinds went on to receive a degree in Speech and English at the University of Akron in 1958 and a Master of Divinity from the Eastern Baptist Theological Seminary in 1960. He also received a M. A. in speech from Temple University and a PhD from the University of Pittsburgh in 1976.
Hinds served as a faculty member at Princeton Theological Seminary and Pittsburgh Theological Seminary, Duquesne University, Penn State, West Virginia University and retired as Professor Emeritus from Drury University in Springfield, Missouri. As a broadcaster, Hinds did talk shows for KQV (1410) and WTAE (1250) and was host (with Cathy Milton and Al McDowell) of AM Pittsburgh on WTAE-TV from 1972-1983 where he also worked as a reporter. He wrote, produced and was the first host of The Pennsylvania Game on the Pennsylvania Public Television Network. He also authored a book called Broadcasting the Local News: The Early Years of Pittsburgh's KDKA-TV.
Survivors include his wife Cynthia, a daughter, two sons, two grandchildren and a great-grandchild. A celebration of life will be held Saturday, April 12 in Fredericksburg.