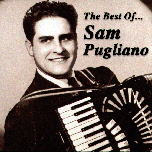 PBRTV received word via the Prime Time Polka Facebook Page that long-time Polka Entertainer and on-air personality Sam Pugliano passed away this morning. Pugliano worked with the greats in the Polka world and often spoke of his association with the late Frankie Yankovic. He also spent nearly 50 years on Pittsburgh radio stations playing the music he enjoyed the most – the last several years on WKHB (620 Irwin; 94.1 Clairton). This editor always considered him a great joy to work with.
Here is Sam performing The Barking Dog Polka with Yankovic some years ago.
UPDATE: Funeral plans have been announced and are available here.