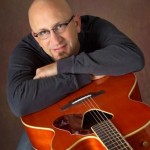 WYEP-FM (91.3) has named an interim general manager filling the void recently left by Lee Ferraro. WYEP board member Greg Joseph will fill the role until the station can name a new permanent GM. Joseph is a singer/songwriter, bass player, and spokesman for the nationally-known band The Clarks. He has been a board member of the station since 2007.
"I am enjoying the process of getting a fresh perspective on the station," Joseph said in a press release. "WYEP is fortunate to have a talented staff that continues to move forward on the station's mission."
The station's board of directors recently appointed a sub-committee to review qualified applicants for the position.