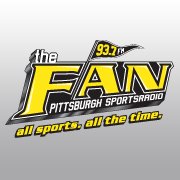 Saturday, May 25 will be the first of five open audition opportunities where entrants will have an opportunity to host a program broadcast weekends on Sports Radio 93.7 The Fan (KDKA-FM). The location for this event will be Beer and Pop 4 Less on Washington Pike in Bridgeville.
At the open auditions, participants will be judged by station personnel on their ability to rant on a random sports topic. Ten entrants from the open auditions will be selected to move on to the semi-final round to be held at the Tilted Kill on the North Shore on June 24. From there, the top four entrants will move on to the final round at Sidelines Bar and Grill in Sewickley to be judged during a live broadcast with Andrew Fillipponi on June 27.
KDKA-FM's program director, Ryan Maguire said, "We're looking for the next great Pittsburgh Sports Talk Show host, someone who can grow into a superstar. We're eager to see which member of this passionate fan base can take advantage of this very rare opportunity."
Participants must be 18 years or older and reside in Pittsburgh. The first 20 people to register at each audition will be guaranteed a chance to try out.
Dates and times for auditions:
May 25 – 11:00 a.m.-1:00 p.m. – Beer and Pop 4 Less; 1155 Washington Pike; Bridgeville
May 29 – 7:00 – 9:00 p.m. – Dad's Pub & Grub; 4320 Northern Pike; Monroeville
June 6 – 4:00 – 6:00 p.m. – Cricket Wireless; Medical Arts Building; 3710 5th Avenue; Oakland
June 10 – 7:00 – 9:00 p.m. – Joey D's Bar and Grille; 2801 Freeport Road; Harmarville
June 19 – 7:00 – 9:00 p.m. – Jergel's Rhythm Grille; 285 Northgate Drive; Warrendale
Semi-Final
June 24 – 7:00 – 9:00 p.m. – The Tilted Kilt; 353 North Shore Drive; Pittsburgh
Final
June 27 – 6:00 – 10:00 p.m. – Sidelines Bar and Grille; 518 Locust Place; Sewickley
More information: Click Here