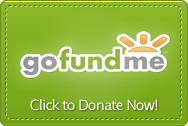 While the question has never officially come up from a reader, I recently had a discussion with a friend about having a website versus just using social media. Specifically, the benefits of social media being "free" while operating a website of your own costs money. I don't remember what the exact conversation was that led to this discussion, but I remember the outcome of the discussion being that despite the costs involved, it is still far better to have your own website and use social media as a tool to drive traffic to the site. I could go on and on, but I think you get the gist. That said, I am once again appealing to you for a small donation to keep PBRTV operating. Although I set "lofty" goals the last couple of years, I have still set the same goal of trying to raise enough money to pay for three years of web hosting (which is nearly $400).
A GoFundMe page has been set up for you to make your contributions and the following message is taken from that page. Thank you so much for your help, not only this year but in the past, to keep this website active.
Sincerely, Eric O'Brien, PBRTV
Here is what is posted on our donation page: <—- Click that to be taken to our donation page.
Here we are at the 2017 PBRTV Pledge Drive. Hard to believe it's that time again! Our goal is $600.00 which, minus the fees, would cover webhosting for at least 1-3 years and perhaps a little bit more.

Let me put this in perspective, in 2015 we managed to raise $285.00 of a $500.00 goal.  In 2016, it was $230.00 of a $500.00 goal. So why have I raised the goal?

1. With the fees associated with GoFundMe, PBRTV was able to cover 1 year of webhosting with the last two years of fundraisers.

2. I would like to cover three years worth of hosting (which runs nearly $400.00) and not have to bother you again until 2020. 

Of course donations of any size will be accepted and will be used accordingly even if it only covers one year's worth of hosting!

Our target date to complete the fund drive is: May 15, 2017. Whatever we've raised with go toward webhosting and other expenses related to the site and nothing else.

PBRTV has been a part of the community since 1998. When I started this site, I never would have guessed it would have lasted this long. But it's a labor of love that I continue to enjoy bringing to you. Will you please consider a donation this year?

Thank you for helping to keep this site going!