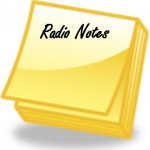 Today, Tom Taylor reports:
It seems that John Longo has found a buyer for the station he's owned for the last 25 years. Back in February it was reported that Longo was searching for a buyer who would carry on the legacy of WCNS (1480 Latrobe). Laurel Highland Total Communications bought the station for $450,000 cash.
The Confer Radio Talent Institute opens today at Bloomsburg University. Kerby Confer, the head of Forever Broadcasting, says that his school is "just what the industry needs" as it encourages future broadcasters, owners and so forth. Several well-known broadcasters are on tap to help get things started.