[important]To read in chronological order, start at the bottom and work your way up.[/important]
Hey there, I just ran across the PBRTV page — I really like it. You're linked from NewsBlues.com, which might help generate some more hits for you… By the way former Pittsburgh WTAE-TV morning news anchor Melanie Shafer is currently a morning news anchor at WSAZ-TV in Huntington/Charleston, WV. She returned to WSAZ in July (she had previously been the 5 PM anchor at WSAZ before landing the Pittsburgh gig four years ago). So, if by chance anyone asks… that's where she is. Keep up the excellent work with PBRTV. (October 31, 2000)
---
Eric, To answer your reader's question, 94.1 IS a pirate radio station based in Carrick. It's mostly classic rock and I'd guess it'll be shut down when its exact source can be found. I'm sure B94 and 3WS don't enjoy someone messing with their strong signals. I can tell you that 94.1 does very little to interfere with the b or with 3ws, but I can't blame the big stations for wanting to be protected. (October 28, 2000)
---
Dear Eric: Your letter writer who was curious about 94.1 is indeed picking up a pirate. He has a website, http://www.kindradio.com and is coming out of the East Liberty area and running 40 watts, I'm told. I try to listen to him whenever I'm in his coverage area because pirates are about the only "fun" left on radio even though his music is usually lousy (I did hear him play a few hit tunes, however, even a Nancy Sinatra selection from the late '60s. (October 28, 2000)
---
Hi Eric, I was just checking out your website and I found it very informative and interesting. The reason I was searching for info regarding Pittsburgh radio is that I accidentally stumbled upon a radio station, 94.1 FM that must not have a very strong signal, as I can usually only hear it in select areas of the city. It is a Pittsburgh station, which I can hear mostly throughout Oakland and Squirrel Hill, and also into Wilkinsburg, and on the Parkway from the Sq.Hill tunnels, then almost to the first Monroeville exit. I just realized I can also hear it in my home in Carrick, and in and out as I drive up Beck's Run Road. I listened to it for three solid hours this evening, and throughout that time, there was only music (really good music for the most part!!), but no DJs or even a station ID with their call letters or anything. (Then just a moment ago I heard "you're listening to 94.1, Pittsburgh's —???——–radio.com", but it was too low, and now I fear that it may not be repeated for another 3 hours.) On at least three afternoons (3:00-4:00), I have heard live Grateful Dead songs, and I swear I heard a live clip of CSNY saying that this was their second time ever performing live. Tonight they have played Phish, Bob Marley, AC/DC, Stones, and any other variety of good music that you might imagine. They also played a speaking clip of Woodstock when they announced that officially it had become a free show, and for everyone to be cool, someone would be bringing in food and water…. I never know what to expect next. The reason that I am sharing all of this with you is because I find it very intriguing, and I'd like to know from where this music is being broadcast, and by who? It's weird for me to be listening to the radio for this long period of time, and not have anybody there. (I listen to the radio a majority of the time, and it's almost as if I start to know the DJ's after a while) It's like there's no interaction. Do you know anything about this station, (or do you even have a guess?), or could you direct me to a source for information? (Or will it just remain a mystery?…if so, I don't think I can continue to listen … the curiosity might consume me!) I'd appreciate any response. (October 27, 2000)
Eric's Response: Sounds to me like it's a pirate radio station…ie. someone is on the air illegally. There is no telling who it is or where exactly it is coming from if that is the case. However, there is no doubt in my mind that someone will find it and shut it down. Frankly it happens all the time. It's a very strange thing that some people think they can get away with! Thanks!
---
Eric, The latest FCC posting of call sign changes (10/23) finally reveals that 96.1 changed to WKST-FM and 92.1 changed to WJST back on the 10th. WWSW AM changed to WBGG and 940 changed to WPNT on the 20th. Dave Loudin (October 27, 2000)
---
Hi Eric, I can sure use a plug, er, favor. I was wondering if you an put this plug into the mailbag…. "Keep on top of what going on with Television News inside of the beltways and along I-95. Check out Washington DC/Baltimore TV News. We have the coverage you can count on with stories, the inside scoop and lots more. We also have a section where you can see the past on Washington and Baltimore TV News. Check us out today. To see what's happening in Washington, go to http://washington.dcbaltotvnews.com. For Baltimore type http://baltimore.dcbaltotvnews.com." PKB (October 25, 2000)
---
I have to agree about something being needed in Pittsburgh. B-94 sucks to put it simply. This "KISS" will give a rhythmic edge to the 'Burgh. Also, the guy who used to do "What's Down my Pants" on Mix Jamz was D.C. Taylor who is in Florida now. I think we all know where Jay Silvers is, and Tony Q. Foxx is in Southern Florida as well. I say D.C. Taylor for afternoon drive!!! Jason Spencer (October 25, 2000)
---
Eric, I was exploring your website and noticed that you haven't updated some pages since August 25, 2000. With the radio market frequently changing and you have positioned yourself and your website as an informational source, don't you think you should be paying closer attention to some details? Thanks, Ellen 🙂 (October 23, 2000)
Eric's Response: You have to keep in mind that PBRTV, like DCRTV, for the most part is a one man operation. Neither one of us have teams of editors who stay up around the clock waiting for things to happen. Also, certain parts of PBRTV only need to change every so often. While we can't seem to get through a year without at least one format and callsign change, chances are that we can go a month or two without a change. Therefore, August 25 to October 23 is not a bad period of time without an update – assuming NOTHING has changed…and in all honesty it really hasn't. I DID notice that on the AM page (one of those marked August 25, that I did not yet make 1550 WURP and that it was still listed as WCXJ. Mea Culpa Mea Culpa. I also don't profess to know EVERYTHING about radio which is why I rely on help from people around the area to help me out by sending email and giving reports on what the heck is going on here and there. As far as keeping PBRTV up to date, the most up to date source is the index page with the PBRTV Hotline. Generally that is updated at the least most often every few days…and often times, daily. I personally think I do pretty well for being a one man operation and balancing this along with all else that I do :). It will stay that way too!
---
Hey Eric, I've been listening to 96-1 KISS-FM over the Internet and noticed during the day Lisa Taylor has been on. Well this is the Lisa Taylor of New York NY's Z100 WHTZ (another Clear Channel station). She must be doing some voice-tracking for KISS because she is 'live' Monday thru Friday on Z100 from 10AM to 3PM. Click here to listen to her 'live' on Z100 (10AM-3PM) (http://www.nj.com/ram/z100/z100.rpm) and read her bio here (http://www.z100.com/source/airstaff.htm) (October 19, 2000)
---
Eric, I just heard that the AM in Charleroi that is simulcasting off of Froggy 94.9/98.3 has just changed it's call letters to WPNT. Any idea why?????? (October 12, 2000)
---
WAMO fires a valuable employee? Why, who ever heard of such a thing! (October 12, 2000)
---
News Anchor/Reporter and Creator of the Station's Highly recognized two Stop the Music events (March 15th and May 6th) in response to the two recent mass shooting sprees in the Pittsburgh area (Ronald Taylor and Richard Baumhammers) has been let go today 10/11 from WAMO Pittsburgh. James was intrumental in re-establishing WAMO Pittsburgh's credibility as a local news operation. James established the on-air relationship with WAMO listeners and Dr. John Thompson via the WAMO morning show (called the Breakfast Jam) between newly installed Superintendant John Thomson. Most recently in the Tribune-Review, James and his twin brother John Galloway, were featured for their fund-raising carwash that raised money for the Pittsburgh Action Against Rape and the Grandmother who was rundown in Rostraver Township a few weeks ago. James Galloway, Jr. known to the R&B and Hip Hop radio worlds as J.J. is looking for a new Playground to have fun in. John (October 11, 2000)
---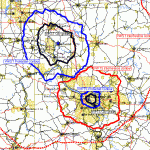 Eric, I stumbled onto some neat tools on the FCC's web site (see previous message) and thought I'd put together a picture of what 92.1 in the Pittsburgh area looks like. The station once known as WKST is protected only within the blue contour. Beyond that distance – tough! Note how nicely WPTS's interference contour fits up against WKST. Also note that WPTS's service area is subject to interference from WKST. That's the way the cookie crumbles for a class D station. WKST (or WJST or whatever the heck it is now) is already at a full class A operation, so they can't raise the antenna or increase power to change their coverage area (if they wanted to). Regards, Dave Loudin(October 11, 2000)
---
Hello Eric and People who were embarassed by the Steelers getting rolled by Baltimore in the Home Opener. I do not really care because I am a Washington Redskins fan. Kenny Burns' Radio and Television Land (http://kbrtvland.mainpage.net) has added a new city…Pittsburgh. Radio and Television Land has past logos of Pittsburgh Radio in the new Pittsburgh Section. We are always looking for new stuff. If you have any, please email famousshot@aol.com or visit the website for more details. Please stop by and have a look at the logos. If you have any more information about them that you can supply, go ahead and email us as well. P. Kenny Burns (October 10, 2000)
---
Eric, Whoo-boy, the call sign can of worms has opened up again! Let's review a few things…. First: I have just searched through the FCC data files that are supposed to incorporate changes every morning. Searching on WKST% yeilds WKST 1200 New Castle and WKST-FM 92.1 Ellwood City, PA. Searching on WPHH% yields WPHH 96.1 Pittsburgh. Searching on WJST% yields nothing! The Florida station mentioned in another post changed from WJST to WJPT 106.3 Fort Meyers Villas, FL back on September 14th. NOW, either the FCC has been slow to update the information (possible), or games are being played with the legal IDs (very possible!). I bring up as an example WGAY 1260 Washington, DC. When this station flipped from their heritage call of WWDC, there was a time where all the positioners said "WGAY" while the legal ID was still WWDC (correctly given at the top of the hour). I imagine that the calls for 92.1 and 96.1 will eventually settle on what everyone thinks they will be. I'm willing to bet that there's some sort of quick, highly distorted reading of the current official calls buried within a stopset on both stations. Listen carefully! On the matter of legal IDs, it is important to distinguish between simulcasters licensed to different suburbs and stations just appending the big city onto the legal ID (a confusing, but perfectly legal practice.) WWSW and WWSW-FM are both licensed to Pittsburgh. WPGC and WPGC-FM are both licensed to Morningside, MD, so the "Morningside/Washington" phrased applies to both stations. J.J.'s other example trully fell under the different cities case, as it was WWIN Baltimore and WWIN-FM Glenn Burnie. Steve was spot-on about WAMO-FM's less-than-perfect legal ID, BTW. J.J.'s point about WAMO's change to Millvale is the latest method for formerly daytime-only stations to get some sort of night authorization without having to build new towers at a different site. Even under the more relaxed rules where most skywave service areas are no longer protected, stations like WAMO cannot cover their original city of license at night without building a new facility. Changing the city of license is far cheaper. To Patrick: shame on you! Both of the 101.9 stations you mentioned are on the Pittsburgh transmitter map, so check it out! About 92.1: Both WPTS and WXJX are class D FM stations, and enjoy NO PROTECTION AT ALL from other stations. WKST Ellwood City is a Class A station, so their interference-free zone has a radius of 28 kilometers. Therefore, WPTS and WXJX are OK so long as they do not interfere with WKST within that zone and they have to accept whatever interference comes along from other stations. The FCC has not licensed Class D stations for a long time, BTW. To learn more: Please head to www.fcc.gov/mmb/asd . They have added a bevy of shortcut buttons that lead you to many very interesting tables and tools. Regards, Dave Loudin (October 10, 2000)
---
First, Steve, you are right– that's how I understand the FCC rules to say when you designate an AM and FM station with the same call letters. For example, the former simulcast of WWSW. Now the (no comment) trimulcast of WAMO-AM/FM and WSSZ. In my experience, I have heard simulcast id's in Baltimore: WWIN AM and FM Glenburnie/Baltimore, the former WERQ-AM/FM simulcast, and of course the infamous WPGC-AM and FM Morningside/Washington D.C. But, from the horse's mouth (the guy who built WAMO-AM) Bob 'da man' Sharkey, when I inquired the same as to why the only station in the group that said WAMO-Pittsburgh (post-1996), now said WAMO-AM Millvale. He told me that since the power has been increased at night, the station still doesn't really cover all of Pittsburgh at night. I was also told that a station must cover the city it is licensed to 80%, and the new night-time power did not entirely cover Pittsburgh (nor did it prior to the power boost). So to legally operate at the new power, a city in which the station covered the area by at least 80% was searched for. Badda-Bing! Millvale. How do I know that? I ask a lot of questions…. And B94 to my suprise is reacting on the air to the new Kiss-FM. Drawing attention to (all of a sudden) playing all of today's hit music, and not just some of it. Dear fellow radio lovers – does that draw credibility to your competition? And the bigger question– when do you acknowledge your new format competitor, and what do you do (on-air) to counter their presence in your home turf. I say that because I keep thinking to what Radio One did in Philly. Philly 103-9 started a strategic (no I don't work for Radio One) plan of pissing off Power 99's Jocks by showing up at Power events. I found out that there was another station playing hip-hop in Philly by the Friday evening hip-hop show 'clowning' this new station, to the point of making reference to some of this station's new jocks on the air and how they held an event on a Power night. My next memory is the station swiftly taking on a new direction (in obvious reaction to the new station). Or lets back u p to the Summer of 1993 when Q102 (ONE HELL OF A STATION) went up against Power 99. What I recall was the station's competing in a few ways. One was the number of minutes per hour they played music, and how much MORE it was compared to "that other station'." I.E. Q102, your one-hundred and two (damn) minute in a row continuous jam station. And me, radio lover, ate it up. Will Pittsburgh move to that? (Praying it will). Like that new radio ad for what Pittsburgh has to offer for young adults. Ding Ding. Real radio war. J. J. Playground Host (um, will play on your frequency for the right price) jj@webjhn.com The Home of Urban Entertainment in Pittsburgh. (October 9, 2000)
---
Dear Eric, Just yesterday afternoon I was driving to WAL-MART plaza in Monaca, PA listening to the radio. When I parked the car in the parking lot, I tuned in to 101.9 FM. WTNX has changed its format to urban AC to an "original hits" format. The call letters are now WNIO, and FM 101.9 simulcasts AM 1390. I also can pick up WVAQ 101.9 in Morgantown, WV. Am I within the halfway point of Morgantown, WV and Youngstown, OH? Where would you have to be at to get a perfect signal? Thanks. Much regards, Patrick (October 8, 2000)
---
OK folks, this is getting strange. I did a search for WJST on the MIT list of radio stations (http://wmbr.mit.edu/stations/list.html) and found it was the calls for a nostalgia station (who goes under the slogan "Silver 106") in Fort Meyers, FL at 106.3. And this station is NOT owned by Clear Channel, but is owned by Beasley Broadcasting (unless this is now a division of CC?). Their website is www.wjst.com and you can see what I mean. (October 8, 2000)
---
Eric,I have some updates about radio in Ohio Valley you might want to consider revising on your S-W page. Here they go: 97.3 WKWK is now a hot AC station and uses the new moniker "The Mix-WK 97.3" On the LMA that AMFM had on 95.7 WEEL, well Clear Channel decided not to pick that up, so it is completely run by Ohio Valley Communications now. Also WOHZ 1600 runs a children's format with occasional news and talk I guess you could say. Burbach Communications (yet another rip off of Forever/Key Market/Kirby Confer) is interested in buying 1600 AM. WBBD 1400 is also Clear Channel's, and all of the AMFM properties are now Clear Ch. (97.3, 98.7, 105.5, 107.5, 1170, 1400). Also I have a question and a comment also. Ok, WJST in New Castle, WPTS in Pittsburgh, and WXJX in Washington (W&J College's VERY low powered station) all run on at 92.1. How in the world can this be legal or even smart? At my home in Canonsburg, Washington Co., the 92.1 spot on my dial is VERY congested at nights especially. Between 8-9 PM I get WXJX, then about 9-10 WPTS, and after that till dawn WJST at 92.1 here. Why doesnt Clear Ch. complain to the FCC about this? They could easily slip the FCC, Univ of Pgh, and W&J College a few bucks to move the D.P.'s of their stations to lessen congestion on the dial. Now for the comment. The New Kiss 96.1 is a VERY big rip off of B94. The jingles and IDS sound almost indentical to B94's "style" in theirs. I thought their was already a war between 96.1 and 93.7 over jingles before this! I miss Mix, one of the few who probably do. So, until we get another modern AC sounding hot AC, I will have to listen to 100.5 WOMP-Fm and 101.9 WVAQ! I really thought Clear Channel was going to give Mix a chance, and evolve it into a modern AC and CHR further down the road. I last listened to Mix 96.1 Friday at about 3:55 PM, I sure wish I would have "savored" it more! Thanks and keep the site on trucking! 🙂 (October 6, 2000)
Eric's Response: Well it's true they do sound alike. What nutsy attacks! However I've noticed that WKST has a bit more of a rhythmic sound than B-94. It could be due to the fact that I chose the "wrong time" to hear a good sampling of the music. However, I think they do sound a lot alike. More on that later. The 92.1 stations. There is no doubt that WJST is the most powerful and why CC doesn't do something about it I don't know. It could partly be due to the fact that WXJX and WPTS don't interfere with WJST in its target market which is the Youngstown/New Castle area. That's the most logical answer I have for that one. As for the updates, they are on their way soon!
---
HI ERIC, IN REGARDS TO WAMO STATION ID THE AM STATION IS IDED AS- WAMO AM MILLVALE, NOW THAT THEY HAVE NIGHT SERVICE WITH 830 WATTS. SOME STATIONS ARE THAT WAY. WCXJ IS NOW WURP, PLAYING R&B AND OLDIES IN FOREST HILLS.AND ARE NOW OWNED BY INNER CITY BROADCASTING IN NEW YORK. WXVX [AKA WPSL,WRUA,WCXJ ] IS NOW WPGR WITH TOWERS IN PENN HILLS OFF COAL VALLEY ROAD. SOON TO BE PUTTING OUT 5KW DAY, 2.5KW CR AND 1 WATT NIGHT. I HOPE THAT HELPS. PHIL Z (October 6, 2000)
---
Eric, in response to Clarke's question, WFGY does show very well in Bedford, but so do about 3 other country stations, so I think that's why 107.5 changed to rock. All 4 Bedford stations are now owned by Cessna Communications, locally owned and operated. (October 5, 2000)
---
Eric, 92.1 will not be getting the WPHH calls… instead, they will become WJST. The format reamains the same (AC). Found this out from the youngstown clear channel website http://www.youngstownradio.cc (October 5, 2000)
---
Eric: I tuned to 96.1 this morning and heard the WKST, Pittsburgh ID for the first time. There's one problem with this: It should say WKST-FM, Pittsburgh. It seems that Clear Channel is forgetting that they own 1200 AM in New Castle, which also uses the WKST call sign. If an FM shares a callsign with an AM, the FM must use the -FM suffix with the call letters in legal identification. Am I correct? Also – not three minutes after I heard the WKST ID on 96.1 – I flipped to 92.1 in Ellwood City to hear what the new call letters would be, and guess what? 92.1 was STILL using the WKST-FM identification! It sounds like Clear Channel definitely has some things to iron out… By the way, now that I think about it, WAMO-FM hasn't given a legal ID in a very long time. Near the top of the hour, when legal identification is required, their ID reads "This is WAMO, Beaver Falls – Pittsburgh; WSSZ, Greensburg." This *SHOULD* say WAMO-FM because, of course, the WAMO call letters are also assigned to 860 AM in Pittsburgh. Regards, Steve (October 5, 2000)
Eric's Repsonse: Well this is a convoluted mess actually. I would check 92.1 within a day or two. They have made that WJST-FM now. K and J sound a lot alike and they probably should have the official ID in place by now. Unfortunately I can't catch WJST…I'm still prime for WPTS on 92.1. As for WAMO, their partial simulcast on 860 should really allow them to have an official ID that would be a mess! I don't think 860 is licensed to anywhere but Pittsburgh. Therefore, they would have to ID themselves as (Oh Lord help me) WAMO Pittsburgh, WAMO-FM Beaver Falls Pittsburgh WSSZ Greensburg. (WHEW!)
---
I also think tv 33 in youngstown was once tv 33 in new castle the calls may have been wkst-tv (October 5, 2000)
---
Hello to all my radio friends in Pittsburgh. I'm now in Houston, evening anchor at KTRH NewsRadio 740. E-mail: tvnewsman@hotmail.com. Re: earlier submission on Joe Gearing (formerly of KDKA), Joe is alive and well running Gearing Program Services from flagship WKHB in Greensburg. Great job on your web site! Anybody have an update on WCXJ/Braddock? Also, I'm curious what is now on the site of the old WXVX 1510 AM site in Monroeville (behind the post office on Monroeville Boulevard)….I noticed the tower had been torn down the last time I was home. — Michael Kunkle (October 5, 2000)
---
Eric, if you go back far enough, not only was there a WKST-FM on 101.1, but there was also a WKST-TV 45 licensed to New Castle. This station eventually moved to channel 33 and became WYTV, Youngstown. I have several old TV Guides from the 1950's with listings for WKST-TV, as well as for WFMJ-TV on channel 73! Regards, Clarke (October 5, 2000)
---
Eric, back as far as the 1970's the call letters for 92.1 fm ellwood city not new castle were WFEM C-92 County with Larry Conte at the helm a great Scott Station.. i just checked and the call letters are only on a low power tv. maybe..i don't think so Vito (October 4, 2000)
Eric's Response: Check out radiostation.com's database. If you call up WKST-FM you get the info for 92.1 in Ellwood City, PA. The confusion may be because WKST was once on 101.1 FM in New Castle. This according to the U.S. FM Stations as of 1950 site. That may be the same 101.1 licensed to Youngstown now as WHOT.
---
Eric, the Bedford information is interesting. Are WBFD (1310), WHJB (1600), WAYC (100.9), and WBVE (107.5) co-owned? Lots of confusing call letter changes there in recent years. 1310 was WBFD, WAYC, and WOOX (and now WBFD again); 1600 was WAYC, WBFD, and now WHJB; 100.9 was Country (the call letters escape me, was it WWRW?), then WOOX and WAYC; and 107.5 was WAYC, WWRW and now WBVE. Whew! Is WAYC the #1-rated station in Bedford? I'd guess that WFGY (98.1) in Altoona also gets pretty good ratings down there. Regards, Clarke Ingram. (October 4, 2000)
---
Eric, the WAYC calls in Bedford are on 100.9 FM. The station airs Westwood One's "Bright AC" format and is pulling a 25 share in Bedford County, so they won't be changing that anytime soon. As for 107.5 changing to rock, in my mind, one less country station is a good thing! (October 4, 2000)
---
Ok, so 96.1 will get the WKST call letters, but do you know what will happen to 92.1 in New Castle? Will they become WPHH? Geoff (October 4, 2000)
Eric's Response: I KNEW those call letters sounded familiar!
---
Eric, I got a tour of WOPC-TV 38 when I consulted in the Altoona market in 1981-82. Their studios and transmitter were on Wopsononock Mountain, along with co-owned WHGM-FM 103.9 Bellwood (now WALY). Wasn't much to see. I believe Channel 38 was ONLY on the air for the ABC prime-time schedule. WHGM was broadcasting in mono, and running awful tapes from a service called "Kaleidoscope," which appeared to be airchecks of broadcasting-school students. (I'd be interested to know if anyone else remembers this.) I'm not sure when 38 moved to 23. When Channel 8 came on the air, they were interested in being the ABC affiliate for the area, but apparently the folks at WTAE-TV (which had a very wide reach from Johnstown/Altoona all the way to Clarksburg, WV) demurred, so the ABC affiliation went to 23 (again). Some of us also remember when WJNL-TV 19 in Johnstown was the ABC affiliate in the market many years ago. (My DuMont site has a history of all the convolutions on 19, which began in the 1950s as WARD-TV 56 before ultimately ending up in Jeannette as a de facto Pittsburgh station.) The Bedford changes are interesting, especially with the recent format change at 107.5. I'm glad to see the WBFD calls return to 1310, but how about putting WAYC back on 1600? And 100.9 used to be WAKM, a Beautiful Music station that also carried the Pirates. Regards, Clarke Ingram. (October 4, 2000)
---
(PHHSBURGH, PA) At 12:14am, 961kiss-fm debuted a new promo and their first spot. It was a surf-to win-money promo called the 1,2,3,50k webgiveaway contest followed by a 30-sec American Egg Board spot. Then a drop saying 'more kiss music now.' The song that followed—Come on over, Christina Agulera. The second stopset was at 12:32, the web giveaeay promo, Geico, american egg board, then, 'more nonstop kiss music now…into Soul Decision, Faded. Reporting from Pittsburgh. JJ (October 4, 2000)
Eric's Response: They might want to consider advertising EggBeaters…I think they have less cholesterol.
---
Please support webjhn.com in welcoming a new 'player' to Pittsburgh's Radio Scene……Check it out. Give it a Test Drive. And Check back daily! www.webjhn.com The Future of Urban Entertainment in Pittsburgh!!!! (October 3, 2000)
---
Eric, In your article, you noted that WATM-TV started out as WOPC on Ch. 38 way back in the 1970's. I remember that station signing off the air at 11 pm every night, kind of weird for an ABC network affiliate like WOPC. When exactly did the station move to Ch. 23? Also, I would like to know about where it was located, and when exactly it became WATM-TV.(it was a satellite of Fox affil WWCP, Ch. 8 in Johnstown for a couple of years, before it went back to ABC). Also, what were some programs that were carried on the old WOPC station? Curious PBRTV surfer (October 3, 2000)
Eric's Response: Can anyone help out here?
---
Eric, it sure is going to be interesting having two big CHR's going head-to-head in the Burgh. As Clarke Ingram noted, with an inferior signal, WMXP really put the heat on B94. KISS sounds really hot, and it's hitting the "B" exactly where they're most vulnerable. Now we'll see how CBS/Infinity reacts. Age with the existing audience, or go after the kids. By the way, does Clarke have anything to do with KISS???? (October 3, 2000)
Eric's Response: Yes, I am wondering how the B will react – if at all.
---
On Sunday Oct.1 at 7:00 PM, WOOX-AM "Oldies" became WBFD, the old heritage call letters for this frequency, retaining the Oldies format. WBFD- AM 1600 signed off at 7:00PM Sunday, and returned to the air at 5:00AM Monday as, get this, WHJB,the old Greensburg call letters.The programming is Adult Standards with Religious programming during the day. As far as I know this will be it for changes to the Bedford stations. (October 3, 2000)
---
In addition to those noted by Eric, there was Gold 96 (or maybe 96 Gold) and Variety 96…– Larry Berger, SLB Radio (October 3, 2000)
---
Eric, in response to the reader who wanted to know the many names of 96.1, I count the following: Disco 96 (when it was still WTAE-FM), 96 Kicks and 96 KX (used simultaneously), HitRadio 96, Hits 96 and The New 96 (used simultaneously), 96 WHTX, Gold 96, Variety 96, 96.1 The River, Mix 96.1, and now 96-1 Kiss FM. The call letters after WTAE-FM were WXKX, WHTX, WVTY, WDRV, and WPHH, with a new set coming soon. Hope this helps. I believe the split of WTAE-FM to 96 Kicks (other than the simulcast of O'Brien & Garry, which continued for a while) occurred on January 31, 1977. WTAE-FM had applied for the call letters WWKX, but WWKS in Beaver Falls objected, so they took WXKX instead. I don't have the ratings handy at the moment, but I remember that at its peak, 96 KX was the #3 station in the market with an 8.2 share. Eventually 96 KX was overtaken by WBZZ (B-94), which debuted on April 2, 1981, and the switch from 96 KX to HitRadio 96 happened on January 17, 1983. Your correspondent is correct about Mix Jamz bringing WBZZ to their knees. B-94 had a 9.5 share when I left the station in Spring 1990. Less than two years later WBZZ had a 4.7 share and WMXP had a 4.2. EZ then bought the station and took it Country, but they won't be able to do that this time! Regards, Clarke Ingram (96.1 alumnus from 1978-1983). (October 3, 2000)
---
Eric's note: The following should answer an email which I received from Clarke Ingram a few weeks prior as to where the WZUM towers are located. I am just not sure if I posted it or not…but at least you'll know!
Hi Eric, First let me tell you that your website is getting better and better! It's developing a loyal following, and is already pretty much a "must stop" website for the broadcasting community. Not havig had the chance to be stop by and browse much the past few days I don't know if the question about the WZUM towers was ever answered. While I haven't seen them persoanlly , it's my understanding that they have been moved a bit closer to Carnegie. If you aren't familiar with the area this won't mean much but here goes anyway. From where they used to be located you follow Chartiers creek a few hundred yards southeast. The towers are located on what some of us used to call "The Bottoms" below the old BFI site ( That site is where the City of Pittsburgh wanted the WJAS towers to move to BTW) and near the old train- now busway trestle that spans Chartiers Creek. I've been told there's a mobile home trnasmitter shack there as well with remote tape machines, rotating 6 hour tapes. "Live" broadcasts are piped in over phone wires from remote studios. Apparently there is no sales office as I had been led to believe. (October 3, 2000)
---
Eric, is a copy of an email I sent to Chuck Finder. It was a great game, an entertaining game, a disappointing loss. The only thing worse than the outcome of the game was the telecast by Channel 2. First the audio. Hell, I thought they were roasting Nellie King. Or maybe Nellie King was telling his life story as a former broadcaster for the Pirates.I put the radio audio on and turned down the TV sound. This didn't work. The radio sound was so far ahead of the telecast, I was being told that the batter grounded out to third, while the TV showed him still in the on-deck circle. Well, maybe not quite this bad, but darn near. There were quite a few times when the ball game was being played, but the TV cameras were showing Nellie in the booth b.s.-ing. Geez, I should have taken up my daughter and son-in-laws offer of going to the game with them. Nah, from the shots of the crowd I saw, I would have seen the rear end of some bimbo clapping and dancing in front of me. What to do, what to do? Aha! The perfect solution. Return with me now to those thrilling days of yesteryear. Listen to the broadcast on the radio. No pictures on a boob tube, just the pictures in your mind. Guess what? My brain pictures were in perfect synchronism with the play by play coming from the radio. But the dissapointing outcome was still the same. (October 2, 2000)
---
MIX JAMZ MIX JAMZ MIX JAMZ LIVES ON…..not since December 31, 1992, 11:59 pm has this city had the likes of a second Top 40…… In honor of WMXP, the current KISS-FM carries more than a format competition. It will put stations in check. Those who can hang will give the listener a benefit, and those who can't had it coming since the demise of MXP. As those of us Pittsburghers who remember the contest from the guy who said yi-dee-yi-dee-yi…and I quote, "Mix Jamz, Guess what's down my pants?" are HAPPY-AS-HELL that there is a choice for Rhythmic Music. Its Been A LOOOONG day coming…and to be honest, I NEVER NEVER EVER thought I would see the day of a second Top 40 in Pittsburgh. Thank you God, and Lowry Mays and Family. You have our Blessing, Unofficial MIX JAMZ Fan club President P.S., since this is when people guess the damage a station like this does, I do recall it was back when WMXP signed on, that WAMO fell from 3rd to 7th (according to a source) within two books. And B is around 7 and WAMO is at 4. By December, B will be a 5 (my guess) and WAMO a 3 (again my guess). If B Falls any faster, I also predict a format change by WZPT to urban or another flanking format to protect WBZZ. Similar to WXYV in Baltimore to Heritage (and format definition) Hot AC WWMX Mix 106-Point-5 (you must say it like that on air). Then a late 80's WPGC-OK100-WKYS type of fight until the best company wins. All in my back yard….Thank you LORD! James S. Galloway, Jr. (who wouldn't mind holding down the 7 till midnight shift at this MIX "two", since they built the station, I would build the cume) (October 2, 2000)
---
Dear Eric: I thought I'd share yet another e-mail message I received regarding the format change of WWMD from Easy Listening to Country. Again, I edited it for grammer and to conceal the sender's identity. I'm also including HTML tags for paragraph breaks to see if they will preserve the breaks rather than run them together.
Subject: WAYZ's old freq. 101.5, etc.
I found out that the format that got on their old freq., 101.5 MHz, is a news/talk format for the time being (like Dr. Laura, etc.) The change on 104.7 did cause the station owners to get telephone complaints for 2 weeks or so afterwards.
The WJEJ AM station took up the same music format that was on the former WWMD FM freq. and they are going to put that same music on the Internet sometime within the year.
The owner sold it because of Government tax laws on inheritance so his family would not be burdened with the problems of the death tax. If it wasn't for our Government, this FM station may well have been able to keep it's Nice Music format! WHAT A WASTE OF FM RADIO. I had called up both stations and talked to their secretaries. My FM tuners, FM receivers, and FM radios have become just about worthless and obsolete as far as choice is concerned.
(October 2, 2000)
---
How many different formats/identifiers can people recall for the frequency at 96.1 (once it stopped being WTAE-FM). I can think of Disco 96, 96 KX and Hit Radio 96 for starters. I believe they spun off from the AM in 1977. (October 1, 2000)
Eric's Response: Go ahead folks…give it a shot!