[important]To read in chronological order, start at the bottom and work your way up.[/important]
Hey Eric – I read about the PCNC news team playing "statues." It reminded me of the old Police Squad where the actors would suddenly freeze in position. Even when one of the actors was pouring coffee & the coffee would overfill the cup since only the actors froze & the coffee kept going & overfilling the cup. Then there were the live mannequins at the mall who tried to stay perfectly still while customers would stare in their faces or do almost anything else to make them laugh. Now talk about a tough way to make a living? Tom L. (August 30, 2003)
---
Eric, a piece of Pittsburgh radio trivia: Del Taylor was the last on-air personality on WJOI 93.7 before the switch to "B-94" at Midnight on April 2, 1981. That night, he called his shift "The Last Joy Ride." Regards, Clarke Ingram. (August 28, 2003)
---
Del Taylor was a fixture on WTAE-Tv from the day it signed on in 1959 until about 1980. Del was a true "utility player" at the station. He was a Booth Announcer (back in the days when all the station breaks were live). He also did weekend weather on Channel 4's 11 PM news, hosted "Bandstand"– a 1960's Saturday afternoon teenage dance show, and "Community Outreach" a 1970's era public affairs show. His popularity soared in 1965 when he bagan hosting a modest midday movie show called "Dialing for Dollars". At the time Channel 4's daytime ratings were terrible, But Dialing for Dollars keyed a big surge. For a time it was number one in its time period. That lead local Hearst management to slot Del in as the wake up DJ on WTAE Radio. It was an effort to wake up the radio station's ratings. It didn't work and within about 6 months Del was replaced on radio–my memory is fuzzy on this– but I think Ed Price or Perry Marshall my have replaced him. "Dialing 4 Dollars" continued through the late '60's. Taped syndicated programs and stronger ABC daytime shows eventually supplanted nearly all of Channel 4's '60's era locally produced shows. Del continued as a booth announcer and PA host. He left channel 4 in 1980. He would return occasionally in the early '80's and I believe he sold insurance for a time. I lost track of him after that. John Poister (August 28, 2003)
---
Hi..To the reader who asked about Aimee from the morning buzz on 93-7 'BZZ, she was "reassigned" within Infinity. She is now in the promotions department. (August 28, 2003)
---
Hi, Can you please tell me what happened to Aimee Angil from the 937 BZZ Morning Buzz? The last I heard was that she was on vacation the week of August 11th. When I returned from my vacation on August 25h, WBZZ stopped running the promo for the morning show as "Dave, Bubba, Shelley, Brian, and Aimee" and it was clear that she was no longer a part of the show. They have made no on-air mentions of her at all. Did she quit? Was she fired? Will she be returning? Please let me know anything you can find out. Thank you, David J. Kilinsky (August 28, 2003)
Eric's Response: I can't give you any definite answer, but I have heard through the grapevine that there were some small changes coming in the BZZ morning show.
---
The record played during the format switch to WRYT was "Chaos" by (Bob) Abrogast and (Stan) Ross, as released on Liberty 55197 in 1958. I remember listening to that great sendup of top 40 radio over and over that weekend, not appreciating how on target it was until I got in the business. One of their jingles is ever embedded in my mind "It pays to listen to CHAOS – but not to work here – we wish somebody'd pay us". Ed Salamon (August 27, 2003)
---
Hello what ever happened to wtae announcer,Dale Taylor who used to be on the t.v. morning dialing for dollars. Thomas Staruch (August 27, 2003)
---
A minor correction to your very fine rundown of Pittsburgh Radio stations. In your description of WTAE/WEAE radio you say that the station switched calls in 1958 when WTAE-TV signed on. Not True. WCAE continued until the spring of 1961 when The station dropped its mix of top 40 and current standards in favor of "Beautiful Music". The call letters were changed to WRYT (Right music). The changeover took place over a weekend when the station repeated the same song continuously for 48 hours using the call letters "KAOS" (as in chaos). WRYT was fairly successful– but regularly battled WWSW for the number 3 spot in the market in 12 plus ratings. For years the station was located in the old Charlton House Hotel downtown. The station was moved to 400 Ardmore Blvd in 1965 and that's when the call letters were changed to WTAE Radio. The background music format was dropped. The station adopted a pop/standards format and a news department was started. The ratings tanked. In 1967 a new program director was hired (Don Shafer) who modernized and streamlined the station's sound. He introduced a Cash Call contest and almost over night WTAE Radio was cookin'. The station streaked to number 2 in overall ratings and actually beat KDKA in a couple of demos. Shafer stayed a couple of years but left for WNBC in New York. 'TAE radio seemed to lose its direction and once again the ratings dropped. It was left to Ted Atkins to revive the station in 1974. That's another story. John Poister (August 25, 2003)
---
It seems that Cybername, the company that provided the redirect URLs for my websites has gone belly-up. If you have links to any of my websites on your sites, I'd appreciate it if you could update them for me. Here is a list of all of the new URLS. Thanks Jeff Roteman (August 25, 2003)
KQV … http://14kqv.cjb.net
WLS … http://musicradiowls.cjb.net
13Q … http://13q.cjb.net
WTAE … http://1250wtae.cjb.net
Nighttimeamerica … http://NightTimeAmerica.cjb.net
ABCRadio News … http://ABCRadioNews.cjb.net
Bob Dearborn's American Pie … http://BobDearbornAmericanPie.cjb.net
Jeff Roteman's Radioville … http://Radioville.cjb.net
---
Eric, the gentleman who was writing for the greensburg trib and was involved in the low power fm in mckeesport…He wrote very interesting and informative articles..some linked to your website where is he? Either this is the slowest news period in history or www.radio-info is slower than ever since the change. I certainly am not trying to put down anyone else's project.. but were are the people posting info.we need to know what is going on. sincerely, Vito (August 18, 2003)
Eric's Response: That would be Jason Togyer. Jason is busy with a number of projects right now…including a new job with the Allegheny Times (The Allegheny County side of the Beaver County Times.) As soon as things settle down for him, he will write a column or two I'm sure. It is a slow news period radiowise around these parts. Anybody for a format change?
---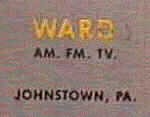 Eric, here's a little something for Jim in Baltimore who was inquiring about WARD in Johnstown. WARD-AM was indeed 1490, and there was a WARD-FM at 105.3 (later 92.1) and a WARD-TV on channel 56. The stations were later sold and adopted the WJNL call letters. The TV station moved to channel 19 in 1970, and in a convoluted series of moves which are detailed on my Web site, ended up serving the Pittsburgh market as WNPA. Regards, Clarke Ingram. (August 15, 2003)
---
How do we get WURP's schedule onto the PBRTV AM Schedule page? Our weekday talk schedule is as follows: 6 AM to 10 AM – Dom Imus; 10 AM to 3 PM – G. Gordon Liddy; 3 PM to 7 PM – Don & Mike; 7 PM to midnight – Tom Leykis. Thank you! Jeff Rush The Edge AM-1550 WURP (August 14, 2003)
Eric's Response: Hi Jeff, I heard from my schedule page creator who is having computer problems at this time. He did let me know that he would add WURP in as soon as he could get the computer into the shop and back…but is not expecting it to happen much before September.

---
Dear Mr. O'Brien – I have searched in vain, as the old cry says, for any reference to WARD (AM) radio station in Johnstown, Pa. I think it was on the dial at 1490. I recall a morning DJ by the name of Dave Shallenberger (sp?). The other radio stations from those days, WJAC and WCRO, have a history here, and elsewhere. Has WARD been lost in the mists of time, as another old saying has it? I find those letters only in referneces to a medical facility. Thankful for any help you can give, Jim / Baltimore (August 14, 2003)

---
Eric, it was a pleasure to read Gregory Charles' recollections of AM 1470 in Portage. By the time we signed on WBXQ-FM in Cresson in 1981, 1470 (at the time, WRML) was past its glory years, but Ed Sherlock had told me how it was a big station back in the day, and it was still a live and local station which competed for ad dollars with our AM/FM combo on the Mainline. I also recall a few unusual things about 1470. There was a teen-aged kid named "Dobie" who worked on the weekends, seemingly from sign-on to sign-off, at a time when their studios were in the transmitter building. And one afternoon, the owner's Asian wife, for whom English was obviously a second language, was pressed into service to read an hourly newscast, with unintentionally funny results. Another interesting station in those days was 1580 in Ebensburg, but that's a tale for another time. Regards, Clarke Ingram. (August 8, 2003)

---
Dear Eric, Thank you for maintaining this great website. I used to live and work in the Johnstown area, but have been in New York City for 30 years. It's wonderful to read all the correspondence in your mailbag about goings-on in the Pittsburgh-Johnstown-Altoona markets. My reason for writing is the demise of AM 1470 in Portage. Although the government will no longer license new AM daytimers, apparently they will allow the transfer of licensed AM stations to other markets. In this case, Portage is losing its full-time AM service in favor of another location, nearly 80 miles away. I used to work on that station as a DJ back in the mid-1960's, in the days when the FCC required us to have at least a 3rd Class Radiotelephone License with Broadcast Endorsement. The station had a great signal: 500 watts with pre-sunrise authorization, first-rate antenna & ground system–state-of-the-art even for those days. In those dark & cold February mornings when I worked the early show, the signal would reach far into Canada, as numerous Canadian QSL reports testified. AM 1470 covered the area between Johnstown & Altoona, all the way south to Bedford, an area affectionately known by locals as the "Mainline." It was truly live local radio coverage at its finest: local news & events, high school sports (the ever-popular Friday night football games), summer parades in many local towns, swimming pool parties, religious events, etc. Of course, this was all done before the advent of satellite programming, which, admittedly, saved AM radio from extinction. It is highly unfortunate that no media mogul has seen fit to apply for the channel location in Portage, and try to make something out of it before it finally goes dark. Every time the bell tolls for another AM station having gone dark, we get one step closer to the total extinction of amplitude modulation broadcasting. Thank you for your time. Gregory Charles (August 7, 2003)

---
Dear Eric, WYDD was non directional out of NEW KEN and was the strongest FM north of the city. people in Mercer lived on ydd. as opposed to dve. 104.7 was excellent all around Pittsburgh, Washington, the airport area, Cranberry, except in Downtown. Now all of the high income folks live where the signal used to be the best. I wonder if it's time for a change back. vito (August 5, 2003)

---
I noticed you had WYDD in your list. Did you know it went on the air at 100.7 with an ERP of 10KW? Around 1967 the station moved to 104.7 with a power of 50KW ERP. The city of license was Pittsburgh but the owner, Nelson Goldberg, kept the station in New Kensington at the 1150 WKPA site. 100.7 was sold to Milt Hammond and went on the air in 67 as WNUF. That would be fun spelled backwards. The format until it was sold in the mid-80 was Big Band music from the 30's and 40's. The power was increased to 20KW before it went on the air as WNUF. The owner wanted to serve the North Hills area of town so the tower site was built on a farm on a hill in Russelton PA very close to the Indiana Township border. Thanks, Ed DeHart (August 5, 2003)

---
I was looking at the Arbitron ratings, and while they rate stations individually, I did a little math and figured out something interesting. If you were to count WOGG's rating of 2.1, and add 1/2 of the other froggy stations' rating, (because they are all simulcasted half the time, or slightly over it), the combined rating would be a 3.35, or rounded up would be a 3.4. This would tie WBZZ. Do you think the sales department is using this in order to sway advertizers? Nathan Fernandes (August 1, 2003)