[important]To read in chronological order, start at the bottom and work your way up.[/important]
How nice to hear and think about Ed Price again! He was a wonderful talent and a very nice person who died much too early. He lived in the neighborhood I grew up in and was kind enough to give me a few tips in the mid-1970's. I used to love listening to him on "Double Double" (970 AM) in afternoon drive with the pre-WTKN MOR format that featured great jingles, upbeat music, and the wonderful "High Low" game. I'm having trouble remembering the lineup, but Charlie Warren and Scott Shalloway (?) come to mind. As for O'Brien and Garry, it's wonderful to see them get the recognition they deserve and I'm looking forward to seeing them at tomorrow's AIR Awards. Finally, for some great old airchecks of The Mighty Quinn, and even Larry and John, try http://www.reelradio.com/. — Larry Berger, The Saturday Light Brigade, http://www.slbradio.com/ (February 28, 2001)
---
Eric, I read with interest the Mailbag comments about WJJJ. Your correspondent should note that the slogan "Pittsburgh's Jammin' Hits of the 70's, 80's and More" is just a reflection of where 104-7 the Beat has been musically for over a year (and we dropped "The New" when Kiss signed on). It's true that we had a soft Fall book, but we historically do (see Fall 1999), and with the changes at WAMO, I look forward to picking up some of their Adult listeners. There are no plans to switch to Urban AC (or anything else), and while I wish 1550 in Braddock well, the notion that they "beat us to the punch" on anything is rather amusing. Regards, Clarke. (February 27, 2001)
---
Hello again. Interesting about the 'new sound' of 104-7. They now call themselves the best of the 70's 80's and more. Maybe people got tired of them saying "the new' for almost 2 years! Or because they dropped a full 1.5 Arbitron share since the last book (summer 2000) and are now tied with WAMO. And 96.1 is closing in on all three stations (moving up to a 3.2), despite only one weekday shift originating inside the Pennsylvania state boundries. Should we have to pay sales tax just to listen to 'Valentine in the Morning' piped in from LA's Kiss-FM or the (KDWB/ Minneapolis based) Ton-E-Fly. Or take I-70 West (literally) down to Cincinatti to say hello to Randi West. Maybe 104-7 will become a full-fledged Urban AC (Adult Urban), now that the station 'Blazin' Hip Hop & R&B' (WAMO) is targeting younger listeners. But are they (the Beat) perceived as 'too white' to appeal to WAMO's core listeners? And too bad 1550 a.m. in Braddock beat them to the punch by getting (the abult urban syndicated radio powerhouse) Tom Joyner last summer. But there's always Russ Parr or Doug Banks. Time will tell. (February 27, 2001)
---
My name is Bill Rehkopf, and while I'm the news guy at WPOC in Baltimore, I grew up in da 'Burgh, and hold some fond radio memories there! I'm so glad this site is here to keep up with the scoop back home! First, congrats to O'Brien and Garry for the Lifetime Achievement Award from the AIR Awards! They were my "radio gods" when I was a kid, and one of the reasons I decided to give it a go myself. John's son, Scott, is my boss at WPOC, and you won't find a better guy to work for. Second…the late departed Tom Burke at WPGH…is that the same guy I went to school with at good ol' Clarion University? If so, he is a solid guy who will land on his feet, if he hasn't already done so. Thanks again for the great site! Pittsburgh has such a rich radio history, and I miss it terribly! PS – Anybody care to reminisce on the following: Uncle Ed, Ed Price, the "old" Jim Quinn, and on the TV side, Paul Shannon and "Adventuretime", and "Captain Jim?" Might jog a few memories…(February 27, 2001)
Eric's Response: Ed Price…one whom I remember. Ed died in 1991 after a sudden heart attack…I think! I remember that it was early February and his death was covered on WPXI news. Ed Price was born in the UK and had that ultra soothing voice suitable for Easy Listening radio…not only suitable, but PERFECT! In fact, at the time of his death, he did the evening shift at 104.7 which was then WEZE. I remember him filling in for Hank Baughman on WSHH doing the news a morning or two as well.
---
Eric, I notice that an affiliated Web site, Central PA Radio & Television (PARTV), has ceased publication. Do you plan to pick up any of these markets? Regards, Clarke (February 26, 2001)
Eric's Response: It depends where in Central PA. I have the Johnstown, Altoona, State College page set up. Perhaps I will see what I can get from the editor of the former "PARTV".
---
Eric: In Parkersburgh WV.WXKX 99.1 FM is now Froggy 99. Same people thats owns WOGI,WOGG,WOGH,WOGF. It just started today 2/26/01. They bought 8 stations somewhere else. WXKX was called KIXS 99. There only 25,000 watts. Thanks Eric! (February 26, 2001)
---
Dear Friends, You may have read the article in the Erie paper concerning former Erie area DJ Cosmo Rose. He was a part of Classy 100's "Breakfast Club." Cosmo was recently stricken with a rare but deadly disease "Sarcoidosis." This disease occurs when the body fights it's own organs. The family living in Mill Village Pa has fallen on very hard times & could really use your help. The Waterford Lioness Club is holding a spaghetti dinner this Saturday 3/3 from 4 till 7 PM. The dinner will be held at the Waterford Presbyterian Church located on Walnut Street. Dinner is $5.00 Adults / $3.00 children. If you would like to contribute in any other way, contact me at this e mail address or DJTOMLAVERY@WEBTV.NET. Thank You in Advance. Tom Lavery. (February 26, 2001)
---
Eric ~ I heard Porky Chedwick for the First time in 1992 when my then fiancee was living in Pittsburgh going to cooking school. I could not believe what I was hearing, it was amazing to hear that Boss Jock sound on AM 860 (WYJZ at that time.) Definitely a reason why rock 'n roll radio became as big as it was. It would be nice to hear his airchecks on reelradio.com with the other legends who made radio happen. I do have his Crusin' CD and a few of the records from the golden era. Nice Article on "Pork The Tork." Tom L. (February 23, 2001)
---
Dear ETA Enthusiasts: While we, here, at ETA "Expert Traffic Advisory" are enjoying our little respite, the 2001 traffic construction projects will soon be heating up!…and so will backup's! So, before too long, ETA would like to enter into a dialog with any local station reading this "Mailbag" message — provided they have a signal strong enough to reach the Greater Pittsburgh area, that might like to take advantage of: 1. ETA's unique traffic information gathering techniques. 2. ETA's exclusive "Traffic Master", the only traffic data management system of its kind! 3. ETA multimedia delivery channel system (Phone, Web, Radio, TV, PDA). 4. ETA–the undisputed leader in traffic reporting talent. 5. ETA's proven effective and entertaining full time "Traffic Radio" format. 6. And soon, no-cost ETA "call-in" traffic reports for local radio stations and more! Keep in mind, ETA can effectively cover ALL roadways within a 50-mile radius of Pittsburgh! "We'll Tell You What's Going On — and How to Get Around it!" For more info, e-mail "pberan@ETAtraffic.com." Paul Beran, Executive Producer/CEO (February 23, 2001)
---
Eric ~ I too have been curious about any audio for "Sports Radio 970 The Burgh." I would love to hear Scott Paulsen up here in Erie. Too bad WFUN 970 in Ashtabula Ohio interferes with getting 970 out of the Burgh. Also will the MIT radio site ever update it's Erie & Pittsburgh listings? 970 is still listed as WWSW AM as well as WZPR & WMDE have yet to be changed to WGYY & WHUZ. 'HUZ has grown on me with their Classic Hits but Froggy 100, not a chance. Good to see Pat Campbell still talking in WV. He was on in Erie on the former "Flagship 1330." It was a great afternoon battle between he on the right & Barry Dain Stienhagen on the left on WLKK 1400. Ironically Barry is back on WLKK with a show called CIVIL WAR from 5 till 7 pm. It's a left / right show with Jeff Johns on the right. Tom L. (February 22, 2001)
---
As of 5 PM today, WJJJ/Pittsburgh (aka 104-7 The Beat) has made a transition from "Pittsburgh's Jammin' Oldies" to PITTSBURGH'S JAMMIN' HITS. This is not a format change – just reflecting the reality that we play a lot more songs from the 80's (and even the 90's) than when we debuted the format two years ago. Check out the "new" WJJJ for yourself on the Web at http://www.1047thebeat.com. Regards, Clarke (February 21, 2001)
---
Eric, good refernece. Hey, since you are near the biz, 2 quesitons; 1) When is/Is 970 am, Fox sports getting a web page with live listen capability? This is 01 huh? 2) Why does the reporting of programming changes on radio stations locally (and nationally too) seem to occur in a shroud of secrecy.? When there is a hiring or firing or programming change on one of the stations, only part of the story comes out in the Trib or PG. The lack of depth and detail always leave me with more questions than answers. Thanks, Terry (February 21, 2001)
Eric's Response: As for Fox Sports, I am just as clueless. As for reports of changes, there is not ALWAYS a shroud of secrecy. Folks in the business usually find out faster because there are some sources of information (i.e. Allaccess.com) that spread the word. I think that these changes happen secretly to reduce the lashback that would probably take place. I tend to think of it as the "it's better to ask forgiveness than permission" principle of radio. Lack of details is a good question too. Mostly, all stations change for the same reason…lack of numbers, audience or change of ownership.
---
This is North Central WV related, but I thought I'd still let you know. 103.3 WAJR-FM is now TalkRadio 103.3 WAJR-FM. They air Rush Limbaugh, Dr. Laura Schlessinger, Michael Savage, and ESPN Radio. Jon (February 21, 2001)
---
NOW THAT WZUM 1590 HAS NO PROGRAMMING LEFT IT WILL BE INTERSTING TO SEE WHAT THE OWNER TRIES NEXT. ONE HAS TO WONDER HOW MANY TIMES THAT SAME 6 HOUR TAPE CAN BE PLAYED BEFORE IT WEARS OUT (February 21, 2001)
---
Eric, Enjoy the web site. Alex (February 20, 2001)
Eric's Response: Thanks!
---
Eric, Since ETA is no more, I am once again on the street, so if you know any PD's hiring, I would appreciate it if you could pass along my name. Thanks. Greg McAtee (February 20, 2001)
Eric's Response: Here you are PD's! I'll gladly sign a package deal to co-host!
---
Neal (Spence) and I have decided that with the problems with WZUM's signal and the softness of the local economy to discontinue our full-time radio traffic broadcast at this time. We believe fully in the product and remain committed to return to the airwaves at some time in the not so distant future. Thanks for all the support and encouragement we have received to date from all of ETA's loyal listeners. Any questions on ETA, "Expert Traffic Advisory", should be directed to Paul Beran, ETA Executive Producer and CEO, PO Box 18053, Pgh., PA 15236-0053. My e-mail is pberan@ETAtraffic.com. (February 20, 2001)
Eric's Response: A lot of talk about this subject recently here at PBRTV. What a big surprise.
---
A quick update on 1290WOMP-AM & 1340WSTV. Howard Monroe is no longer with WOMP & Mark Lyons is no longer with WSTV. Effective 12/26/00 I'm their new morning guy, Pat Campbell. I host The Pat Campbell Show, it airs Mon thru Fri 6AM to 9AM. It is broadcast in Wheeling, WV on WOMP-AM & in Steubenville, OH on WSTV. Both stations are owned by Keymarket. The rest of our programing day is syndicated. It includes shows like Ed Tyll who has a Pittsburgh connection. When I was in college I think he was on the old WTAE 1250. My radio background is varried and includes most recently a national show that was based out of LA on KPLS 830 AM for the now defunct Catholic Family Radio. (February 18, 2001)
---
Eric ~ The Historic Warner theatre in Erie was sold out for Saturday's Broadcast of PRI's (Public Radio International) "Michael Feldman's Whad'Ya Know.'" The radio quiz show is heard on over 310 Public radio stations Including WQLN 91.3 in Erie & WDUQ 90.5 in Pittsburgh. Many people from the tri state area & Canada were in attendance for the broadcast. Local dignitaries including one time Erie candidate for Mayor Mario Bagnoni, was interviewed by Feldman. Poor health & age (79) was the reason why Mario declined to run for mayor this year. Tom L (February 17, 2001)
Eric's Response: Interesting! We had Peter Schickele here in town 2/15, I wasn't able to go, but I wonder how full the Carnegie Music Hall was.
---
(QUOTE) The significance of the phone number change should not be underestimated. 886-1400 belongs to Advertel in Carrick, which just happens to be the organization from which ETA has been leasing office/studio space all along. It looks very much like ETA cut costs by dropping their own phone service, and are now using the service belonging to their landlord.(END QUOTE)
Correction: ETA and Advertel are from the same parents. They are sister companies. The CEO/Pres. of Advertel is also a Co-Founder of ETA. ETA hasn't been 'leasing' office/studio space, both companies exist within the same office and studio. (February 16, 2001)
---
Dear Eric: No one was arguing about Neal Spence being one of Pittsburgh's most recognized names in traffic. Nor is anyone criticizing him for his work. He's respected for his knowledge and capabilities in that regard. I've got an even better idea for a traffic team–how about Neal Spence and Jay Pochapin? Mr. Pochapin's name is as synonymous with traffic as Mr. Spence! Now that's a powerhouse! (February 16, 2001)
Eric's Response: I think Neal, Greg and Jay would make a great team. I think this whole idea of traffic radio is pretty neat too. I mean Pittsburgh IS a traffic city. EVERYTHING is under construction (or destruction) and therefore a detour is required. Sometimes it might take a day to explain all that's wrong with Pittsburgh roads. So why the heck not!
---
You might want to fix the spellings of "libelous" (formerly listed as "libelious") and "discretion" (formerly listed as "discression") in your masthead. (February 16, 2001)
Eric's Response: Gosh! Two in one day…and to think it's been like that for nearly a year!
---
Eric ~ This past week, long time Erie news & sports talk host Jim LeCorchick suffered a heart attack. He was operated on & is resting comfortably. Jim has blamed the attack on the controversial Meat & Protein diet he was on. Jim is a 20 year veteran on the Erie airwaves, starting at K 104 & WEYZ 1450 & later 1330. Jim then hosted an afternoon talk show on WLKK in the early 90's until he was let go by the previous owners. He then joined Chris Hagerty at Flagship 1530 & later Flagship 1330. That station then became Sports Radio 1330 The Fan after Rambaldo bought that station & Newstalk 1400 WLKK. Jim presently does mornings at WLKK with Randy Brewer from 6 – 9 & his sports show on the Fan from 4 – 6 PM. Tom L. (February 16, 2001)
---
Wow! What a great commentary on ETA, Neal Spence and Greg McAtee. Whoever you are, thanks for the glowing endorsement! (Interested in advertising your 11-year old business?) If you only knew what was still waiting for ETA on the horizon! In a collaboration of Neal and I — and even a little bit from Jay Pochapin, we've developed quite a multimedia network with the facility, software, and most importantly, the know-how to make it all work! Our "full-time" radio show on WZUM, actually, was a fluke. We have a total of nine (9) delivery channels waiting in the wings. When Horvath (WZUM) and I got together last December to discuss a "full-time" radio format, it was entirely out-of-the-box. Unbelievably, we put that format together in the span of two weeks! (In the midsth of Christmas and New Years to boot!) Now that we've got a month-and-a-half under our belt of full-time "Traffic Radio", we do like how it's coming together. (We actually rolled out on 1/1/01 — contrary to one of the other comments below suggesting a launch date of 1/16.) Frankly, we wish one of the bigger guns in town would talk to us! Lest anyone who reads this forgets, you can reach me, Paul Beran, Executive Producer, Founder & CEO of ETA Traffic, Inc., at 412-886-1400 ext 107. PS: I, too, remember WZUM's rock and roll days. I graduated from WZUM's International Academy of Broadcasting in 1969. (I don't believe I'm admitting this in public!) In fact, Kit 'Baron' was named after me. (February 16, 2001)
---
Eric, Would you consider changing the mailbag header message slightly, to make the spelling conform to American English. Specifically, "soul discression" should be "sole discretion". (February 16, 2001)
Eric's Response: Oh I suppose I could do that…and I have!
---
Dear Eric, I have read with great interest the comments about ETA Traffic on WZUM. I have been in business for the past eleven years and know first hand how difficult it is to get started. With todays economy it is even more difficult to get dollars unless you run a bar or sell lottery tickets. Their product is not only good but entertaining. Let's go back several years ago when the pioneer of traffic, Neal Spence was let go after 20 years doing what he seems to love…traffic. To this day when you mention traffic to the public the name Neal Spence comes up immediately. Did anyone pick him up? No! Then don't critize a man or the staff for trying to do what they love. Consider this..Neal Spence and Greg McAtee teaming up with the big gun in town. Now thats what I call good, intelligent business sense. (February 16, 2001)
---
eric, does anyone else besides me remember wzum not as an oldies station but as a great prgressive rock station in the early to mid 70's? kit baron, powerful paul perry, terry caywood…that kind of radio will never be heard again… (February 15, 2001)
---
FYI, the past 2 years the Pirates home in Wheeling WV is WEEL 95.7. (February 15, 2001)
Eric's Response: Of course the writer is referring to the Pittsburgh Pirates who are in spring training gearing up for their first year at PNC Park.
---
Dear Mailbag: We, here, at ETA are grateful to hear folks are listening to us, despite the low power. We're even more flattered to see such great reviews by media professionals that ETA is "…a great product with great talent", and that we "…continue to provide a high quality, professional report." And, yes, we're off to a slow start financially. Start-up's of any type (except than those who manage to get state funding) typically have to take it slow until revenue starts flowing. We knew that rolling out in first quarter was going to be rough. (Jan-Feb advertising is typically light even for established media much less a start-up.) But, we considered the first quarter an excellent opportunity to get the bugs out. Yes, afternoon drive on WZUM was promised to start by Feb 5th. No, it didn't. Two wonderful candidates were selected to run the show with Neal Spence but at last minute, for personal reasons, decided not to join our fledgling staff of traffic on-air professionals. We're still looking. When we do start, we've planned quite an event to celebrate its launch. Stay tuned. The television show is coming, also. So is the Internet, phone, and ultimately, a network of radio stations who, like you, recognize the superior quality of ETA reports compared to the competition. Horvath Broadcasting, owner of WZUM reports that its signal problems will have been resolved within the next 90-120 days or so weather permitting. Until then, ETA has to, unfortunately, be satisfied some days with less than desireable signal strength. As for the phone number change, cost savings? Yes. But mostly due to changes being made to our T1 fiber-optic installations. State-of-the-art speech recognition automation is on the way! You will soon be hearing more on this! Long term improvements often mean temporary inconveniences…just like traffic! (February 15, 2001)
---
as long as i have listened to eta, at times you only get a few minutes of traffic in an hour! why is that? i do beleive they sound good, but why was it said it was managed so bad? wasn't it an oversight on their own part? (February 15, 2001)
---
Eric, regarding the photo labeled WQED's new transmitter. The transmitter is actually in an adjacent building. What the photo portrays is the antenna. (February 15, 2001)
Eric's Response: Correction made!
---
Eric: It's sickens me that WWCS went Radio Disney. What a waste of that signal. Trying to attract a pre-teen audience on AM? COME ON! It doesn't work and won't work. Almost nobody under 35, let alone 12, listens to AM anymore (I'm the exception). And the format treats kids, well, like kids… and kids like to be treated like adults. When kids want hit music they'll tune in B94 or Kiss, where they won't be talked down to. I think that ABC/Disney is trying to introduce AM to a generation that doesn't even know the band exists. They figure that if they lure them into AM at an impressionable age, they'll stick with it later in life. A nice concept, but it won't happen. In a world of satellite TV, the internet and MP3s, younger audiences view AM radio as an old, outmoded technology, so they won't listen to it — even if there's good programming that appeals to them. For example, many younger baseball fans won't listen to the Pirates' games, simply because they are available only on AM. They may know that KDKA carries the games, they're simply not interested in listening on AM. That's part of the reason why the Steelers and the Pens have FM flagships. By the way, not to get off the subject, why does 970 The Burgh simulcast those games? I could understand if 970 had a blowtorch signal and 3WS and 'DVE had weak ones, but it's the other way around. Pick a station, for crying out loud! Regards, Steve (February 15, 2001)
Eric's Response: I believe that 970 broadcasts the games as they are a Fox Sports outlet now. I guess they see it as being kind of silly not to broadcast sports on their sports outlet. Yet, it makes a world of sense to broadcast on FM as well…a more reliable signal in terms of night time, etc.
---
Eric ~ Thank God Erie has not been bitten by the Radio Disney bug. I have heard it on WQEW & find it very CHEEZY. It's the nature of the beast with radio anymore. companies buying perfectly good stations & turning them into mush. I have felt this with Froggy 100. Keymarket turned that station into a joke. I mean the Frog thing is being overdone there & it's too bad for what USED to be WZPR, a Great Country station. I'm going to reelradio.com for what radio used to sound like & is well needed now. Tom L. (February 15, 2001)
---
Is there ANYBODY out there who actually does listen to Radio Disney? I have two kids who would appear to be in the prime target audience, and they can't stand it! They are under 12, and few people under 30 can even find an AM station on the dial anymore. It also does not seem to be a prime demographic from an advertising standpoint. The day has to be coming soon when this whole thing will suffer an economic collapse. There will be a monster shakeout in these large consolidators, similar to the .com fallout we are currently witnessing. I think that may open up great opportunities to local operators in a few years, especially on the AM band. John C. (February 14, 2001)
---
Eric: I have heard that ETATraffic/Advertel, Inc. hasen't been doing well financially. It's a great product with great talent involved. Sadly, when something is mismanaged, it's got no chance for survival. The phone number was changed because the phone service was shut off. This has nothing to do with any of the on air personalities, simply the mismanagement of the product by the parent company of ETATraffic Inc. It is being broadcast on a low-power AM station, WZUM 1590 AM, that has been promising to boost power for almost 2 years now. I hold out little hope for the situation, but wish Mr. Spence and Mr. McAtee all my best. (February 14, 2001)
---
eric, radio disney truly is a virus that swallows community-based radio stations…stations that maybe didn't pull in huge or even competitive numbers, but still were enjoyed by more listeners than arbitron indicated…what puzzles me and pisses me off at the same time: while these smaller market and limited power (mostly) AM's are being converted to this annoying new format, what kind of audience does disney expect to build?? how many kids even KNOW about AM radio existing? how many PARENTS for that matter under 40 years of age listen to AM anymore?? there are currently about about a million other entertainment alternatives for young kids besides AM radio…the internet and daytime tv provide great pre-teen listening and viewing for entertainment and education…what makes disney feel that this audience will suddenly or even gradually discover AM radio?? and for the most part, limited-power AM's at that?? (February 14, 2001)
Eric's Response: I think the nail has been hit on the head!
---
I may not be from Pittsburgh, but I do live in a market where there is a Radio Disney affiliate. This Memorial Day Weekend will mark the 3rd Anniversy of AM 1550 WDZK Bloomfield/Hartford, Connecticut. Up until then AM 1550 was a nifty Italain/Spanish Language Radio Station called WRDM. WRDM was owned by Luzzio Ruzzier owner of Hartford's low-power Telemundo/RAI affiliate WRDM channel 13. Mr. Ruzzier sold the staiton to Hibernia Communications and they flipped the station to Radio Disney a few days earlier than planned. I have only listened to Radio Disney a handful of times since its 1998 sign on and I think that their programming is really crappy. Somethings I find pathetic about Radio Disney are: They have a frog croaking the song Y-M-C-A, they play cartoon theme songs, they have kids performing some great oldies songs, and most pathetic of all is they change the lyrics to some really popular songs including Jeannie in a Bottle, Who Let the Dogs Out, and Mambo Number 5. Even more pathetic is when they have Mickey and Friends performing Whoomp There It Is with the Tag Team. They call it Whoomp There it Went. Even their Top 30 Countdown is pathetic. Same old songs week after week. MMM Bomp by Hanson was on the countdown for nearly a year. They had all 3 version of Celine Dion's Titanic Song on their countdown – the version with the dialouge from the movie, the version without the dialouge from the movie, and the dance version. Then their phone number is annoying 1-888-EARS-018/1-888-MAIL-018 for ear-mail. Their jocks are annoying especially their afternoon drive jocks 'Just Plain Mark and Zippy'. They are like the Opie and Anthony Show for pre-teens. I was really hopeing that Radio Disney would go away, but they are now in 49 markets and last summer Hibernia Communications who owned like 10 Radio Disney Affiliates was bought out by Disney Inc. So it looks like Radio Disney is here to stay. What made me mad is when Disney began to lease WQEW AM 1560's entire air-day. I used to listen to that station at night. It help me relax and sleep better. Advertiers don't buy the station. The only local ads I hear on AM 1550 are Public Service Announcements and events sponsored by AM 1550. A former Disney Affilate WGSM AM 740 in Huntington, Long Island never had any advertisers in their 15 months of existence. They always played a phone number to advertise. The local commercials they ran were for their sister station's like – Looking for the Country Music that used to be on this station? Country Music Is now souly on 94.3 FM. The other one they ran was Hey Kids like this station? Now tell your parents about a cool station they would like B-103 Good Times and Great Oldies. And finally in conclusion there are better thing that they can do with these stations instead of a silly Pre-Teen Formart. NYC has no Country Station. WQEW could be a country station or they could go back to Adult standards. Hartford has no commercial Jazz Station. WDZK could be the commercial jazz station. (I'm talking real Jazz Here not Smooth Jazz). Boston's only Adult Standards station is one that relay s M.Y.O.L. WMKI could be Boston's Standards's station. Marc Bramhall (February 13, 2001)
---
Expert Traffic Advisory seems not to be doing very well financially on AM 1590. They first came on the air on January 16, running a 5:00 am to 10:00 am morning service on 1590, but promising also to add afternoon service starting February 5, and television reports on WBGN-TV shortly after that. As of February 13, neither afternoon nor television reports have started. This morning, they were announcing a new telephone number for ad hoc traffic stringers to call. The old number was 412 254-0030, ext 116, and the new number is 412 886-1400, ext 116. The significance of the phone number change should not be underestimated. 886-1400 belongs to Advertel in Carrick, which just happens to be the organization from which ETA has been leasing office/studio space all along. It looks very much like ETA cut costs by dropping their own phone service, and are now using the service belonging to their landlord. Despite the apparent slow start, Neal Spence, Greg McAtee and Ken Wells continue to provide a high quality, professional report. I'm especially impressed with Greg McAtee, who stabilizes the sometimes rambunctious Spence, keeping the reports well focused. (February 13, 2001)
---
Not another Disney outlet!!! They seem to be in my brain, finding out which stations I listen to and ruining them. First, a little soft rock FM'er in Romney, WV falls, then 50kW WQEW in NYC gets gobbled up, and now my Polka fix on WWCS gets taken away . What's a radio listener to do?? Next item: A recent reader was dismayed at not being able to hear Art Bell etc due to weak Pittsburgh signals. I don't listen to these talkers, but a reader of the DCRTV site recently mentioned several Clear Channel (the 50kW type, not the corporation) stations across the dial that broadcast them at nighttime. (February 12, 2001)
---
UGH! Turn on Ch29 — look who's back on the air! WBPA TV. I am once again on a mission, to find station licensing information. I will let you know when I find out what the deal is here. Also, Ch35 Successfully made the transition to WONT-LP. It looks like the shoestring operation is sprouting. -Josh (February, 12, 2001)
---
As of 8:00 this morning, Radio Disney was issuing forth at 540 on the dial. Another sign of the apocalypse! (February 12, 2001)
Eric's Response: I heard it too. First time I've wondered "Who Let The Dogs Out" on AM radio. "BA HA"! Oh come on, we can make a small joke out of it can't we?
---
At 1:40 p.m. while driving this afternoon (Sunday, 2/11/01), I tuned in to 540 WWCS and surprisingly found a signal. The host of a long-running polka show was playing a few too many records with "Thanks for The Good Times" themes and I had a feeling that the long-anticipated format changes was around the corner. Indeed it was, for when I left the car at 1:58 p.m. I was hearing polkas and when I returned at 2:05 p.m. the local, original, and refreshingly Pittsburgh sound that is all-but-gone from our regional airwaves was overtaken by The Village People's "YMCA" and the national feed of Radio Disney. I thought I had pretty much reached the "acceptance" stage of grief, until I turned on WQED-13 tonight and stumbled upon a wonderful program called "The Pittsburgh Sound" with great clips of the late Mad Mike and others, including Roadrunner Zeke Jackson and others who had made a nice effort with their Radio 1 format. Don't get me wrong, national programming has its place…but when I hear a relatively small station "flip" (via an apparent LMA, no less), it's a sad loss. Let's hope that some day the pendulum will swing back. (February 11, 2001)
---
Hello my name is Jordan from Lisbon Ohio. I can pick up WDSY 107.9 and WOGH 103.5 and WOGF 104.3. Here in Lisbon we can't pick up WOGG OR WOGI after 11 pm at night i can pick up 98.3 WOGI. A another Froggy station came up at the first of Feb. It is Out of Meadville Pa. The call signs are WGYY 100.3 Froggy 100.3. It is a lower power staiton only about 15,000 watts with a coverage area about 20 miles or less. At night i can get it good. Froggy is OK but why do they play the Country MUSIC the same way on the Froggy stations. Froggy 104 was classic hits 104 but i didn't like classic hits 104. The country staitons are better than the others. The staion out of Salem OHIO is Country they have 88,000 watts they cover about 23 couties in OHIO,PA,and Nothern West Virgina. I some parts of Pittsburgh you can pick it up. The station is owned by Clums Broadcasting in Atlana Ga. There is a staion Akron Ohio that is country and is 94.9 WQMX thats why you can't get Froggy 94.9 in Ohio and Parts Of WV. WICT 95.1 the new cat is out of Hermaige PA. The main offices are in Brookfiled ohio. There singal is not that good. KDKA TV 2 is real good staiton i watch the Three River this moring i think KDKA did a real good job. They came on at 6AM and Went Off 9AM. Here on my cable system we get KDKA and WPGH. WPGH is the FOX Staiton in the Pittsburgh Makert. We also get Cleveland Channels and All Youngsttown Channels.I don't get WTOV NBC 9 Or WTRF CBS 7 at all. Well thanks for your time. (February 11, 2001)
---
FYI the homoginized Kiss format is on Clear Channels 105.5 in Wheeling. (How can it beat WOMP FM, 105.5 it's only a 6k and my kids don't even listen to it !) I understand the total playlist consists of 87 tunes played over and over and over and over and over and over….. Best Regards T. (February 10, 2001)
---
radio disney 5 local minutes per hour for advertising sold in combo with weae. It's sad because the oldies format was starting to click. (February 10, 2001)
---
Eric: First, we were invaded by frogs; now by kisses! Youngstown's 95/9 The Beat has switched to the Clear Channel's "Kiss" format. This cookie cutter station sounds identical to 96.1 in Pittsburgh. They're competing against well established Hot 101, but they'll never win the ratings war. They're playing the same music as they did before the change, the format is very homogenized, and they don't have a strong signal. 95.9 WTNX is a small class A, licensed to Sharpsville, PA, while WHOT 101.1 is a full power class B. Regards, Steve (February 10, 2001)
---
(Re: WWCS) I noticed them on the air this afternoon driving between sales calls. What knid of format is that…downloaded Ethnic music from NAPSTER? By the way if you are keeping score, 1370 WMJT in Moundsville has been sold to local businessman Dick Mansuetto, The station is now WVLY with new transmitter running at 5k. Howard Monroe is live in the morning(Previous WOMP-AM) and ESPN radio all day, plus a live 4-6pm local sports show. (February 9, 2001)
---
Eric ~ I saw the name Jennifer Antkowiak in PBRTV yesterday & I recalled her days up here in Erie. She was a field reporter for WJET TV 24's "Action News 24" in the early '90's I believe. It's great to see her doing well & congratulations on her new baby………..Tonight's "Late Show with David Letterman" will have an Erie flavor to it for "The Top Ten List." WSEE TV 35's "NewsWatch 35" Anchor Don Shriver will be helping out with the list. (Don was with WJET TV 24 as their Anchor for many years until May of last year.) He joined WSEE in November of 2000 after the non compete from WJET expired. He recently had a serious asthma attack & has was 30 minutes away from death if he would have waited to go to the hospital…….Also there is word that Keymarket may be trying to block the sale of WJET FM to Regent broadcasting from Next Media. Rumor has it that Myron Jones (President of Jet Broadcasting) May have promised the station to someone from Keymarket. (Hopefully not ANOTHER Froggy.) I'll keep my ears open & see what develops. Tom L. (February 9, 2001)
---
While I was home for christmas break, I heard Paul Pish say that WWCS was going to be getting the Radio Disney programming. As for Paul, he said that he would probably be getting a show somwehere else in the Pittsburgh area. (February 9, 2001)
Eric's Response: I had a source tell me the same thing, but there is no real definite as of yet.
---
Eric, WWCS disappeared suddenly from the airwaves at 3:30 this afternoon and has not yet returned (Approximately 8:15 PM). No doubt this is related to the impending format change. Regards, Clarke. (February 8, 2001)
---
eric, wow! you actually got a wzum alum on your web site/mailbag! very cool…i'm trying to remember who robbie d. was… (February 8, 2001)
---
It sure would be nice if WPTT had a night time signal. Can't get Micheal Reagan or Art anywhere else.Renda has done a nice job with that station…sure would be nice if WPTT was 50,000 watts non directional 24/7 (February 7, 2001)
---
Dear Eric, I understand that WZUM AM 1590 plays some smooth jazz hits — but after 6 hours they repeat the same 6 hours worth of songs. They do sound really good, though. I wonder what are the artists and titles are (i.e. Who sings "When Did You Stop Loving Me/When Did I Stop Loving You"?) And there are plenty of good instrumentals, too.. Do they have a mailing address or a phone number where I can reach them? Thanks — Patrick (February 7, 2001)
Eric's Response: The Address I have for them is:
WZUM 1590 AM
Box 27
Monroeville, PA 15146
(724) 863-7804
---
Eric, Not to put too fine a point on it, but the antenna is the device that was replaced. The transmitter would be in the building below the tower. Perhaps they also replaced their transmitter, but it isn't at the top of the tower. Art (February 7, 2001)
---
Please check out the website of the Connellesville Courier Newspaper for this past Saturday. It will give you all the information of what is happening to WCVI in Connellsville and WPQR in Uniontown. Both stations are off the air. Key Market took WCVI off the air to upgrade equipment. If may be silent for several months. I thought you would like to know. (February 5, 2001)
---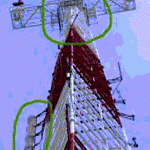 Ref WQED raising thier antenna height: Does anyone know when this took place? I notice from the FCC database that this change was accompanied with a power reduction from 43kW to 28kW; I guess they had to maintain the same signal strength coutours. The move won't be noticed in strong signal areas but may help fill in holes in the coverage close in. However, here in western Maryland I've just had a feeling that something was different, i.e. the signal seems to have gotten worse. It's hard to tell since their signal is continually changing day-to-day at this distance; however, in my very unscientific observations, I tend to lose it more often while driving and it doesn't seem to be as solid with the outdoor antenna at home. (February 5, 2001)
Eric's Response: If you go to WQED.ORG, you will find a picture of where the new antenna is in relation to the old. (I have decided to share it here as well!) According to the site, the original one working since the station signed on in 1973, was a "side-mount" unit, and despite the ability to radiate all over, the tower caused interferance for points west. The new antenna surrounds the tower and has crystal clear coverage in all directions. As you can see in the picture, the side-mount unit is on the lower left with the new unit up above.
---
AS A DJ WHO WORKED AT WZUM IN 1969 AND 1970 I CERTAINLY REMEMBER THE PROGRESSIVE FORMAT. I WAS ON LATE AFTERNOONS TO SIGN-OFF WHEN I STARTED THERE, AT THAT TIME WE FEATURED UNDERGROUND SUNSHINE FROM 4:30pm UNTIL 6:00pm. IN THE BEGINNING OF 1970 GOING TO THIS FORMAT FULL TIME WAS DISCUSSED AND HEAVILY FAVORED BY NRM WHO WAS PART OWNER OF THE STATION AT THAT TIME. IN MAY OF 1970 WE BECAME "WZUM THE SOUND OF THE SEVENTIES" FULL TIME. I BELIEVE WE WERE THE FIRST AM STATION IN THE COUNTRY TO DO THIS FORMAT, AT THAT TIME THERE WERE VERY FEW FM'S DOING PROGRESSIVE ROCK. I'LL SAY FOR CERTAIN THAT WE PLAYED SOME CUTS THAT OTHERS WOULD HAVE NEVER THOUGHT OF, BUT THAT'S WHAT MADE IT NEAT. AS SOMEONE ELSE SAID WHO WROTE IN TO YOUR COLUMN WHAT HURT WAS LOW POWER AND MORE THAN ANYTHING SIGNING OFF AT SUNSET. TOO BAD FCC RULES WEREN'T THEN WHAT THEY ARE NOW, SINCE NOW THE STATION OPERATES AT NIGHTSINCE IT'S RETURN TO THE AIR. TOO BAD IT'S BEING WASTED PLAYING THE SAME 6 HOUR JAZZ TAPE OVER AND OVER. THANKS FOR GIVING US A PLACE TO AIR OUR OPINIONS, YOUR WEB PAGE IS GREAT. ROBBIE D. (February 5, 2001)
---
eric, "laid back larry allen" from wzum went on to wydd and has been the production guy at 1250 weae for years now…his voice is heard on many of the station's in-house spots…and powerful paul perry from 'zum is the morning man on the boston oldies station…the big one too, owned by cbs/viacom…i forget the call letters… (February 5, 2001)
---
I Remember the 70's on WZUM. 6:00a to 10:00a the International party Polka's with Jimmy Pol, hosted mainly by Larry Allen. Then UnderGround Sound. WZUM Started the UnderGround Sound in the Late 60's. One Hour a day, then it slowly expanded and became full programing, KQV FM saw this and also added hours of UnderGround Sound. Now it's WDVE. WZUM was ahead of it's time in Every Format it had. WZUM had the best DJ'S the best sound. But low Power and Daytime Only Hours held it back. (February 5, 2001)
---
wondering if you could help me out i met a pittsburgh anchor a couple of months ago in virginia but unfortunately i forgot her name you wouldnt happen to know who she is she is about 25 blonde hair blue eyes went to george washington majored in communications and journalism if you got any leads they would be appreciated thanks for your time greg (February 4, 2001)
---
Eric ~ On this Groundhog day, I spotted another Frog in the Erie area. This Frog does not drive a '55 Chevy & Wear a Leather Jacket like the one @ 94.7. The All New Frog @ 100.3 wears a Cowboy Hat & Likes to Boot Scoot. Yes "100.3 The All New Froggy" made it's debut today. Thus officially putting the end to the WZPR era which goes back to '79 or '80. (What's wth that FRO – GEE foghorn sound affect anyway?)……Rumor has it that Froggy 100 witll be simulcasting with WOYL 98.5 in Oil City in the near future. (WOYL was still running as "98.5 The Well" as of today.) Tadpole & Polly Wogg in the Morning? I hope they play a few "Kermit" tunes in the mix. (Suddenly I have a craving for a fly, yuk!) Take Care. Croakin' Tom L. (February 2, 2001)
Eric's Response: Oddly enough, it was about a year ago that the Charleroi/Brownsville stations got sucked up like flies with that format. Perhaps February 2 could be GroundFROG day?
---
eric, does anyone besides me remember wzum NOT for the oldies in the late '60's, but the progressive rock the station played in the early to mid '70's?? powerful paul perry, kit baron, mark wallace, terry caywood..THAT was cool radio, and never to be heard again ANYWHERE it seems, except in a very select few markets…(February 2, 2001)