While we're on the subject of TV picture quality, does anybody notice how bland the color is on Channel 4? It just doesn't seem to have the depth (for lack of a better word) that the other stations do. It seems to have been that way for as long as I have watched color television. Off the air or on cable, it has always looked bad to me. And I agree with the earlier post regarding Channel 53's sound. The quality has really gone down in recent years. It sounds pretty flat and muddy at times. –Steve (July 30, 2001)
---
Was just reading an email criticizing the sound quality of Channel 53. I have a problem with the picture. It's dark and fuzzy. Has been like this for years. WPGH says it's the cable company and TCI, now AT & T say it's the station. Does anyone else have this problem? Tom, Allison Park (July 30, 2001)
---
Eric ~ Some interesting news concerning Radio in nearby Meadville / Franklin areas. The combined area has becomed a ranked market according to Radio & Records. Market # 230 is where they are listed while Erie is # 156. Top stations there (1.) 99.3 & 104.5 Kiss FM,(WOXX/WXXO) (2.) Froggy 100.3 & 98.5 (WGYI/WGYY) & (3.) Wuzz 94.3 (WHUZ). I would say the top 2 there prosper from dual signals while Wuzz only has 94.3, which is a decent signal but not like the top 2 Forever sister stations. The rest of the stations ranked on the list are primarily from Erie & Youngstown. Let's not forget KDKA also on the list…………..One other note. After over 27 years of service in Public Broadcasting ON WQLN TV 54 & Q-91.3 FM, Tom McLaren has called it a career & is officially retired as of this past wednesday. Congratulations on setting the standard in broadcasting for people like myself to look up to. Tom L. (July 27, 2001)
---
WOGH-FM 103.5 will officially become a Pittsburgh station as they will move their COL to Burgettstown and use WOGH,Burgettstown-Washington-Pittsburgh/WOGH Burgettstown-Pittsburgh. there is some buzzz that the station may go up to 50kw. Dennard Summers (July 26, 2001)
---
you might want to update your wheeling page …. you still have 1055 as the zone and they changed to kiss fm in jan01 and just this week they changed calls to WVKF (July 26, 2001)
---
Hi Eric, first off great site, I've checked it daily (although not much happens in the burgh as it does in DC) since I've discovered it. My question revolves around the recent decision of Infinity to start a "Hot Talk" format revolving around Stern, Don & Mike, Opie & Anthony, etc. Any thoughts on if Infinity plans on bringing this format here once they get it off the ground and if so, where do you think it will end up? (July 26, 2001)
Eric's Response: I would be surprised if Infinity brings it into this market. Infinity owns KDKA, why would they want to bring more talk into Pittsburgh? If they did, more than likely it's going to end up on WZPT 100.7 though…whether through the idea of bringing back a "KDKA-FM" on 100.7 or making a station unto itself. B-94 is in the middle of keeping claims on the title of top CHR station in the market and Y-108 is the areas biggest and best country station. So if Hot Talk ends up anywhere with Inifinity it would be 100.7.
---
Hi Eric, WXJX-FM, 92.1 Mhz, is a Class D, 10-watt station licensed to the students at Washington & Jefferson College. It is only on the air part-time, owing to its student status. I worked for the Observer-Reporter for a year-and-a-half and I could never pick it up, either! (Which shows why low-power FM stations are NOT going to interfere with full-power stations!) More info and a MediaPlayer feed athttp://www.washjeff.edu/campus_life_organizations_wxjx.html Jason Togyer, Tribune-Review (July 26, 2001)
---
On your transmitter map, there is a station shown just south of Washington, PA called WXJX at 92.1 FM. I've lieved in Washington, PA for over 15 years, and I've never heard of this station, nor can I pick it up. And based on the map location, the tower should be visible from the hill where WJPA's tower is located, but there's no tower sticking up in the air where the map says it should be. Is this a dormant station, one with a pending application or what? (July 26, 2001)
Eric's Response: I will forward it to our mapmaking expert. His maps are plotted to the point where the FCC says antennas are located…and he's RARELY wrong!
---
Eric, TV 35 WONT, Pittsburgh's Live Auction Television, will be simulcasting on WBGN-TV on Saturday, July 28 from 1 PM to 6 PM, for our Christmas in July Auction Extravaganza. Since WBGN is on cable all around the Pittsburgh and surrounding areas, this will be a good chance for anyone who's wanted to watch our live auctions to do so. 🙂 There's more info at our web site at www.tv35wont.com. Thanks, Joe Krinock Technical Director TV 35 WONT, Pittsburgh (July 24, 2001)
---
Eric ~ I read the e mail in the mailbag concerning WLKK The Point 102.3 changing it's calls to WQHZ. Could it be Q 102 or 102 Q? Hmmmm? I see the station changing to Hot AC, Top 40, or some kind of 80's leaning format. This will be fun to see what develops on 102.3. It will be the second station in Erie using the Q as part of it's name. WQLN FM 91.3 already uses Q 91.3 as a nickname. The point fading off to the sunset also will be helpful for "93.9 The Planet" taking hold for new rock listeners in Erie. Tom L. (July 24, 2001)
---
In Erie radio news……102.3 The Point, formerly WJET and recently WLKK, is about to go through more changes to its call letters. Regent Communications has reserved the new calls…WQHZ, for the station, to go into effect as soon as the sale is final. Q102??? (July 23, 2001)
---
Eric- This morning (7/22) I heard an ID on 105.9 the X that said "Extreme Radio." I wonder if this is in response to the rumor that CBS/Infinity is planning on changing Star 100.7 to one of their Extreme Radio franchise stations? I know Infinity set up an Extreme Radio station Cleveland a few weeks ago. If it ends up that Infinity flips Star to Extreme, it will definitely be an very interesting battle between the two corporate giants. Have you heard anything more about this? Chris Z. (July 22, 2001)
Eric's Response: I have not heard any plans for Infinity to do anything in Pgh recently. Has anyone?
---
Eric ~ More Erie radio news. Corry broadcasting has dropped the Country format on 1530 WEYZ (AKA Z Country) in North East for a simulcast of sister station WWCB 1370 (AKA Power 1370) over the phone lines. The daytimer @ 1530 was not really a player in the Country music race, competing with Country 98 WXTA. The last decent numbers 1530 had was when it was the former Talk station Flagship 1530, competing with The former WLKK 1400. It's too bad they couldn't go classic Country on 1530 for a small but loyal Country audience. That & bring back the WHYP call letters. Who knows what will become of 1530. Maybe Ethnic programming? Tom L. (July 19, 2001)
---
FYI, A friend of mine says he is now anchoring 6pm news on WTAP-TV Parkersburg and also serves as News Director. (July 18, 2001)
---
(from previous email) "does anyone remember "Rap-Around" with Dennis Benson? This was also a weekend evening show (I think) on 13Q."
That was one of Dennis Benson's local talk shows. His first talk show in Pittsburgh was "The Place", a magazine format TV show on WQED-TV. He took over the hosting position from Bill Hilgrove. He also took over hosting "The Place-KQV", a Sunday Morning half-hour from Rob McClure. Both the TV and radio versions fo "The Place" were produced in association with Christian Associates of Southwestern Pennsylvania. He's currently producing a syndicated radio program called "Passages". I recently received a few e-mails from him. Excerpts are below:
"I am now living in West Michigan on a sand dune overlooking Lake Michigan–and spending full time producing syndicated radio. I went from Pittsburgh to Dayton and taught in a seminary. I founded a master of arts in religious communication program. I taught there for ten years. Nine years ago we came to Michigan. I produce three forms of of Passages–28:30; 14:30; and a daily one minute version (260 shows a year). I also produce a daily youth show (one minute)–260 a year. We are heard on 1500 nations round the world! We also have a digital studio in Denver. My oldest daughter works from there and co-produces the youth show (Survivors). I am still busy interviewing. We figure that I have done 40,000 interviews over the years! I fondly remember the Place Days. I keep running into old Place people. "Excuse me. I was on the Place. I am a lawyer now."
Note: I was one of the "Student Producers" on The Place on WQED and on KQV. George Erdner (July 17, 2001)
---
RE: Jason who asked about WFGM (97.9) in Fairmont, WV. The old Great 98 died when West Virginia Radio LMAed the station from Fantasia about five years ago. They moved WKKW's country programming from 106.5 and started a new Classic rock station WFBY on the 106.5 frequency. None of the old air staff was retained. I was the last morning guy working with Al Mayo. After sticking around for a couple months with WRLF, I left for WTTR in Westminster/Baltimore, then moved to WYII in Martinsburg, WV. I am now PD at Star 92.1 in Hagerstown, MD/Chambersburg, PA. Al is doing traffic in Louisville and as for "Dougger" (who was Al's longtime morning show co host). Last I knew he was doing radio in Parkersburg, WV. I believe Eddie James is now out of radio. The "Outlaw" Kevin Shane is also out of radio and still roaming the Morgantown area. He had left FGM a couple years before the sale and worked for WMQC and WPDX. That is where I met him and helped me land my job at WFGM. Last I knew, Lisa Michaels was in the Salisbury, MD area and had been in and out of radio. As for Lynn Hinds, I too was at WVU when Lynn arrived…we probably had classes together. He was agreat asset to the J-school at WVU and helped me a lot. I knew he had left the school a year or so ago, but do not remember where he went. I believe it was back to the Pittsburgh area somewhere. Don Silcott (who had worked at WHO) was another of the guys at WVU who were a big plus to me! Hope this helps! Don Brake. (July 17, 2001)
---
I was recently watching a movie I taped about 1986 and I found a bit of Newswatch 35 from WSEE TV here in Erie. Here are a couple of screen captures. They are mostly of the weather segment and one of the set. Graphics were crude in those days. I thought that these would be interesting for your Erie site. J from Erie (July 16, 2001)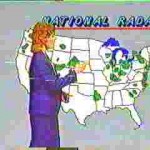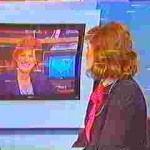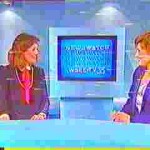 ---
Dear Eric: This message ran as a letter to the editor of The Daily Courier (our [The Trib's] sister paper) in Connellsville. Hang by your thumbs, Jason (July 16, 2001)
"Letters to the Editor – Monday, July 16, 2001
End of a tradition for WCVI and WPQR
Dear Editor: In a telephone conversation with an official at Keymarket LLC, the company who purchased WCVI and WPQR-FM, I was informed that WCVI will have no local programming. Like much of last summer, it will run off of a satellite with no local announcers. There will be no local news, obituaries or sports. Keymarket also has no plans to continue airing high school football, ending a 50-year tradition. This seems contrary to statements made in a Feb. 3 article in the Daily Courier, in which Keymarket executives said they planned to hire more people and offer current WCVI employees chances to interview with them. To my knowledge, nobody was ever contacted by Keymarket. They also said that they planned on programming the stations according to what the commmunity wanted. I don't think that a totally automated station run from a studio in Brownsville is what Connellsville wanted. Gerald Getz, president of Keymarket, and Frank Bell, vice president of programming, believe that they have been unfairly painted as a green monster for acquiring the two stations. The fact is Keymarket is a green monster trying to acquire as many stations as they can so that they can drive up the advertising price of commercials for local businesses while providing less diverse programming which has nothing to do with the communities in which they serve. No wonder their symbol is the frog. In the past few years Keymarket and there parent company Forever Broadcasting in Altoona have eliminated local AM radio in Brownsville, Charleroi, Johnstown, Somerset, East Liverpool, Ohio, Steubenville, Ohio, as well as cities north of Pittsburgh. They have automated most of their AM stations while simulcasting the same programming over many of there FM stations; mostly the "Froggy" format. The fact is, many local radio stations, such as WMBS in Uniontown are finding it necessary to rely more on satellite feeds and automation just to survive. However, Keymarket is just a bunch of CEOs and executives making big money by acquiring these stations and running them with little or no employees or regard for the communities in which they serve. In reality, Keymarket acquired WCVI and WPQR-FM in an auction in November fair and square, and they can do what ever they want. It's just a that a tradition of local radio in the city of Connellsville since April 23, 1947, has to end. If you don't like what is happening with WCVI, I urge you to contact Keymarket at (724) 938-9282 or (412) 278-5182 and complain. Richard K. Mastowski The last sports director at WCVI"
---
Eric, Love the website; keep up the good work! To the gentleman saying that 3WS is "board-opped" in the overnights, he is incorrect. It is actually run by the Prophet automation system. That's why you'll notice so many dead segues (it's faster than having to put an id in between every song). Their sister station, WKST, is also run by Prophet in the overnights. Just wanted Vic to know that board-opping jobs are also being cut by Clear Channel. WLTJ is also automated at night. The only cluster to NEVER be run by a computer is Infinity/Viacom. All 3 of their FM's and KDKA-AM are still 100% run by live and local humans 24/7. (July 15, 2001)
---
As we chat a bit about Lynn Hinds, let's not forget the fine Sunday night talk show he hosted with then-wife Carolyn Smith that was simply called "Sunday Night with Lynn Hinds and Carolyn Smith". This was a wonderful, gentle intelligent talk show heard Sundays on WTAE-AM during its glory days of the mid 1970's. Speaking of perhaps-long-forgotten Pittsburgh talk-oriented-radio, does anyone remember "Rap-Around" with Dennis Benson? This was also a weekend evening show (I think) on 13Q. Finally, as we talk about voice tracking (abhorrent, but at least it's local — for now), I can't help but to — politely — point out the decline of KDKA. Which is worse? Voice tracking or infomercials throughout the weekend mornings and early afternoons (for the most part), not to mention the lack of local news presence after 7 or 8 p.m. on weeknights. In the 1970s, the weekday regulars pulled Saturday or Sunday shifts (e.g., weekday, mid-day host Art Pallan did Saturday mornings, afternoon host Trish Beatty did Sunday mornings) and local newscasts continued until midnight and after midnight with the announcer on duty (Perry Marshall ) still doing hour newscasts, albeit from the wire. I don't mean to rant, but I listen to all of the available clear channel stations (note the lower case c's) and from WABC, WCBS, WFAN, WSM, WBT, WLW, WLS, and others all do better in this regard. Even if KDKA can't afford it, they could at least give the impression of being "in-touch" via pre-recorded construction updates around the clock or hiring of a an eager rip-and-read intern for odd hours. I've always viewed KD as a symbol of Pittsburgh, and I have a feeling the DXers aren't as impressed with what they hear from our town…it's sad. Finally, Eric, I'm sure I speak for many others when I state that I read PBRTV almost daily and your enthusiasm and love of radio is ALWAYS showing. As the site becomes more popular and read, the law of large numbers is bound to result in a negative letter or two. You're doing a great job and service to the radio community…say, maybe, you could phone in a few news reports to KD after 7 p.m.? . (July 15, 2001)
---
Just an interesting note to pass along….seems as if the sunspot thing has been active lately. On Saturday, July 14, I was on a ski boat in the middle of Conneaut Lake and was flipping through the radio. I typically pick up Detroit stations in this part of NW PA, but to my surprise when I turned on 93.9, i heard a commercial followed by "WLVE-Miami Beach", followed by a commercial for Land Rover of Ft. Lauderdale, and the format was smooth jazz. It was clear as a bell and sounded like it could have been out of Meadville. I then turned to 99.1, and there was 99 Jamz-WEDR..Miami-Ft.Lauderdale……I also picked up 2 spanish stations which did spots that included phone numbers with the 305 area code……so everything i picked up was from Miami….WOW….This phenomenon never ceases to amaze me. A few years ago around the 4th of July, I had stations from Chicago, Kansas and Colorado come in–"in stereo"–in my house. The first time I ever had this happen was on a boat on Conneaut Lake, and I picked up the now defunct–107.5 The Buzz out of Houston. The longest this ever lasted was about 3 days, and its really weird. All of these of course on the FM band. Now i'm waiting to pick up something from CA!!!! (July 15, 2001)
Eric's Response: Ah good old Conneaut Lake. My great-uncle had a place at lakeside, but I never dreamed that the sunspots would carry stations so far. If you want to hear something truly funny, back in 1993 or even 2, there was a 10 minute message on my answering machine. It was none other than Washington's WGAY-FM playing Barbra Streisand and another soft favorite along with an ID or two. I assumed a friend was playing a trick on me, but apparently the signal dialed up. I'm not making this up either, since one day I was on the air at Radio Information Service and the signal dialed the phone in the studios over at WSHH. They thought I was playing a trick on THEM! Explain THAT one!
---
Eric, Lynn Hinds wrote a book about the early history of TV news in Pittsburgh. Barnes & Noble stores usually have it in their local interest section. The P-G story about R.D. Summers and Brother Matt puts a positive spin on an ugly development. Yeah, they're "rehired" but they're freelancers doing one show instead of full-timers getting salary and benefits. I don't know about Matt but R.D. has been replaced by voicetracking. Kenny Woods, the assistant PD, voicetracks the shift. 3WS is voicetracked from 6 to midnight and run by a board op overnight. It's a shame that a station that prominent and successful has non-live programming 11 hours a day. I've switched to WJPA — better variety and more honesty. They take programming off satellite overnight but they don't try to fool anyone with voicetracking. Vic (July 14, 2001)
Eric's Response: I have Lynn's book. It is called "BROADCASTING THE LOCAL NEWS – The Early Years of Pittsburgh's KDKA-TV". For those who don't know, Lynn Hinds was, among other things, co-host of WTAE-TV's AM Pittsburgh with Al McDowell and Cathy Milton in the 70's and early 80's. He then moved on to WPSX in State College and created The Pennsylvania Game for Pennsylvania PBS Stations. He was the first host followed by Lynn Cullen and then a guy named Scott Bruce. After leaving Penn State, he went to the P. I. Reed School of Journalism at WVU. The only response I have to the evening voice tracking at 3-W-S (ALWAYS HYPHENATED) is that at least it's done by a local person!
---
I find it really annoying that channel 53, WPGH-TV has such poor sound quality. It is becomming increasingly annoying because of its FOX affiliation and FOX's ability to garner rights to just about every major sporting event (NASCAR, World Series, MLB All-Star game, etc.) Their sound is muffled and seems to have very little high-end response. I also find this on their sister station WCWB-22. I have a satellite dish and am able to receive FOX via satellite and there is no comparison to the sound quality between the two. Most wouldn't notice this deficiency unless they had a reference point like I have. I even compared them to the monaural Channel 8 (WWCP) in Johnstown and found their sound to be inferior to that also. I called FOX-53 to report and query an engineer about this and was told (in a very defensive tone I might add) "there is nothing wrong with our sound. We have 20 thousand dollars worth of audio equiptment here!" As far as I am concerned their 20 thousand dollars worth of audio equiptment is worthless if they don't know how to use it properly. I didn't say that to him because I didn't call him to become confrontational, but to just point out there is something wrong. I noticed this deficiency when they switched their audio from monaural to stereo on or around the same time they started their 10 PM nightly newscasts several years ago. I do not find this problem on any other Pittsburgh station but FOX 53 and WB 22. Ironically Sinclair Broadcasting owns both. Does or has anybody else noticed this problem as I am new to this forum? Maybe it is possible (with enough complaining) that they will tweak their audio so that it will sound like FOX intends it to sound! Bill, South Hills (July 14, 2001)
Eric's Response: Can anyone help Bill?
---
Hi, Eric! Nice article in your "Musings," about more possible mergers and FCC deregulation. To sum it all up: The FCC is as worthless as tits on a boar! They've done little more over the past decade, besides throw a few hefty fines at stations for Howard Stern witticisms and failure to upgrade to EAS. The rest of their time they've spent chasing political agendas and coddling big businessmen, allowing our industry to erode from being an honored tradition to becoming little more than a pastime for accountants. Bloody shame. Ed Weigle (July 13, 2001)
---
Eric ~ I read your column about someone thinking you were bored with PBRTV. I am not sure why someone would think that, I happen to like the PBRTV site on here. It also gives me a chance to mention any radio or TV news from up here in Erie I may stumble upon. I wish more people from other areas would contribute to this great site. I guess that would be my only complaint, but that is certainly not your fault. Also, I am 30 & still looking for Ms Right….lol……. Some Area news: The syndicated public radio program "Adventures in Good Music" hosted by Karl Haas has a new Erie radio home. The program can be heard now on WMCE 88.5 / 104.9 at 10 am I believe. "Adventures" was recently dropped by WQLN 91.3 for the syndicated NPR program "Fresh Air", Hosted by Terry Gross. Her show airs from 3-4 pm. Also if You like the Classic sound of Country music, tune into WEYZ 1530 weekdays from noon till 3 for "Old and New." There are some rare gems on that program alot of the Big FM Country stations will never play. The signal itself is not great, but it has a nostagic sound like the days of WHYP radio. Have a great Day ~ Tom L. (July 13, 2001)
---
Hi, I just discovered this site through DCRTV.com, and it's good to see such excellent coverage of the Pittsburgh region. Although I live in the suburbs of Washington, DC now, I grew up in north central mountains of West Virginia. Even being a good 2-3 hour drive from Pittsburgh, we received many of the area's TV stations, and a good helping of Pittsburgh radio. I remember listening to WDVE and the old WAMO at 105.9, and I remember when WSHH was easy listening. I still try to tune in WYEP when I'm in Pittsburgh, and I miss that sort of quality and variety of radio that is sorely missing in the Washington/Baltimore market. Got a question for folks who, like me, were a good distance south of the city: does anyone remember the old top-40 station, 97.9 WFGM in Fairmont, W.Va., when they were still the "Great 98"? This station, along with Morgantown's WVAQ, carried me through my younger years. Some time later, I tuned into 97.9 and was saddened to hear that WKKW had assumed this frequency. Can anyone clue me in on when and why the switch occurred, and does anyone remember the names of any old Great 98 radio personalities and perhaps where they are now? Also, in regard to your "where are they now?" section, I've checked the staff directory at West Virginia University and it appears that Lynn Hinds is no longer employed there. I wonder where he is now, because while attending WVU I took a Journalism class he taught which dealt with mass media. The name Lynn Hinds always seemed to ring a bell, but not once during a lecture did he ever reveal his former life as a long-time Pittsburgh broadcaster. I realized years later that I had probably first seen him long ago on channel 4 as a kid. As I recall, he was extremely knowledgable on the history of broadcasting and very interesting during lectures, but at the same time on the strict side. -Jason (July 12, 2001)
---
hi, i noticed the thing about KDKA switching rosie with Y&R. Actully, WRAL in Raleigh NC does the same so if they are trying to knock down oprah on WTAE then their doing a great move.—-wjzfan (July 10, 2001)
Eric's Repsonse: Yes, well they've held off on that now. We'll see if it happens.
---
Eric, WZUM 1590 has the oldies back. Candy and Mike are on Monday thru Friday 3:00p to 4:00p. Big Ray is on Saturdays 1:00p to 5:00p. Phil (July 10, 2001
---
Dave Shallenberger is retired in Pittsburgh PA this is his daughter Stacy. (July 10, 2001)
---
Eric, Poster Ed may want to rethink that statement about how 3WS can do no wrong. Word is they have dropped R.D. Summers' night time show and will now voice track 6 p.m. to midnight with assistant PD Kenny Woods. Another $$ saving idea from your friends at Clear Channel? Vic (July 5, 2001)
Eric's Response: Yes, R.D. left at the same time most of the WJJJ staff did. I couldn't imagine a worse crime!
---
Hi Eric: I agree with your Washington vs Pittsburgh "Musings". Being from the Pittsburgh area, I can attest to the greater Pittsburgh area radio market performing "leaps" and "bounds" over what we are "forced" to listen to in the Washington, DC market. Stations that basically lack any sort of creativity with their homogenized play lists. The signal problems abound because of the east coast congestion – with the majority of the stations (especially on AM) having very restrictive directional signal patterns. An example is our news station WTOP with 50,000 watts on 1500 AM with a severe null to the west – you can hear the station in London, England however, you have a hard time hearing it west of the Potomac River. In order for WTOP to improve coverage, they simulcast with a directional signal on 107.7 FM and WXTR, Frederick, MD on 820 AM. Although this has improved their coverage, their are still parts of this area that lack a listenable signal. The local AM band is virtually non existent. As addressed numerous times in DCRTV Dave's mailbag, one can only wish for a local station with the class of WJAS. Run correctly with enough "signal", an easy listening/nostalgic radio station in the Washington, DC area would prosper. I believe that WJAS is always one of the top 10 stations in the Pittsburgh market. As you stated Eric, "we are truly blessed to have these stations in existence" – believe me, you are. Real Audio streaming has been nonexistent from the Pittsburgh area stations for quite a while – a favorite listening venture of mine while on the net. I really and truly miss Pittsburgh radio. Also, my thoughts and prayers are with Clarke Ingram and Alys. If memory serves, I believe that I worked with Alys at the now abolished U. S. Bureau of Mines when they were located at 4800 Forbes Ave. in Oakland. I worked in the film library until 1985 and was a freelance DJ. We talked about Clarke every so often and I believe that Clarke stopped by periodically. My memory isn't what it used to be. I read your PBRTV page and mailbag as often as I can. Please keep up the SUPER work!!!!! Doug Goffus, Falls Church, VA – President, Volunteer Radio Producers Guild WEBR Cable and Internet Radio (July 5, 2001)
---
Eric: What terrific news that Jay Mitchell is back on the air! As you know, 3WS can do almost no wrong with me, considering the accolades they've given my friend, Porky Chedwick. On WTAE, Jay put on perhaps one of the most "complete" oldies shows I've ever heard– That is, he'd play the Pittsburgh oldies, but also feature some of the national hits which WEREN'T in the Top 20 (Hell, he'd even throw in a Dean Martin record now and then!). So impressed was I with Jay that I actually sought him out when I was asked to host the "Saturday Night Hall of Fame Show" on FM 104 (WLSW) for a couple pointers. When Hank Baughman and I worked in Johnstown at the station Hank owned briefly, there was a guy who actually used to scope Jay's show and play his whole damn playlist, song for song! (We rather felt that this was a type of appreciation that bordered on piracy, so the man's parade got rained on). I congratulate 3WS–again–and wish Jay all the best. He's a terrific jock. Now– When is SOMEONE in town going to give my pal Rockin' Ron Chavis ("The Nighttime Dawg," once on WAMO, most recently on B-94) a slot? Here's a guy who has much more to offer than Bowser Auto Dealership commercials. When we worked together at a classic rocker, I used to stay after my shift just to watch this guy work and handle phones. He's the modern personification of "Cool" with any format out there. Think about it, Programmers! Ed Weigle (July 4, 2001)
---
Eric ~ I read about the person who was vacationing in Erie & picked up numerous out of town signals. I have received a number of out of town signals from Toronto, Buffalo, Cleveland & sometimes Pittsburgh. Urban WBLK does not have a Jamestown translator but I have pulled them in on occasion. I usually also receive 97 Rock WGRF 96.9, KISS 98.5 WKSE, and once in a while WBUF 92.9, now a Rock outlet there. From Toronto, Q 107 CILQ 107.1, CISS 92.5, EZ 97 at 97.3, CHUM 104.5. There are so many, it's hard to list them all. Any others, let me know on this board. Tom L. (July 2, 2001)
---
(in response to a previous message): The reason you don't see a lot of old 7 minute "shorts" like you used to is that many of these are seen exclusively on cable stations. I think that AOL-Time-Warner-Turner owns the rights to a majority of these shorts and are found on their stations only (TBS, TNT, Cartoon Network, etc). Also, these new shows probably produce lots more ad revenue for the local broadcast stations. I remember seeing these shorts, plus some early "Japination" (example – Speed Racer) on both WPGH and (then) WPTT. BTW – I wonder if those old Picture Pages are still being shown on TV? Guess it shows signs of getting old? Dave P. (July 2, 2001)
Eric's Response: I haven't seen Bill doing Picture Pages in about 10 years. Although I did find a Mortimer Icobod Marker about seven years ago. By the way, do YOU remember the Picture Pages song? I do!
---
Eric, After an 18-year absence, Jay Mitchell was back on 3WS Sunday. He did two hours of Jim Harrington's show and said he was training on the new equipment. I guess this is for possible fill-in work. Jay used to do the all-night show on 3WS-AM in the late-70s. He also did a speciality oldies show before he left for WTAE. There was a big controversy because he took a box full of carts when he left. They contained rare records that he had dubbed. The station maintained the carts were their property. Mitchell said he'd give the carts back — after they were erased. Not sure how that was resolved. It was a l-o-n-g time ago anyway. Nice to hear Jay back on 3WS and it's unusual for a station to admit that someone is doing a trial run. (July 2, 2001)
Eric's Response: I would imagine with all of the ownership changes made in the last 18 years, that Jay probably won't have to meet up with anyone who was at the station way back then.
---
Eric: Paul Mullan here from WWHC-FM in Oakland, Maryland. (Deep Creek Lake area). Should Clarke (Ingram) need some info on Congestive Heart Failure for his mom, I suggest http://www.jonsplace.org/. My dad died from CHF about three years ago, and Jon keeps up on the latest. I don't know Clarke, but I know what he's going through is a struggle. I enjoy your site. Keep up the good work… (July 2, 2001)
Eric's Response: It's truly wonderful to know that there are "comrades" out there who are willing to help. In the June, 2001 Mailbag there was a message from Clarke Ingram regarding his departure from WJJJ and a request for prayers for his mom, Alys, who suffers from CHF.
---
Eric, This past Friday I was vacationing in Erie, PA. How funny is it that I can actually pick up WBLK-FM 93.7 from Buffalo, NY (Urban)? That particular station only has a 47 kw signal, and it gives mostly all of Erie County a lot of coverage. Does it have a translator in nearby Jamestown, NY? And, while on the beach at Presque Isle State Park, I picked up several other distant FM's: WENZ-FM 107.9 (Z-107.9) (Cleveland; Urban) Awfully powerful!; WNWV 107.3 ("The Wave") (Smooth Jazz); and several other FM's in Canada as well. Very cool but interesting! Patrick (July 1, 2001)
Eric's Response: You have to not only consider the wattage, but how high on the stick the antenna is. If it's really high, the power can be cut because of the height. One example that many of us use is 104.7 FM in Hagerstown, MD. It was WWMD for a number of years. The antenna only put out 8300 watts of power, but the antenna was many meters up on the stick and the stick was on the highest hill in the area. Because of this, it made the station operate the same distance as a 75,000 watt station with an antenna at a more regular height.
---
Dear Eric, Remember back in the mid '70s to late '80s many independent TV stations across the country aired 7-minute cartoon shorts before and after school and on weekends? I don't see that happening anymore. WPGH used to do this a whole lot — on a regular basis. I remember seeing 'toons like Bugs Bunny, Casper, Yogi Bear, Tom & Jerry, Mighty Mouse, Woody Woodpecker, Popeye, Pink Panther, the list goes on. and at times, WPGH would shorten (edit) the 'toons for time constraints. The results are sloppy — the film breaks, and the film projector lens get dirty. I guess most of the 'toons I used to see on TV were replaced by more modern 'toons like Rugrats, Pokemon, Digimon, SpongeBob, Buzz Lightyear, Powerpuff Girls, The Simpsons, South Park, etc. . . . . Most of the OLDER 'toons I mentioned above went to cable anyway. Much regards, Patrick (July 1, 2001)
Eric's Response: I don't remember the shorts, but I do remember "Picture Pages" with Bill Cosby. Ironically they were filmed here in Pittsburgh. Oh but I do remember when the Flintstones and Jetsons, Yogi and others were shown on WPGH or WPTT…and not on some cable channel specifically for cartoons. Incidentally, South Park is a favorite of mine. As awful as it seems, it's pretty realistic to the world we live in!