[important]To read in chronological order, start at the bottom and work your way up.[/important]
Eric, In your mailbag article from August of 2002, it was stated that WOPC-TV in Altoona took its ABC network programs right off the air of WTPA-TV(later WHTM-TV) in Harrisburg, PA. That kind of reminds me of another station I remember clearly. Do you remember WCMC-TV(now WMGM-TV) in Wildwood, NJ? They were an NBC affiliate with very short broadcast hours like WOPC. WCMC-TV took its NBC programs right off then-NBC affil KYW-TV in Philadelphia. What shows did WOPC air when WTPA/WHTM pre-empted an ABC network show for a special? Also, it was mentioned that WHGM-FM(now WALY), which was co-owned with WOPC, did its music programs the old-fashioned way(by putting 33 RPM albums on a record changer). When exactly did the owner get the automation system and the tapes to go with it? Also, what were the broadcasting hours of WHGM-FM? My guess is that it signed on at 6 am and off at roughly 11pm. Martin Connolly; God Bless the Troops in Iraq!! (March 30, 2003)
---
Eric. I was just informed of the passing of John D Gibbs, long time VP & GM of KQV. John actually started at KQV in July 1945 as a newscaster and sportscaster. He also served as director of public service, and program and sales coordinator before his appointment as general manager of KQV on March 21, 1960. John stayed at KQV until Labor Day 1974. He spent a short time at WWSW before moving on to the faculty at Duquesne University. John Gibbs retired in 1980. John Gibbs was one of the first to help me when I began my KQV website. He was kind enough to lend me his personal scrapbook as well as to share some of his memories of KQV. Former KQV program director John Rook said "he was a role model for managers." The John Gibbs Page on the website http://user.pa.net/~ejjeff/gibbs.html. Jeff Roteman(March 29, 2003)
---
Don't waste space and validate dumb posts like "If Stern, Imus…etc. are so tough, why don't they go fight in Iraq…" First, that kind of stuff is incredibly stupid and second, your site isn't for debates about the validity of the war. Also, the look-alike post with Ernie Kovacs and Saddam Hussein is completely irrelevant, too. Please keep your site's focus where it belongs. (March 29, 2003)
Eric's Response: Hmmm…well do you have anything relevant to post such as any local radio and TV scuttlebut?
---
Eric, I live in Youngstown and have been listening to WEXC in Greenville, PA. It plays a wide range of music from the 50-90's usually with an AC leaning. I hear country and even some southern and album rock – especially on the weekends. The hosts are sometimes local, sometimes network, but they are great. Hope they can get this out to the masses as it gives us listeners in Youngstown something besides what Clear Channel thinks we should hear. I tried to find out an e-mail or web site for the station, but to no avail. I just hope someone from the station stumbles upon this and knows that there are listeners. Scott Baird (March 28, 2003)
---
Hello, Just wanted to know if anyone knows the name to the background theme of "Nighttalk" on PCNC. Thanks. (March 26, 2003)
---
Re: Sporting News Radio. Fybush was reporting WSNR (AM 620) in New York airs brokered programming 20 hours a day. Similar information turns up on www.nyradioguide.com. By the way, it appears WURP once again was carrying its usual lineup, as of late this week. Which means that would-be SNR fan would be subjecting himself to Don & Mike if he switched from AM 1250 to AM 1550. Pat Cloonan (March 26, 2003)
---
Please include the song, "I Kissed My Son Goodbye" by Sandy Soffe. It would be very appropriate for these times. Thanks Ken L (March 23, 2003)
Eric's Response: Radio DJs take note!
---
If IMUS, STERN, HANNITY, RUSHSTER, HENDRIE,BECK, and the rest are so tough, why don't they enlist and go fight in Iraq? At last the Rushman and Stern can agree on something. As far as country music is concerned, John Mellancamp is really a country singer , but had the wisdom to call himself a Rock singer so he could sing the truth without the horrible risk of "being banned in Nashville." (March 22, 2003)
---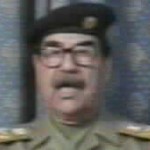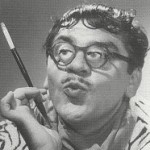 An original from Clarke Ingram: Separated at Birth?! (left) Saddam Hussein; (right) Ernie Kovacs as Percy Dovetonsils. YOU DECIDE! (March 22, 2003)
---
As someone who danced on the Clark Race Dance party, I can confirm that String of Trumpets by Billy Mure on Splash records was indeed the theme for the TV show, as well as his radio show. I still have my 45. (March 19, 2003)
---
I'm proud that the Pittsburgh area stations did not jump on the bandwagon to dump the Dixie Chicks. Free Speech is what we are about as a country. Even if country music is finished with them, I'm sure they can continue a very fine career in Rock and Pop. Country had no use for Elvis, k.d. lang, John Denver, Joan Biaz, Arlo Guthrie, Steve Earle, the Byrds, and barely makes room for Lyle Lovett, Dwight Yoakum, and Emmy Lou Harris. I say more power to the "Chicks" for the guts to speak their feelings. (March 19, 2003)
---
Eric: Regarding a Mailbag post, yes, "A String of Trumpets" is on CD, Itzy Records "At the Hop" Volume XIV. I've heard it played on WLSW at times and I did a Google search to confirm. (March 18, 2003)
---
I was wondering if either Froggy or Y are going to participate in the big removal of Dixy Chicks songs from their playlists? I can tell you that WQXK in Youngstown is participating in this. (March 18, 2003)
---
hi. great site. can anyone tell me the name of the instrumental theme song to clark race's old dance party tv show? is it on cd? thanks. richard campbell, latrobe, pa. (March 18, 2003)
Eric's Response: The theme for Clark Race's show on radio was "String of Trumpets" by Billy Muir. I'm not sure it it was for the TV show as well…I would assume so.
---
Hey dude: FYI – I kickoff a new local series April 5th on WQED TV13, called PITTSBURGH BANDSTAND – I just finished editing over 13 episodes recorded at Linden Grove. Charlie Apple co-hosts with me, Porky Chedwick, is our special guest for the first season, and has remembrances and Porky tunes being played in every episode. The show's a mix of live dancing, rare footage not broadcast on tv from my shows, and the first episode features a dedication to Clark Race, featuring lost film I retrievd from his widow Diane for the program. You'll see a montage of Clark in and around Pittsburgh – in the office – in England, and even more. My announcer for the series, which has a very retro Quinn Martin-esque opening and format is Hank Simms, the original uncredited QM announcer of Streets Of San Francicso, Cannon, Barnaby Jones and more…who else could say "Tonight's episode: Porky Platters". Stay tuned….. TJ Lubinsky (March 18, 2003)
---
Eric: Thought I'd let you know that, if you watch closely during WWE Smackdown! tonight at 8 on UPN, you may see our own Porky Chedwick. The show came to Mellon Arena Tuesday night and Porky and his stepson, Ben, were in the audience. Prior to the taping of Smackdown!, we also tape a show called Velocity, which airs Saturday. Ben tells me they might be on that one, too. Take care! Ed Weigle (March 13, 2003)
Eric's Response: Did anyone see this?
---
Dear Sirs – I am working on a book, and am seeking information on KQV in the 1930s, specifically a singer named Mary Ethel Wade whose show was on Sunday nights. It was not clear to me how to post on your interesting board, but if you could paste this into it, it would be a very great help. What I want to know for now is KQV's frequency, and is it still known by those calls today? many thanks. Lee Harris; Burbank CA (March 13, 2003)
Eric's Response: AM 1410 is the current home of KQV…a 30 year history as an all-news format.
---
I have been reading back on some of the archives on WURP and familiarizing myself with this stations history. I picked up Sporting News Radio on this frequency yesterday. Do you know how long they have been carrying it? They may have picked up a listener, especially when Mark Madden is berating a helpless caller. Thank you, Matthew Baic (March 12, 2003)
Eric's Response: I do not know how long they've been airing this, but I have heard a rumor that the home station for SNR doesn't even air the program.
---
Hello: This message is to complement Radio meteriologist announcer, Julie Bolonia..(hope I spell right..). Thanks for clear envision. Best wishes, Reddy (March 6, 2003)
---
Mr. Rogers influenced generations of Pittsburghers. I grew up with The Children's Corner and the Fred Rogers characters that later lived in Mr. Rogers' Neighborhood, which my kids watched. My youngest son still talks about us going to an appearance Joe Negri and X the Owl. That's why the post below which I saw on the New York Radio Message Board (copied from the ABC message board) is so disturbing to me. If true, as a longtime radio guy, I am embarrassed by air talent like this, as a Pittsburgher I am furious. Ed Salamon (March 3, 2003)
Eric's Response: We actually received this message a week earlier, but wanted to include the weblink to which this email replies. Which we hadn't received until now.