PORKY CHEDWICK: RADIO'S MOST IGNORED PIONEER
By Ed Weigle (2001)
"Any entertainer of my era who say they don't know who Porky Chedwick is- they're damn lyin'! That's the cat that played the records. I know." -Bo Diddley
"Porky Chedwick?! Now you're taking me back!" –Dick Clark
"Porky Chedwick is a legend!" –Charlie Thomas, The Drifters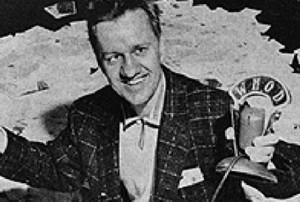 I've finally had enough of so-called "historians" of music and radio who believe they've told all the important stories there are to tell. The last straw for me came on February 4, 2001, when I phoned my dear friend and mentor, Porky Chedwick, to wish him a happy birthday. He has been an adopted member of my family for more than 20 years, since he kindly assisted me in becoming a broadcaster by the tender age of 13. Porky's recommendation of my alma mater, Point Park College in Pittsburgh, led to my first national gig, voicing promos for HBO, Cinemax and other networks. For 53 of his 83 years, "The Daddio of the Raddio" has entertained Pittsburgh, where four generations know him as well as Pirates, Steelers, Penguins, Heinz Ketchup and Iron City Beer. The Steel City has honored Porky annually, since his half-century mark in radio, with the "Porkstock" summer oldies festival at Three Rivers Stadium-the only such tribute given a disc jockey! (In spite of the stadium's demise, the show will go on). While much younger men are retired or handing out lollipops to children in department stores, Porky has no intention of ever slowing down. Our conversation that day was uncommonly brief, since he was bundled up and ready to catch his ride to WLSW-FM, where he hosts a Sunday oldies show (He's also heard monthly on 3WS in Pittsburgh and weekly on AM 860, where his career began). Later that evening he would add another record hop to his current total of more than 7,000 he's hosted since the late '40s! Just as Porky's influence on this writer and my hometown is undeniable, his much more important contributions to my industry and to music as we know it are just as uncontestable, given the amount of documentation that exists. Still, for reasons unknown, his complete story remains untold. Even the fact that Porky was recognized for his pioneering accomplishments by Congressman Ron Klink on the floor of the US Congress hasn't enticed scholars to look more closely at the man we call "The Bossman" and "The Founder and Creator of the Oldies." The fact remains, Porky Chedwick blazed a dual trail on the east coast by establishing a foundation for what another caucasian and fellow Pennsylvanian, Alan Freed, called "rock and roll" four years later. By airing all "dusty discs," Porky alone simultaneously pioneered oldies radio and the related billion-dollar industry which thrives even today (For the record, "Hunter" Hancock in Los Angeles preceded Porky by less than a year as the first white DJ to play all contemporary race records). The late composer and Skyliners vocal group founder, Joe Rock, observed to me once, "Alexander Graham Bell did invent the telephone, but he never owned a piece of AT&T. It's the same with Porky and oldies." He was not a shrewd businessman who sought to become fabulously wealthy at the expense of the artists whose music he played, but a simple man who looked to our industry to make an honest living, doing something he enjoyed. Porky has long been at peace with the realization that he'll never be rich for being the first to perpetuate this music- His admitted lack of business savvy and a reputation for being too kind assured it. I believe he would simply like to finally be given due recognition among all those celebrated names who, in fact, came after him. Perhaps this article will help correct this glaring historical oversight, before another birthday goes by for him.
Visitors to Cleveland's Rock and Roll Hall of Fame can find Porky Chedwick among other legendary DJs, whose airchecks and biographies have been preserved for posterity. Few early transcriptions of his shows exist intact and his "aircheck" is actually a 1993 re-creation, done for the "Cruisin' " record series. The recording features vintage jingles by The Skyliners and one of his early-'60s themes, "Here Comes Bossman Porky" (by an uncredited Ruby & The Romantics), rescued and re-mastered by me from the original studio acetate Porky used to carry with him in a giant satchel of sleeveless 45s. Not surprisingly, the biography in the exhibit doesn't do him justice. It fails to tell how, on August 1, 1948, Craig "Porky" Chedwick, from Homestead, Pennsylvania, became the first white DJ on the east coast to present a program of R&B, gospel and jazz, by black artists exclusively. Unlike most pioneers who followed, relegated to the nightshift, his first efforts were in broad daylight. Porky was already a popular public address announcer at local athletic events and a sports "stringer" for the Homestead newspaper when he read of a small daytime station coming to the suburb. WHOD AM 860, whose manifest would be to provide ethnic and foreign language programming for Pittsburgh's vast immigrant blue-collar, needed announcers for their debut. Porky's reputation was well known by the station's owners and he was instantly hired to host a 20-minute Saturday program of sports commentary and music of his choosing, sponsored by local auto dealer, Toohey Motors. The music Porky played was so well received, the sports portion was dropped and his "Masterful Rhythm, Blues and Jazz Show" became a half-hour program. It was quickly expanded to five hours, seven days a week and finally occupied the noon-to-five weekday slot as "The Porky Chedwick Show." During the summer months, when the station could stay on as late as 8:45 PM, Porky was allowed to fill the hours before sign-off that the station couldn't sell. With only 250 watts of daytime power, the signal was more than sufficient to garner Porky a large following- so much so that Porky's show eventually became a thorn in the side of 50,000-watt monster KDKA and even competed for listeners with Pirates baseball broadcasts! "The Porky Chedwick Show" became a fixture on AM 860, which continues today, every Saturday afternoon- where it originated in 1948.
The records Porky aired on WHOD were ones he had collected over the years and had been playing at record hops around the city's racially integrated suburbs, using a single turntable and a borrowed guitar amp. In Porky's own Homestead-Munhall neighborhood– described by him as being like a "secluded island" of about 60 homes "with yards infested with children in torn clothes"– a white man playing "Negro music" was nothing special. Poverty had a way of uniting an entire community into an extended family; skin color was of no importance. The second of ten children, Porky's parents relied on him to keep his younger siblings entertained and out of trouble. He took on that responsibly with all local kids, using his records to entertain and offer refuge. "I was mainly looking for the gospel sound and down-home rhythm and blues," remembers Porky, "The songs which spoke of the problems of poor people-that was my music." In the '30s and '40s, "race" or "sepia" records were banished to a record store's back shelves or bargain bins, since very few were sold. "I used to have to blow the dust off them before I could play them. On the air I called them 'dusty discs' and the Porky Chedwick sound was born!" His "sound" established the vast R&B-based repertoire of uniquely Pittsburgh oldies, many of which were never touched by a turntable stylus in any other city. Scores of these records might have been otherwise forgotten because they were only released on 78 r.p.m., which, by the time radio started to embrace black records, were being phased out in favor of the less fragile 45. The practice of playing oldies became a novelty, picked up by disc jockeys across America. Record labels emerged, dedicated to meeting the demand for rock and roll nostalgia. (In fact, years later when promoter Richard Nader organized his first major oldies concerts– essentially the catalyst which opened up the floodgate for the '50s music revival of the 1970s– he cited his influence as none other than his hometown hero, Porky Chedwick!) By 1949 (interestingly, the year Alan Freed began playing jazz), promoters with long-overlooked black independent record labels had learned of Porky's success with oldies, so they inundated him with contemporary R&B, which he happily accepted- although oldies would always dominate his playlist. Nothing could ever make him play a record unless he was confident his "movers and groovers" would dig it; it was a fact that alienated some record company reps, but one that would serve in his defense during the payola investigations. From WHOD's little studio, situated behind a Homestead candy store, the sounds of Roy Brown, Wynonie Harris and The Dominoes-and their sometimes provocative lyrics– were first played regularly on the east coast by "The Platter Pushin' Pappa." Joe Rock, a one-time A&R man himself, recalled, "Porky could get away with playing records that would come closer to causing hell with the FCC than anyone!" Often, Porky would astound promoters by taking a record out of their hands and "banging" the B-side, instead of the "plug side." He knew what his audience wanted and was responsible for making Pittsburgh a major testing ground for R&B through the '70s. He revealed his reason for the music's popularity to Billboard Magazine in 1966: "It's a good interpretation of basic emotions. I've got kids brainwashed. They like the groove stuff."
"The Station of Nations," WHOD, abandoned its ethnic manifest in 1956, when it was sold to Dynamic Broadcasting. The new owners re-christened the station WAMO, an acronym for the rivers Allegheny, Monongehela (literally outside the station's back door) and Ohio. WAMO's format became country, with "The Porky Chedwick Show" the only exception to the twang! Rock and roll had by then captured a national audience and record companies- not just black labels- were ferociously pitching their product to Porky. Col. Tom Parker, Elvis Presley's manager, called on him personally, but Porky felt Elvis was "too country." For years, the only "Hound Dog" heard on his show was the 1953 version by "Big Mama" Thornton (It's amusing to note that at the first "Porkstock," which celebrated Porky's 50th year in radio, Rock and Roll Hall of Fame officials presented Porky with a plaque heralding the museum's new "Elvis Is In the Building" exhibit! When Porky returned from the stage after accepting the award, he looked a bit puzzled. I said to him, "So what the hell else could they give you? A tie?" The folks from Cleveland obviously didn't realize the irony of their kind gesture). Although Porky would occasionally feature records by white acts, most were local and sounded anything but white. One such artist was the late singer/songwriter, Johnny Jack (Greco), an Italian-American, whose first national release, "Smack Madame," was inspired by Porky's rhyming on-air patter. "We took the record to KDKA and they refused to play it," recalled John, "They said the lyric, 'smack madame mammy jammy get it all' was filthy. But the real reason they wouldn't play it was printed right on the record label– 'As originated on The Porky Chedwick Show!' Even the big stations were afraid of Porky!" In 1958, WAMO underwent its most revolutionary change, when it switched to an all-R&B format with an all-black air staff. All except for Porky, that is.
Porky Chedwick was one of the first DJs to openly and vigorously promote a Christian lifestyle, free of alcohol, tobacco and drugs (By his own admission, Porky's only vice was girls– although I've been around him long enough to confidently add coconut crème pie!). Ironically, while Porky was being lambasted by the vanilla establishment for corrupting their youngsters with his "evil music," his private crusade against juvenile delinquency- which included rescuing young boys from juvenile court and having them placed in his custody- was earning the accolades of Sen. Estes Kefauver. He established youth baseball leagues, outfitting his teams and supplying them with baseballs mailed to him by his brother in the Army. The kids loved Porky, in spite of what their parents thought. His "dedicated legions" responded to their "Pied Piper of Platter" with such loyalty one can only look back with wonder. The fact that he didn't even have 1,000 watts behind him until 1960 makes it all the more extraordinary! "Porky's Pulling Power," as WAMO sales literature called it, was so monumental that when Porky would open the microphone and shout over the record, "Blow your horn!" during a wailing sax solo, the entire city would respond with a cacophony of car horn blasts! Once, while excitedly "breaking" a new song, he proclaimed, "This is on fire!" Within minutes, sirens blaring, the Homestead fire brigade stormed the studio, responding to hundreds of phone calls from listeners insisting the station was burning down! The police weren't amused, either, the time Porky suggested that listeners stop whatever they were doing and start dancing. The resulting traffic tie-ups from teens getting out of their cars to dance in tunnels and on parkways assured a solemn promise from Porky to watch what he said on the air from then on. At a remote broadcast he did under the marquee of the Stanley Theater downtown Pittsburgh in 1961, more than 10,000 teens crowded the streets, with what police estimate were another 50,000 in transit, tying up traffic so badly the mayor had to personally come down to end the broadcast. "Kids were packed so tightly, you could literally stand on the shoulders of the people and walk for blocks," remembers Porky.
Porky's rock and roll shows were late on the timeline, when one considers much earlier ones presented by other DJs. However, his concerts were no less grand. "The Porky Chedick Groove Spectacular" on May 11, 1962 at the newly-built Pittsburgh Civic Arena, is still perhaps the biggest multi-bill show the city has ever seen. Variety reported the concert grossed more than $35,000, an amazing sum for its time. More than 13,000 kids packed the arena, while some of the more than 3,000 who had to be turned away vented their anger by pelting the dome of the venue with rocks and bottles. Jackie Wilson headlined the day-long affair, with 21 other acts, including Bo Diddley, The Flamingos, The Marvellettes, The Five Satins, Ketty Lester, Johnny Jack, The Skyliners, Patti LaBelle & The BlueBelles, The Castells, Bobby Vinton, The Drifters, The Debonaires (a local group, whose record, "The Holly Lind," was inspired by the name of the street on which Porky lived), Gene Pitney and The Coasters- all for a ticket price of $1 to $4! A few of the artists even did the show for nothing, as a favor to Porky. His generosity with free promotion made local artists just as popular with teenagers as the national acts. Johnny Jack remembered that at the "Groove Spectacular," Porky rushed backstage to tell him about a young man outside the arena who was claiming to be him. John didn't care, but his Sicilian mother insisted on going out to see the imposter, who apparently could've been John's twin. "There he was, signing myautograph!" said John. " My mother walked up to him and said, 'You Johnny Jeck?' He gave her a big smile and said, 'Why, yes!' She shook his hand and said, 'I'm-a please-a to meet you, I'm-a you mama!'" (John was a great friend who went on to write and record many local hits, including "Comes Love" for The Skyliners and "Born Poor," the B-side of "The Rapper," a Top 5 record for The Jaggerz in 1970. Sadly, we lost him in 1996 to cancer).
In 1964, Porky and "Spinner Sanctum" left behind the yellow-brick building at the end of the Homestead High Level Bridge for a more prestigious address in downtown Pittsburgh. A year later, Esquire Magazine named him "Pittsburgh's Favorite DJ." Station sales flyers were already calling Porky "a legend in his own time" and he remained WAMO's top advertising draw through the end of the decade. Record stores couldn't keep in stock oldies compilation albums to which Porky had lent his name and picture, but his lack of business acumen kept him continually at the mercy of charlatans who absconded with most of the profits. "I made a million dollars but I never saw it," says Porky, "I don't think God wanted me to have money because he knows I can't handle it." His private life was filled with grief, including the loss of two infant daughters and the mysterious death of a teenaged son. An eye injury he sustained in a mishap with a neighbor's slingshot when he was eight years old had progressively worsened; as time went by, his trademark golden eyeglasses functioned mostly to protect his "better" eye. Still, Porky kept up a feverish schedule of club dates, including a string of 110 sock hops in a row in the mid-'60s. He maintained his prominence in Pittsburgh radio on WAMO-AM and FM and hosted an overnight show in 1972 on legendary KQV-AM. In his heyday, Porky never had the benefits of a 50,000-watt "blowtorch" behind him, nor did he ever enjoy a six-digit salary, like many of his predecessors, who went on to greater fame. Offers to work elsewhere were many, but he never entertained the thought of leaving Pittsburgh- except for one week in the early '80s. A DJ in Denver mentioned his name on the air and was surprised to find a multitude of Pittsburgh transplants living there with many fond memories of "The Daddio of the Raddio." The station flew Porky to Denver for a week to do an airshift and present one of his famous record hops.
By the dark days of the mid-1980s, when the "Less Talk, More Music and NO Personality" mentality pervaded radio, Porky was viewed as somewhat of a dinosaur. Most of the "boss jocks" had become frustrated with super-programmed radio and retired around the time music and AM parted ways. Oldies that weren't in the national mainstream were becoming increasingly discouraged by WAMO's program director- Unfortunately, regional and non-traditional oldies comprised Porky's entire show! When he was forced to begin playing stock-pop pap and vanilla teen idol records he wouldn't have touched in his prime, it was obvious a break with the station was eminent. Porky held out until 1984, when WAMO publicly honored him for his many years of service- then let him go! A single phone call to a general manager I barely knew at WEDO in nearby McKeesport put "Pork the Tork" back in the air-chair months later with an afternoon show and a producer, who helped him cue his records. During this time, I was Porky's self-appointed chauffeur. We established our own "rat pack" social group, with Johnny Jack and Fred Johnson, the inimitable bassman of The Marcels, who recorded the 1961 rock and roll anthem, "Blue Moon." Over dinner each Wednesday, several interesting ideas were proposed and eventually realized, including a mini-series for local cable TV, where I did a series of interviews with Fred and Porky. Two of Porky's admirers came to our table one day and suggested starting an oldies club which would stage concerts by early R&B and doo wop artists; the Pittsburgh Oldies Record Collectors Club-whose acronym, P.O.R.C.C. was no accident-is today very successful at doing just that. In 1989 we even convinced Fred to re-unite with his cousins, "Nini" Harp and "Bingo" Mundy to briefly record and tour as The Marcels for the first time in 30 years. The resulting a capella tracks recorded in my basement led to a CD on Starlight Discs, which Porky broke in Pittsburgh and Don K. Reed played on his "Doo Wop Shop"on WCBS-FM in New York. That same year, Porky began hosting a radio program that was syndicated to several stations in the tri-state area. It was called "Porkytown," a mercifully short-lived musical train wreck of '50s doo wop and '80s pop, which didn't belong together. I think Porky even did the program for free. Fortunately for Porky's finances, the club dates remained a constant. For the first time-not counting radio and TV shows– Porky and I even worked together as disc jockeys at The Linden Grove in Castle Shannon, a newly refurbished historical landmark. The vast number of fans who packed the giant dance hall caused fits each week for the local fire marshal. Two hours before Porky would take the DJ booth each Thursday night, the parking lots – both about the size of a football field-were already packed!
Porky's health gave us all quite a scare in 1990, when he was diagnosed with a large, but benign, brain tumor. The outpouring of love and respect from his friends and colleagues was incredible. His amazing recovery after surgery rivaled the Gulf War as a point of interest beyond classic rock on my Pittsburgh radio show, with listeners calling so often for reports, we started mentioning Porky's condition on the air. Rock and roll pioneers including Hank Ballard, Bo Diddley, The Skyliners and others organized a benefit concert to help shoulder his huge medical bill. Jeannie Chedwick, his new wife, was a tremendous help to Porky and even chased away many of the opportunists who were forever looking to him for freebies. I don't think it's an overstatement to suggest that Porky's ailment and subsequent return to AM 860 the following year was the beginning of a whole new life for the Porky Chedwick legend. Within five years, the Rock and Roll Hall of Fame had assured some degree of immortality for him. Two years after that, "Porkstock" became a yearly part of Pittsburgh summers. He is, of course, much more than just a part of our city's treasured past, but a pioneer, whose accomplishments have had a worldwide impact. When Porky told me that he was to be included in the Cleveland DJ exhibit in 1996, Fred Johnson and I had the first and only gold record created for our good friend, which we presented to him. The inscription says it all:

" To the Founder and Creator of the Oldies: You'll live forever in the hearts of every artist whose name and music you brought before the public; every person who tunes to a radio station dedicated to the "Dusty Disc" and every aspiring broadcaster to whom you offered friendship, advice and inspiration. Congratulations on your recognition in the Rock and Roll Hall of Fame."
Fifty-three years have gone by since Porky Chedwick first made his mark on radio and music. How ironic it is that a man who was certainly one of the first will be among the very last to be given credit, when that definitive history of rock and roll is finally written.
###
(Copyright 2001, WeigleVOX Productions International. This article may not be reprinted in part or as a whole without written permission of the author.)
ABOUT THE AUTHOR:
For more than 30 years, ED WEIGLE has remained one of America's most prolific voice actors. A Pittsburgh-area native, his unmistakable voice has brought to life tens of thousands of commercials, promotions and narrations worldwide. He is also available for voice-over work. Visit his website at edweigle.com