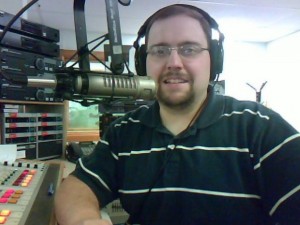 Several years ago, I was volunteering at an event where one of our local stations was doing a remote. (I was there on behalf of the organization, not the station.) It wasn't long before someone – a benefactor for the organization and a friend of one of the station hosts present – approached me and asked me if I was, "Eric O'Brien, the guy who does 'that PBRTV site'". I assured him that I was and the gentleman proceeded to ask why I didn't update the site every day. I responded confidently that if I did update the site every day, I would have to start making things up.
Well, that's part of the reason I haven't posted anything in a while. There hasn't been much to post lately. But I've also been busy. After a hard drive crash (and we're about to try the "freezer trick" to rescue files that never made it to a backup), I have been busy starting up with a new computer as well as the other work for which I use this machine. I have assured you and am reassuring you that my interest in PBRTV.com does not and has never waned. In fact, I am working on some new ideas although I'm not ready to discuss them at this time.
That said, there are a few things worth mentioning here.
A couple of weeks ago, I received a piece of snail mail (PO Box 101345; Pgh. PA 15237) from Phil Z. who included a nice piece about WAOB from the Pittsburgh Catholic Newspaper. In short, the article highlights the trio of stations (the once WAMO-AM/FM 860/106.7 and WPGR-AM 1510) which have been operated with Catholic programming since early-2010. The staff of St. Joseph Missions tells the paper about how their purchase of the stations came to be and how the operation thereof has been a learning process.
In somewhat related news, the Catholic Diocese of Pittsburgh featured a story on one of their more prominent members, "Chilly Billy" Bill Cardille. Cardille has spent 62 years in the industry and he talks about that and his accomplishments.
Not much sign of Matt Belanger on WTAE, although he has only started in the last week or so. Belanger comes to the station from sister station WGAL in Lancaster and is set to join Shannon Perrine at the anchor desk on the weekends. Stay tuned…
WKHB's (620; Irwin) Low-Power FM translator (W231BM Clairton) is on the air from its new transmission site in Hazelwood's Calvary Cemetery. The new site gives the signal an 84-watt power output; up from 10 watts at the tower across from South Allegheny High School. The new location gives the signal the advantage to cover much of Allegheny County.
Stay tuned for more information from PBRTV coming very soon… we're sure of it!