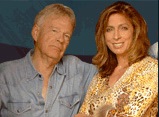 Jim Quinn will return to the new form of broadcasting – online tomorrow morning from 6:00 – 9:00. Live streaming, podcasts, and archives will be available in the members section of his website – warroom.com. An iPhone and Android app  – "Warroom with Quinn" will be made available soon.
Of the new technology Quinn says, "there is no way I'll fade out when you are driving under bridges or through tunnels." He also says, "I am doing this because I love radio. And the nice thing about being my own boss is that the next time I get fired — I'll be firing myself. My studio location is so secret that sometimes I don't know where I am. But then again – at my age I frequently don't know where I am!"
Rose Tennent will not be returning with Quinn although she has been helpful in getting the stream up and running. Although not on the air daily, she will contribute occasionally. Tennent has an opportunity of her own that she's not able to discuss at present but will make an announcement when she is able.
Membership for the podcast on the website has two options – a monthly subscription for a one-time $4.99 charge which will expire after 1 month, and an auto-renewing option at $4.99 monthly. Users must have a PayPal account. Click here for more information.
We've also heard that WYSL in Rochester has opted in as an affiliate for the program.