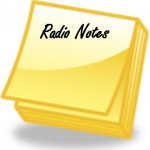 Here are a few items from the last few days (we've been without reliable net connection).
We remember:
Jim Carnegie (66). Carnegie had once worked at KQV (1410) and later created and operated Radio Business Report/TV Business Report. He sold those off to Radio Ink a few years ago.
Jerry Doyle (60). Doyle passed suddenly and was discovered in his home Wednesday. His show was heard locally on WJAS (1320). The program will now feature a lineup of guest hosts and replays of Doyle's best moments.
Steelers Quarterback Ben Roethlisberger will begin his 4th year hosting the Ben Roethlisberger Show on KDKA-FM (93.7). The show airs Tuesdays at 11:00 a.m. and lasts through the length of the NFL season.