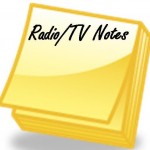 Let's catch up on a few things, shall we?
I am taking the day to recover from a 12 1/2 hour workday yesterday where I aided in the relocation of WEDO-AM (810 McKeesport) from its White Oak location to North Versailles where it joins WKHB (620 Irwin), WKFB (770 Jeannette), and WKVE (103.1 Mt Pleasant). This is the fourth move that station engineer Richard Ruby has overseen for WEDO over many years. WEDO enjoyed many years in downtown McKeesport including a time at the Midtown Plaza Mall and was likely the mall's last tenant before moving to White Oak. No real changes are being made to the station's schedule, except that some of the morning programs – reruns and "freebies" – will be replaced by music. Candy and Mike, Sal Patitucci, and others will all remain. The deal between seller 810 Inc. and buyer Broadcast Communications, Inc. was finalized Tuesday. This editor remains a part-time BCI employee and has also done contractual fill-in work for 810 Inc.
WAVL (910 Apollo) is back on the air. It is airing Colonial Radio Group's "Mountain" format which comes from the stations up north near the New York state line. The deal is apparently in "LMA-to-Buy" status, and probably eases the minds of Evangel Heights Assembly of God Church in Apollo who took the station dark last summer. We'll see what Colonial has in store in the near future. (TRIB)
We hear that WPXI's (11) Gordon Loesch anchored his final Noon news today. He is headed to WPXI's 10:00 p.m. news that airs on WPGH (53). That is probably a relief to David Johnson who anchors the 5:00-6:30 and 11 p.m newscasts. Damany Lewis takes on the Noon slot with Peggy Finnegan.
WTAE (4) announced today that on February 1 a 7:00 p.m. newscast will be added to the lineup of the station's 4.2 channel "This TV". The newscast will be anchored by Jackie Cain and Mike Harvey will do the weather. It is designed for those who might miss the regular evening newscast.
And it looks as though WWSW (94,5) may be doing fairly well for the Holiday book when it comes out. In response to my last ratings report, I received an email or two educating me that the December book has little or no bearing on the Holiday numbers as most of it was measured in November. The station had only been all-Christmas for about a week when the measurement for December ended. Stay tuned for the readings in late-January,
I will be starting up the PBRTV Podcast again soon, but I should also alert you that I will be starting the PBRTV Pledge Drive as well. I'll officially announce it soon.