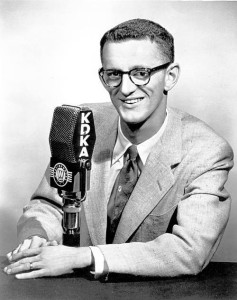 Local freelance writer John Mehno reminds us that today would have been Rege Cordic's 89th birthday. Cordic was a well-known mainstay in Pittsburgh radio with stints at WWSW-AM (970) from 1948 through 1954, and KDKA (1020) from 1954 to 1965. His morning show featured characters and written bits which made morning commuters laugh even in the worst of traffic. It's been said that South Hills commuters frequently pulled off to the sides of the road before entering one of the sets of tunnels so as not to miss the bits Cordic and Company would put on. At times the popular program pulled an 85 share of the market.
Cordic was joined primarily by Bob Trow and Karl Hardman and at times by Sterling Yates and others. Together they would spend hours each day writing new bits for upcoming shows. Some of the characters included Brunhilde – an obese lady who would call the host "Chub", Max Corfendigas – the not-so-sober golf pro, Louis Adamchevitz – the garbage man, and a whole host of others who would drop by to harass Cordic.
Of the many gimmicks the crew came up with, the most remembered one is probably "Olde Frothingslosh – The Pale, Stale Ale with the Foam on the Bottom". Pittsburgh Brewing Company ran with the idea and developed the brew which usually sold around Christmastime.
Cordic eventually moved to Los Angeles where he had a very short stint on KNX-AM. He remained a resident and took on small roles in movies and television shows. However he remained connected to Pittsburgh, mainly with channel 4 where he hosted a Sunday afternoon movie program and was the station voice-over in the late 1980s and early 1990s.
A Cordic and Company archive, complete with audio clips can be found at RegeCordic.com.
Mr. Cordic died in April, 1999.