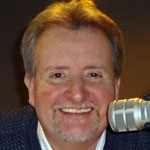 Mike Romigh will take on the role of Program Director of WBVP (1230 Beaver Falls) and WMBA (1460 Ambridge) on March 1, 2015. He will be overseeing the selection of programs, content, and lineup best reflecting the needs of the listeners.
Romigh has lived in Beaver County all of his life and got his start in radio at WBVP in 1976 when he hosted a program called "Teleforum". After stints at KDKA in Pittsburgh and WKBN in Youngstown, he returned to WBVP last year where he again hosted "Teleforum".
Once the new position begins, Romigh will continue to host "Teleforum" each day from 9:00 a.m. – Noon and then return for "Yankee Trader" from 1:00 – 2:00 p.m.