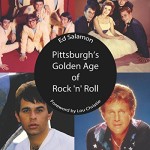 Ed Salamon who penned Pittsburgh's Golden Age of Radio (2010 Arcadia Publishing), has written a new book called Pittsburgh's Golden Age of Rock 'n' Roll (2015 Archer Books). The book includes more than 325 photos memorializing nearly 1000 Pittsburghers who made Rock 'n' Roll music between the 1950s and 1970s. Although not about radio, the book features ties to local radio personalities from Porky Chedwick to Art Pallan. The forward is written by Crescent Township native Lou Christie.
The book can be ordered at any book store or Amazon.com.
Salamon will be hosting a book signing at Barnes and Noble in Settlers Ridge at 6:00 p.m. on Wednesday, April 22.