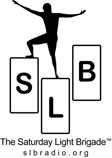 It was March 18, 1978 when Larry Berger first took to the airwaves of Pittsburgh with the Saturday Light Brigade. It was over WYEP-FM (91.3) where it would remain for 25 years. In 2003, Berger moved his program to WRCT-FM (88.3) where, despite the less-powerful signal, the program began to flourish. The program can be heard on a list of stations surrounding the Pittsburgh area as well as online at slbradio.org. (Since 2004, SLB has had its own studio set-up within the walls of the Pittsburgh Children's Museum. Specifically, the studios are housed in the old Buhl Planetarium Building where the miniature train display used to be shown.)
Larry and his wife, Rikki, were in Pittsburgh City Council Chambers last Monday to accept a proclamation honoring The Saturday Light Brigade's 35 years on the air and declaring Saturday, March 16, 2013 "Saturday Light Brigade Day" in the City of Pittsburgh.
In his weekly e-mail to listeners called "Brigadier Briefings" Berger said, "As I think about this whirlwind of a week, two thoughts strike me. First, we are fortunate to live in a region that values community, neighborliness and multi-generational interaction. SLB has always striven to reflect these values and the region in which we live is the key reason we've been able to thrive. It's inspiring to live in a city with deep roots and vitality; it's also reassuring that our officials know SLB well and are kind enough to take time to recognize and honor the work we do. Second, I am thankful to have been able to apply my energy, heart and mind to something that has stood the test of time — for me and I hope for you. I am as enthusiastic about this week's SLB (if not more so) as I was when our first broadcast aired on March 18, 1978! Whether you've been with us for a few weeks or all thirty-five years, thank you for the pleasure of your company."
Saturday's program will feature Pittsburgh Councilman Bill Peduto who will help the Bergers celebrate the declared "Saturday Light Brigade Day". Peduto will call in from the St. Patrick's Day parade around 9:35 a.m.
Recently, SLB Radio Productions teamed up with WQED Multimedia and the Junior League of Pittsburgh to form iQ Kids Radio, A 24/7/365 station for children and families to hear quality programming tailored just for them.