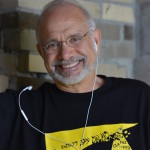 Pittsburgh talk-show host Dimitri Vassilaros has launched a Kickstarter crowdfunding campaign to create a provocative Internet radio show. It started August 3 and ends September 1. The "Don't Spy On Me!" theme protests the mass surveillance of Americans by the National Security Agency.
Vassilaros has been on news/talk stations like KDKA (1020), WTAE-AM (1250), WWVA (1170 Wheeling) and WPXI's cable channel PCNC, and a newspaper columnist and reporter for the Tribune-Review.
"This show will provide people with a platform to express their thoughts, amplify their voices, and talk back to all authoritarians. Internet freedom means unlimited choices, not government restrictions," Vassilaros says.
"My donor rewards are like what radio stations used to give when radio was, you know, fun: bumper stickers and T-shirts. I'm also offering audio-inspired rewards, like to do a power lunch with a radio celebrity! (um,… me), and to be the show announcer!"