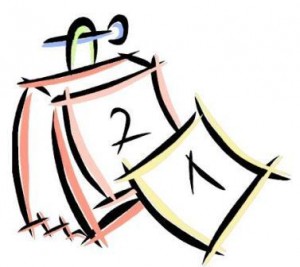 As 2012 winds down, it's time to review some of the major events this site has covered this year. This isn't by any means a complete list, but more of a "highlight reel". Let's go to the tapes…
In January, Bill Rehkopf and Matt DelSignore left KDKA Radio for CBS's new news venture in Washington, D.C. Rehkopf stayed with WNEW until September when he returned to the big K to host a revamped edition of the "Afternoon News". Meanwhile, Paul Rasmussen took over the morning news anchor duties in March.
Jim Krenn and WDVE parted ways after 24 years

. The station reportedly offered Krenn a new position which he declined. In an ironic twist, Krenn's first morning show partner, Scott Paulsen returned to the morning show as a regular contributor and occasional fill-in host.

KDKA-TV anchor Susan Koeppen returned to the air in early January

after suffering a cardiac arrest

in November 2011. A few months later, Koeppen had open-heart surgery to repair a damaged heart valve believed to be the cause of the health scare. She has since returned to her position full-time.

Before voting to merge with SAG,

the local AFTRA Union held a public rally

at WTAE-TV where they were fighting for fair labor wages and treatment for the on-air staff. Other Hearst stations have on-air staffers who are union members. WTAE has not since 1997 when one reporter led a crusade to drop union membership. Once the rally was held however,

little has been said

about the efforts to rejoin the union.

Locally-owned Renda Broadcasting sold all of its Oklahoma properties beginning with the

Tulsa market in March

. That sale was followed by that of the

Oklahoma City properties in July

. Renda still owns properties in Pittsburgh, Greensburg, Indiana and Punxsutawney in Pennsylvania as well as several Florida properties.

In March, Jimmy Roach left the Froggy radio station chain to very quickly return to his previous post at WDSY.
Early in the year, Arbitron announced that they would no longer publish numbers for stations unless they subscribed to the monthly book. Locally, that leaves out Renda Broadcasting, Broadcast Communications, Inc. Keymarket, Salem Communications and several others. Most of the stations left on the publicly released numbers are Clear Channel, CBS, Steel City Media and the non-comms. As a result of this decision, PBRTV no longer reports on the numbers as we feel they are completely inaccurate. No word if the recent sale of Arbitron to Nielsen will reverse the decision. 
Broadcast Communications, Inc. announced the intent to purchase three Western Maryland stations – WKHJ, WWHG, and WMSG. The deal went through in the last few weeks according to FCC documents.
Lee Ferraro stepped down as General Manager of WYEP.  Abby Goldstein took over the reigns this fall.
In June, PBRTV began a massive "reconstruction" effort to upgrade to its current appearance. As the summer progressed, the site was reviewed, renewed, redone, revamped and any other "re" you can think of. Readers were invited to share classic pictures for the new photo gallery, the classic mailbag is posted for archival purposes and we look forward to more in 2013!
Mr. & Mrs. PBRTV paid a visit to the all-new Museum of Broadcast Communications and Radio Hall of Fame in Chicago at the end of June. We found none other than Myron Cope proudly displayed on the walls with many other well-known greats.
Keymarket Licences turned in a few of the AM licenses this year: WASP (1130 Brownsville) and WBGI (1340) Connellsville in July. WSTV went dark in 2011 over a property dispute and Keymarket turned that license in earlier this month. We're expecting at least one more license to be turned in in early 2013.
National industry "rag" Radio-Info.com changed hands in August with morning e-mail must-read Tom Taylor leaving his post. Taylor returned with a new e-mail blast later in the fall. (And we're grateful that he's returned! Hi Tom!)
WTAE and WPXI both have new news directors. WTAE hired Justin Antoniotti almost immediately upon Alex Bongiorno's departure in October. WPXI waited a month or two after Mike Goldrick's departed to Washington, D.C. to promote Mike Oliveira who has been with the station since 2005.
Unfortunately we ended the year with Clear Channel's annual purge. Locally, Flick has exited WKST and we later found out that Kate Harris is gone from WWSW. Harris' departure comes almost immediately after gaining a voicetrack role on D.C.'s Country WMZQ. CBS followed suit, although not as widespread, and locally that affected John Seibel who is gone from KDKA-FM.
We lost some really wonderful people this year. We remember John Garabo, former WDSY morning host; Jimmy Psihoulis (AKA – "Jimmy Pol"), one-time owner of WZUM; Ron Morris, owner of the American Entrepreneur program on WMNY and WPGB; Ted Atkins (AKA – "Captain Showbiz"), famed programmer of WTAE-AM; Ralph Wiethorn, WWSW, WKJF, WQED and the local franchise of the Columbia School of Broadcasting; Barbara Cloud, Pittsburgh Press/Post-Gazette columnist; and Beano Cook, WTAE and ESPN.
I hope you've enjoyed this review of the events of 2012. No doubt, there's more to come in 2013. Happy New Year.
UPDATE: There was a follow-up visit to "Online with Bill Alexander" after this post was published. Listen to the program here.