Quoting a Fox TV news release: "In the '90s, the local TV news scene in Pittsburgh was dominated by one team: Chuck Darling and Kelly Carr."
Blasphemers! Everyone knows it was Don and Sally! You take that back, Fox!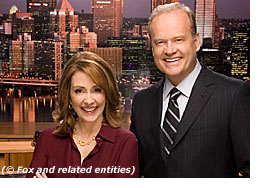 Ahem. Sorry. Fox has the first clips of its new fall sitcom, Back To You, available for viewing, and there seems to be a better than average chance that it won't be a complete suckfest, unlike other sitcoms nominally set in Western Pennsylvania like Hope and Gloria (and we're especially looking your way, Mr. Belvedere). From what we've seen, Kelsey Grammer turns on the smarm as Darling, an anchorman bumped from his gig in Los Angeles after embarrassing himself on the air and forced to return to fictional WURG-TV (9) in Pittsburgh, where he's reunited with Carr (Patricia Heaton), who can't stand him.
If the early clips are any indication, Grammer's character has a harder, more cynical edge than the somewhat neurotic, unsure psychiatrist Dr. Frasier Crane — there's a little more Sideshow Bob in the mix, if you'll pardon that reference — which could be very entertaining.
And the talent on both sides of the camera is impressive … besides Heaton (best known from Everybody Loves Raymond, frankly not one of my favorites), Back To You also has the always-fun Fred Willard as a slightly-dim sportscaster, its director is James Burrows of "Cheers," and its executive producers are Steven Levitan ("Frasier," "Just Shoot Me!" and "Wings") and Christopher Lloyd ("Frasier" and "The Golden Girls").
Yes, it's a bit derivative of Anchorman: The Legend of Ron Burgundy (which Willard also appeared in), but it's also a little bit The Mary Tyler Moore Show and WKRP in Cincinnati, and those didn't work out too badly, as I recall.
Back To You would seem to have a lot going for it, but as others have pointed out, Fox has a terrible track record at developing live-action comedies. In fact, I'd be hard-pressed to name a single successful Fox sitcom since Malcolm in the Middle, but maybe Back To You can break the jinx (and rinse away the terrible aftertaste of Bob Uecker and Christopher Hewett … "Beaver Falls" my butt!).
Back To You is tentatively scheduled to air at 8 p.m. Wednesdays (before the dreadful 'Til Death, starring Heaton's fellow Raymond alum Brad Garrett).
I just hope that WURG — unlike Pittsburgh's real Fox affiliate, WPGH-TV (53) — isn't owned by Sinclair Broadcast Group. Otherwise the entire news department might get canned even if Fox doesn't cancel Back To You.