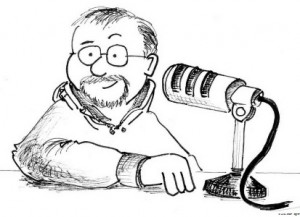 I figured it was time to say "hi".
It was a pleasure to participate in the 4th annual Tube City Online broadcast from McKeesport's International Village last week. Thanks to all who tuned in and those who contributed to the success of our broadcast in the form of monetary units. All credit for the broadcast goes to Jason Togyer who goes above and beyond each year to make things a success.
Speaking of Jason, I'm sure he remembers that he is drawing a banner picture for this here website. While we are no longer "under construction" per se, that remains our banner for the time being.
On to the events of radio.
WESA Matters
Last week, I posted the fact that PBRTV.com (and your's truly) have been included as part of a petition to save some the programs recently dropped from the WESA-FM (90.5) lineup. The programs dropped were "On Point", "Tell Me More", and "The Takeaway". A comment left in last week's column, suggests that production for "The Takeaway" has been drastically cut and that may be why that program disappeared from the Pittsburgh airwaves. But the program's website suggests that it still has a strong station base throughout the country. Meanwhile, if you're a subscriber to Sirius-XM, it's available there. "On Point" is also available on satellite radio and online. "Tell Me More" can be found on NPR's website.
Meanwhile, support for the petition against the station which PBRTV gets e-mails from, has only garnered five names.
Delilah comes to Pittsburgh
Syndicated nighttime host Delilah (heard locally on WSHH-FM 99.7) is coming to Pittsburgh on September 8 as part of her "Paint the Town" program. This program, sponsored in part by WSHH and the Methodist Church, will focus on the Pittsburgh neighborhood of Lawrenceville where storefronts will be painted and a dog park will be completed. The event starts on August 27 and runs through September 8 when the love-song expert will come to town. As near as I can recall, this would be Delilah's first actual visit to Pittsburgh. I could be wrong.
Minter recalls familiar voice
Wes Minter has been doing some fill-in work on KDKA Radio this week as he has occasionally done since 2008. I was asked by an observer not too long ago if I thought Minter sounded like someone else we all know. If you listen very carefully, his voice may remind you of the late Fred Honsberger. It's not an exact replica, but it sure is close when it comes to inflection and timbre. Minter, a long-time host at stations like WSB Atlanta and WCCO Minneapolis, no longer works full time in radio choosing corporate sales instead. He does do long-distance fill-ins occasionally.
Reconstruction Update
As summer unfortunately winds down, I want to give you a brief update on the efforts surrounding the reconstruction of this site.
Other projects (which some of us call "work") have taken over for the time being, but soon I will return to my efforts of revamping the tower site maps. It's a fun, but time-consuming process which I can't allow time for right now.
Meanwhile, the "Where Are They Now?" page has returned, but I would advise that those listed there be taken with a grain of salt. Some of the listings are no doubt horribly outdated. If you're up there, please update your listing if necessary!
On the "bring back eventually" list are the Callsign Cavalcade and the station schedules.
And don't be surprised if we hear from PBRTV announcer, "Harry Pitts" again soon…