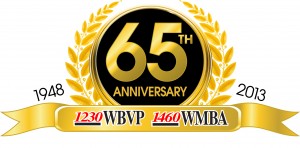 As many AM stations are leaving the airwaves for good, a combo in Beaver County is marking 65 years on the air this week. WBVP (1230 AM Beaver Falls) and WMBA (1460 AM Ambridge) will mark the 65th anniversary for WBVP which aired its first official broadcast on May 25, 1948 at 6:00 p.m. The stations will hold a birthday party luncheon at the Center At the Mall beginning at Noon on Thursday, May 23.
Among other activities, the event will include lunch from Chick-Fil-A in the Beaver Valley Mall, entertainment from WBVP and WMBA news anchor Pat Septak on the accordion and Diane Brosius' "Joy Song", appearances from local and state officials, past WBVP and WMBA alumni, displays of historic station photos and memorabilia and and various giveaways. Station host John Nuzzo will serve as master of ceremonies. Listeners were to have the opportunity to win tickets to the event over the weeks leading up to the event.
WBVP was formed in 1948 when three Pittsburgh broadcasters – Frank Smith, Tom Price and Charlie Ondurka – pooled together $25,000, went to Beaver Falls, built a tower site in Pulaski Township and put the station on the air. The original broadcast studio was on the third floor above "The Rio Grill" which was located about a block of the current location along 7th Avenue. Chuck Wilson, who later became the station's program director and assistant general manager, spoke the first words on the air on that May 25: "Good Evening Beaver County, you're listening to WBVP." The original slogan for the callsign was "We Boost Valley Progress".
Meanwhile, WMBA didn't come on the air until 1957. The McGuire Brothers from central Pennsylvania founded the station. Ken McGuire served as the station manager. The station was originally headquartered in the office space above Action Tire on Duss Avenue in Ambridge. It is said that the McGuires, who also had coal mining interests, chose the call letters to stand for "Miners Broadcasting Association".
The two former competing station became one company when Frank Iorio, Jr., who owned WBVP, purchased WMBA in 2000. The stations simulcast but both have always put the interest of the community first.