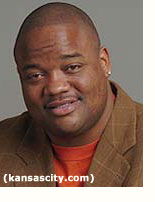 Radio Ink is reporting that Kansas City Star columnist Jason Whitlock was recently interviewed by WFAN PD Mark Chernoff for the syndicated morning show once hosted by Don Imus. Whitlock wrote about the controversy in a recent column saying that "rap lyrics are doing more harm than anything Don Imus could say. Whitlock, who has done morning radio before in Kansas City, is not sure that he wants the position. He feels that he's getting plenty of notoriety where he is.
Meanwhile, in another RI article, Imus reportedly hired high-powered, New York laywer-to-the-stars Martin Garbus. Garbus wouldn't elaborate on why Imus hired him, but some observers think a lawsuit may be coming.
Imus once aired locally on 1550 AM WURP, and was set to return to the station on the same day his original two-week suspension was to begin.