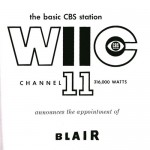 It was September 1, 1957 when Bill Cardille signed on WIIC-TV. That was two years after it was originally intended to go on the air as the CBS affiliate in town. The station was a joint venture between the Pittsburgh Post-Gazette who then owned WWSW-AM/FM (970/94.5) and Pittsburgh Radio Supply House who owned WJAS-AM/FM (1320/99.7). It's interesting to note that before the freeze on television station licenses the two companies were battling it out for channel 10 whose license was originally assigned Pittsburgh before the reallocation in 1952 which took channel 10 to Altoona.
The reason channel 11 did not sign on in 1955 as intended was because WENS-TV, then on channel 16, contested the FCC's original decision to deny them the permit for channel 11. Channel 16 being a UHF station, WENS wanted to be on the VHF band. Much of CBS's programming was carried by channel 2 and KDKA became the full-time CBS affiliate. With KDKA sharing time with all networks at that time, NBC reached a deal to affiliate with WIIC. Additionally, as a condition of the license, WJAS had to be sold and NBC purchased it making the stations WAMP (1320) and WFMP (99.7).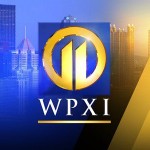 WIIC was sold to Cox Enterprises in 1964 trading it share of a new cable system in Toledo Ohio to the Post-Gazette's parent company Block Communications.
April 20, 1981 was the day the station changed the call letters WPXI (P="Pittsburgh"; XI the Roman Numeral for 11).
Ten years ago, after some delay and just after the station's 50th anniversary, the studios were moved down from Television Hill in Fineview to Pittsburgh's Summer Hill neighborhood and a LEEDs certified green building. The station's transmitter and those of WWSW-FM (94.5) and WSHH (99.7) remain on Television Hill.
Channel 11 is long remembered for its local programming – particularly "Chiller Theater" which Cardille hosted.